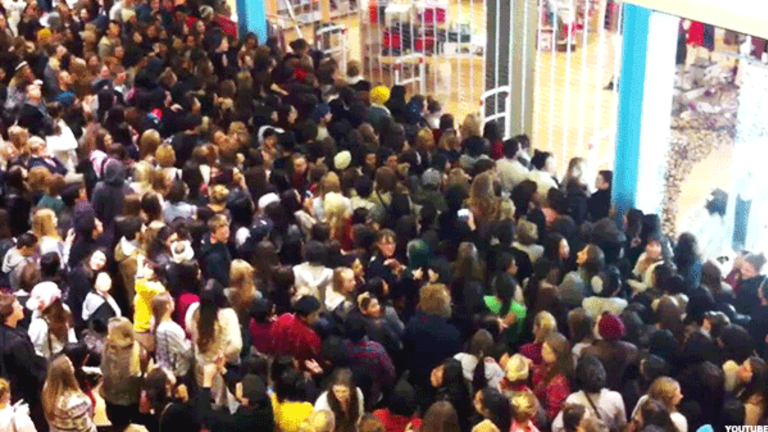 Here's Your Black Friday Holiday Shopping Game Plan
Black Friday is days away, but the best holiday shopping deals aren't a secret. Here's how to get them.
Black Friday keeps seeing its sales bled by Thanksgiving and Cyber Monday, but that doesn't mean there aren't deals to be had.
The Black Friday doorbuster isn't dead, but there are far less people waiting in line or sacrificing Thanksgiving dinner than there used to be. While the National Retail Federation found that 154 million people went shopping during Thanksgiving weekend last year, more people said they did that weekend's shopping online (44%) instead of in stores (40%). While 75% of that weekend's store shoppers went out on Black Friday itself and 34% went out on Thanksgiving day, larger percentages of online shoppers just stayed home and did likewise on Thanksgiving (36%) and Black Friday (74%). As a result, according to market research firm ShopperTrak, Black Friday foot traffic at brick-and-mortar stores was flat last year after dropping 12% in 2015.
Even as shoppers realize they don't have to miss dinner or stand out in the cold for deals, they're also starting to figure out that they can just skip the Thanksgiving holiday scrum altogether. While ComScore notes that the $1.29 billion spent online on Thanksgiving and the $1.97 billion spent on Black Friday in 2016 were impressive, neither day came close to the $2.67 billion that consumers spent on Cyber Monday right after Thanksgiving weekend -- which was up 17% from Cyber Monday 2015.
"We recognize the Thanksgiving weekend shopping experience is much different than it used to be as just as many people want that unique, exclusive online deal as they do that in-store promotion," said NRF president and chief executive Matthew Shay. "It is clear that the age-old holiday tradition of heading out to stores with family and friends is now equally matched in the new tradition of looking online for holiday savings opportunities."
The folks at online shopping and price comparison site DealNews don't think that's much of a coincidence. For the past few years, DealNews found that retailers including Walmart and Target had fewer deals on Black Friday than they did either the day before (Thanksgiving) or the following Monday (Cyber Monday).
"Not only did stores attract negative publicity for keeping employees from their families, but reports suggest that in-store sales just weren't worth it," says DealNews's Julie Ramhold. "Shoppers will definitely shop on Thanksgiving, but probably not until dinner is over; and then, the convenience of online shopping could win out."
In many cases, there's simply no need to bust the door down. Online orders with in-store pickup have made it easier to purchase the item you want and have the store simply hold onto it until the more sharp-elbowed, sleep-deprived consumers clear out for the weekend.
To parse out which Black Friday deals are worth risking physical harm for and which will be readily available from the comfort of your smartphone, tablet, laptop or other device, we checked in with the folks at DealNews and got a sneak peek at the following Black Friday offerings.
Tablets and laptops
At its Worldwide Developer's Conference in June, Apple (AAPL) - Get Apple Inc. (AAPL) Report introduced new 10.5-inch and 12.9-inch iPad Pros (priced from $649 and $799, respectively). In March, Apple introduced an upgraded 9.7-inch iPad, which starts at $329. Last year, Target sold the entry-level 9.7-inch iPad Pro for $449 (a $150 discount), and MacMall dropped the price of the 12.9inch model by as much as $149. This year, the new 10.5-inch and 12.9-inch Pros should see the same $150 drops, bringing them down to $499 and $650, respectively. Also, based on last year's Black Friday sales, retailers could knock $125 off the new 9.7-iPade iPad, bringing it down to $204.
If you're a Google (GOOG) - Get Alphabet Inc. Class C Report Android die-hard, last year Walmart offered the RCA 7-inch 16-gigabyte Android Tablet at the doorbusting price of $28, with the next lowest price for similar models hitting $35. If the long-dead RCA brand doesn't instill confidence, Office Depot, Office Max and Walmart sold the 7-inch Samsung Galaxy Tab E Lite for $70 (down from $120). Best Buy had the 8-inch Galaxy Tab A for $129 and the 9.6-inch Galaxy Tab E for $150. Walmart had the 10.1-inch Lenovo Tab3 for $99 ($51 off). This year should bring similar deals.
If you'd rather stay home, Amazon (AMZN) - Get Amazon.com, Inc. Report just refreshed its Fire tablets in May and always hacks prices around Black Friday. Last year, Amazon took $30 off the previous-gen Fire HD 6 and 8. The promotion brought the price of the Fire HD 6 down to $70 for 8 GB and $90 for 16 GB. Meanwhile, then-current Fire 7-inch tablet was reduced to $33 ($17 off), and the 7-inch Kids Edition dropped to $75 ($24 off). This year on Black Friday, expect Amazon to sell the Fire 7 at that same $33 price point, the Fire HD 8 for $50, the Fire 7 Kids Edition for $76, and Fire HD 8 Kids Edition for $106.
Just watch out for the Microsoft (MSFT) - Get Microsoft Corporation (MSFT) Report Surface. Consumer Reports withdrew its recommendation for it in August after research showed that one in every five failed within two years. However, if the Surface is your tablet of choice, DealNews suggests the new Surface Pro going for as little as $599 this Black Friday, with the Surface Pro 4 dropping below $500.
As for laptops, DealNews foresees $99 Google Chromebooks for Black Friday. There'll also beer economy laptops with Intel i5 and i7 Core processors, 15-inch displays, at least 4 GB of RAM, and a 500 GB hard drive for $110. They expect previous-generation Skylake Core i5 laptops to dip below the $300 mark. But instead of getting just 4 GB RAM and a 500 GB hard drive, you should expect at least 8GB of RAM and 1 terrabyte of storage. Similarly, Skylake Core i7 machines should drop to $449 or less, but you may get as much as 12 GB of RAM, as well as a 1TB hard drive.
Televisions
With off-brand prices frequently dipping below $300, 55-inch TVs have become mainstays. Come Black Friday, DealNews believes that doorbuster prices on off-brand 55inch 4K sets will hit $239 — and 1080p doorbusters will cost the same. In fact off-brand 4K TVs will cost just 8% more than 1080p versions. Brand-name sets won't come as cheap, but you should still see prices of $500 or less.
Bigger sets aren't out of reach, either. Expect doorbuster prices on 60-inch and 65-inch 4K TVs to drop under $500, while 70-inch sets will be easily had for under $1,000. Meanwhile, if you just don't need that much TV, a name-brand 40-inch 4K set will go for $240, or roughly $50 more than an off-brand TV and nearly $200 less than a 50" name-brand 4K TV. Doorbusters at that size could net $200. If you miss Black Friday, don't worry: Deals crop up as early as Nov. 10 and last through Cyber Monday, with Best Buy, Walmart and Dell seeing the deepest discounts.
Video games
The Microsoft XBox One X, Sony PS4 Pro, Nintendo Switch and Nintendo 3DS -- the only handheld system on the market -- aren't offering deals. Sorry, but that's life with a new-generation game console.
A Black Friday doorbuster price of $159 (or $140 off) for an Xbox One S 500GB bundle is possible, but those same bundles will go for $199 even if you miss out. The 1TB bundles could hit $179 — or $170 off — for doorbusters, and $229 otherwise. The 2TB bundles to be around $259 for doorbusters (a $140 savings), and $299 for more average deals (a $100 savings). The 1TB PS4 Slim, your only option with the 500 GB phased out, is $299, but could se bundles around $249. Games will largely get their prices cut, with Mass Effect: Andromeda already at $20, while Resident Evil 7 has dropped to $24. Even Horizon Zero Dawn and Prey have fallen to $30 and $36, respectively.
The big question mark is virtual reality consoles, which are trying desperately not to be gaming's version of 3-D. VR hasn't been enthusiastically embraced, which is why the HTC Vive will probably get the same $100 discount on its $799 price that we saw last year. Meanwhile, the Oculus Rift Touch has dropped from $599 for the console and $199 for controllers last year to $499 for both this year, with a discount to $450 possible. However, the best deal is still reserved for PS4 owners who can get the PS VR headset and camera bundle for $379 on black friday. For a bundle that includes PlayStation Move Controllers, you may be able to get a deal as low as $399.
Clothing
Cyber Monday is typically far better for clothing, but there are a lot of deals to go around. Black Friday last year 50% to 80% discounts on kids' clothes, 50% to 70% off jackets and coats brands like The North Face, Columbia, and Kenneth Cole -- including $13 fleece -- from 6pm, REI, Columbia, Old Navy, Kohl's and Lands' End. You don't even have to brave the stores, as $3 T-shirts to $8 sweaters to $4 pajama pants to $5 sweatshirts were all available for in-store pickup after online ordering. Meanwhile, DealNews saw year's-best deals from Hollister, Nordstrom Rack, Banana Republic, J.Crew Factory, Levi's, American Eagle Outfitters and many others.
Health and beauty
Black Friday really brings out the best in this category, with Amazon and Target (TGT) - Get Target Corporation Report selling beauty and wellness boxes and bundles for $10 or less -- a $30 savings on the products inside. Amazon stocks up on Black Friday deals, Macy's excels at higher end brands like Philosophy and Target really comes through on brands like Burt's Bees and Aveeno. Amazon will even drop their price further if you "subscribe" to a product.
For brands like Sephora and Avon, Black Friday is they only time they'll offer a discount during the entire holiday shopping season. While Bath & Body Works still cuts prices on Black Friday despite being especially sale-prone, both MAC Cosmetics and Tarte Cosmetics make an entire weekend of them.
Even if you aren't holiday shopping, it's a great time to stock up. Last year, Dorco and Amazon offered multiblade razors and cartridges for less than $1 each, with a Gillette Mach3 razor cartridge ten pack going for just $3. Meanwhile, Walmart (WMT) - Get Walmart Inc. Report , Kohl's, Best Buy and Amazon frequently cut more than 50% off the price of electric dental products around this time of year.
Home goods
This is kind of an amazing time to stock up for the house, with blenders, mixers, and coffeemakers from reputable brands like Cuisinart and KitchenAid all on sale at Amazon, Walmart, Kohl's and Macy's (M) - Get Macy's Inc Report . Keurig coffee makers go for $50 on the low end, with high-end models at around $100. Look for sets of storage containers starting at $8, dishes starting at $10, cutlery starting at $20, and bundles of pots and pans starting at $40. More well-known brands will command higher prices; look for sets from Calphalon starting at $100.
Dyson vacuums get huge discounts around Black Friday, with new models starting at $200 (and refurbished models just under $200). Last year DealNews saw eight different deals on Roombas, with the 650 model starting at $230. On the lower end, there are Hoover models in the $50 range and Dirt Devil appliances in the $30 range.
Black Friday weekend is always a great time to stock up on tools, with hand tools getting steep discounts, cordless drills from Black + Decker starting around $30, and kits from brands like Ryobi starting at $100. Just don't expect the home and garden stores selling you those tools to cut you a deal on appliances. If you didn't buy on Labor Day or Memorial Day weekend, you likely missed your window, but there are a few deals out there for brand-name dishwashers starting at $270, washers starting at $300, and ovens starting at $1,000.
Toys
Black Friday is the single best day for toy sales, but the toy market is unforgiving. Unlike most items, toys get a second wind a week after Cyber Monday and new deals abound. Why? Try selling toys at other times of year. As Toys R Us can tell you, it isn't an easy task. Also, you have no idea what the hot toy is until late in the year. Will Star Wars Porg toys hit the mark? What if Pixar's Coco is a hit?
The hot toys don't typically get deals, but you shouldn't buy any toy unless you're seeing a steep price reduction. As DealNews notes, brands like Fisher-Price, K'Nex, Hot Wheels, Mega Bloks and others offer 50% to 60% off. Kohls, Target, Toys R Us,Disney Store, ThinkGeek and Build-A-Bear Workshop all enhance those deals with coupons, but the LEGO store's "Brick Friday" sale and Toys R Us' LEGO sales take 20% to 50% off specific LEGO sets. Target is especially great at cutting the price of tabletop games and party games by 50% during Black Friday week, while Amazon goes right for the nerds by taking 50% off Alhambra and $31 off Pandemic Legacy) deep into December.
Travel
About a third of travel deals this Black Friday season will be for hotels, especially 4- and 5-star properties. You can expect flat discounts (either a percentage or a specific dollar amount off) from hotel booking sites like Expedia and Hotels.com, as well as major hotel chains like Starwood and Hyatt offering deals offering between 30% and 60% off. Last year, off-the-strip LasVegas hotels went for as low as $18 per night.
As for flights, look for domestic flights starting at $20 each way, with deals available from almost every airline. International deals will feature to Mexico and South America starting at $100 roundtrip, fares to Europe from $200 roundtrip, and fares to Asia from $500 roundtrip. However, Frontier Airlines's 2016 deal for $19 flights only applied to flights from Atlanta to Orlando, Denver, Dallas, Los Angeles, and Chicago
Also, be flexible. Of last year's best Black Friday deals, 14% were last-minute — requiring travel before the end of December. However, most offers let you travel through spring or later. Watch out for minimum stay requirements, blackout dates, and deals available only for specific days or destinations.
TheStreet's "Black Friday and Holiday Shopping Survival Guide" series aims to to help you, the consumer and the investor, navigate the holiday season, Black Friday, Cyber Monday and everything in between. Through a number stories, videos, graphics and other multimedia elements TheStreet takes a look at the biggest challenges of the season, the winners and losers from the shifting retail environment and much more.Read More about navigating the holiday season.