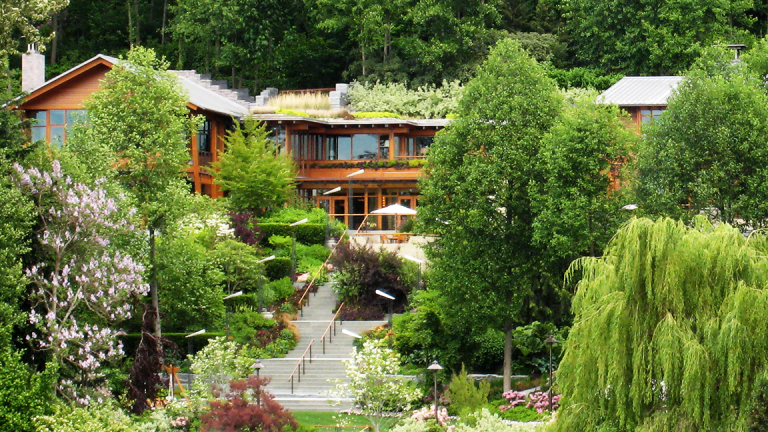 Bill Gates' House: A Look at Xanadu 2.0
Being a billionaire for three decades can, as it turns out, afford you a pretty nice house. What are the standout parts of Bill Gates's Xanadu 2.0?
As of this writing, Forbes lists Bill Gates' net worth as $97.5 billion. How do you even begin to spend such an absurd amount of money?
Well, if you're Warren Buffett, you hoard a lot of it and continue to live in an old house. But Bill Gates isn't Warren Buffett. He did what any of us would likely do in that position: Create the kind of house a cartoon billionaire would make.
Bill Gates' house is so massive it has its own Wikipedia page. It's named Xanadu 2.0 in honor of Xanadu, the fictional mansion of the protagonist in Citizen Kane, a film that is entirely about how money and possessions were unable to make a tycoon happy. Make of that what you will.
None of this is much of a surprise to anyone who knows who Bill Gates is and how he got successful. Mild-mannered he may seem, but he is still the co-founder and public face of Microsoft, the company that played such a large role in making computers a must-have for household had. Microsoft ended up expanding well beyond its humble beginnings, and by the mid-80s at just the age of 31, his net worth reached $1 billion.
Microsoft, along with a consistent and impressive investment portfolio, made Gates the richest man in the world for a long time, until Amazon's Jeff Bezos overtook him. He must now settle for being only the second richest man in the world. This indignity has still afforded him a behemoth of a house in Medina, WA. Here are some of the most absurd facts about a truly absurd house.