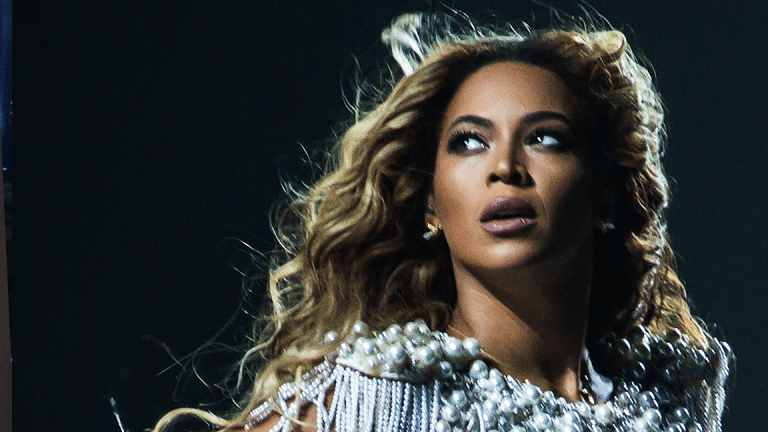 What Is Beyoncé's Net Worth?
Beyoncé is one of the most powerful entertainers in the world, which has resulted in a net worth of about $500 million as of 2019.
Beyoncé is worth an estimated $500 million - most of it accumulated from her work as a globally renowned singer, songwriter, record producer, entrepreneur, actor, film producer, and occasional product pitchwoman.
Pulling herself up from her bootstraps, Beyoncé, whose full name is Beyoncé Giselle Knowles Carter, went from being a high school dropout to widely viewed as one of the world's top entertainers. Married to entertainer and business magnate Jay-Z, whose net worth is valued at $1 billion, the combined net worth of the two is $1.43 billion dollars.
Growing Up
Beyoncé was born Sept. 4, 1981, in Houston. Her parents, Celestine and Mathew Knowles, also had a younger daughter named Solange, who went on to back Beyoncé in her R&B supergroup Destiny's Child in the 1990s.
Beyoncé took to an entertainment career early in life, singing in her local church choir and competing in local and regional entertainment competitions as a child. She attended the High School for the Performing and Visual Arts, where she began studying music, dance and began finding herself as a singer.
Her first break came early, as she fronted the all-female musical group Girl's Tyme, appearing on the television show, "Star Search." The group eventually morphed into the R&B group Destiny's Child, managed by her father, in the mid-1990s. The group was an instant hit, piling up hits and becoming one of the top-selling female musical groups ever. The group would remain at or near the top of the charts until breaking up in 2006.
All told, Destiny's Child released seven albums, with five top-of-the-chart platinum releases that, in all, sold 50 million records during the period of 1997 to 2006. Chart-toppers included "No, No, No", "Say My Name", "Bills, Bills, Bills", and "The Writings on the Wall." Their last release, "8 Days of Christmas" didn't sell as well, and Destiny's Child disbanded, with Beyoncé already taking the opportunity to rebrand herself as a solo artist, a move that would make her more famous and more wealthy than she likely ever realized.
Achieving Fame and Fortune
As she pursued a solo career, Beyoncé found fame in other areas of the entertainment world, co-starring with Michael Myers in "Austin Powers in Goldmember" in 2002, and rolling out her first solo album, entitled "Dangerously in Love." The album was a smash hit winning five Grammy awards and reaching No. 1 on the Billboard charts. Beyoncé cashed in on two number-one singles on the album, "Crazy in Love" and "Baby Boy."
In 2006, just after Destiny's Child broke up, Beyoncé released her second solo album, called "B'Day."
She continued on a rock and blues path, mixing in some hip-hop into the mix on the album. She also stayed plugged into filmmaking, appearing in "The Pink Panther" in 2006, "Obsessed" in 2009 and "Epic" in 2013.
Beyoncé also married rap artist and burgeoning music business tycoon Jay-Z on April 4, 2008, just as she was embarking on a new track - enveloping herself in a new persona in Sasha Fierce that would go on to net Beyoncé six Grammy awards with the introduction of her next album "I Am . . . Sasha Fierce" in 2010. Altogether, Beyoncé sold over 100 million records as a solo artist, along with 60 million more as a member of Destiny's Child. She also earned 23 Grammy awards and is now the most-nominated female artist in the award's history. Forbes named Beyoncé as the most powerful female entertainer in the world in 2015 and 2017.
Beyoncé continued her singing and acting career, while beginning to carve a niche for herself as a businesswoman and mother, giving birth to a daughter in 2010, and in 2017 added a set of newborn twins the family. A famously private couple, Beyoncé and Jay-Z remain married today, as she continues her career as an entertainer and begins a new one as an activist supporting Democratic party political causes and various social justice causes, including LGBT and transgender rights over the ensuing years.
She has also accumulated a bundle of cash through periodic performance tours, earning $119.5 million from her 2009 world tour and another $212 million from her 2013-2014 tour.
Through it all, Beyoncé has continued to amass a financial fortune, riding from $184 million in 2012 to $500 million in 2018. Here's a rundown of her annual earnings from 2012 to 2018:
2010: $157 million
2011: $171 million
2012: $184 million
2013: $199 million
2014: $318 million
2015: $336 million 
2016: $419 million
2017: $450 million
2018: $500 million
Beyoncé's Endorsement Income
Beyoncé has also leveraged her personal brand to make it big in the advertising world.
She has been featured on high profile ad campaigns for Pepsi (PEP) (in 2002), and afterward, signed on with L'Oreal (LRLCY) , American Express (AXP) , Samsung, Ford (F) , and Direct TV.
She has also built her own fashion, called House of Dereon, in a business partnership with her mother and rolled out a highly profitable fragrance line that has earned about $500 million in sales in the past decade.
In 2018, Beyoncé took her entertainment industry brand to another level, inking a pact with Netflix (NFLX) for $60 million to provide content to the streaming giant, releasing her appearance at Coachella in early 2019.
A Hefty Real Estate Portfolio
Beyoncé, in partnership with Jay-Z, owns a robust portfolio of real estate properties both in the U.S. and internationally, including a mansion at Indian Creek Manor in Miami (sold for $8 million), a New Orleans home priced at nearly $3 million, and a mansion worth $26 million on Long Island, in the Hamptons.
But it was Beyoncé and Jay-Z's $88 million purchase of a Bel Air, Calif., mansion that made headlines. The property boasts a 15-vehicle garage, a regulation-sized basketball court, and pools on two acres of prime Southern California real estate.
How Beyoncé Spends Her Money
Beyoncé is widely considered to be a savvy business icon, and has earned hundreds of millions of dollars over the years, often with conservative business investments.
She does like to buy lavish gifts for her family, purchasing a $2 million Bugatti Veyron Grand for Jay-Z to celebrate his 42nd birthday and also shelling out $40 million for a private jet for Jay-Z as a Father's Day present.
Current Status
Beyoncé's career remains in high gear in 2019, appearing as the voice of Nala in Disney's "The Lion King" and continuing with her myriad business interests.
With a new decade on tap, expect Beyoncé to be a major force in the entertainment industry and - along with her husband Jay-Z - to be major industry power players for years to come.
It's never too late - or too early - to plan and invest for the retirement you deserve. Get more information and a free trial subscription toTheStreet's Retirement Dailyto learn more about saving for and living in retirement. Got questions about money, retirement and/or investments? We've got answers.