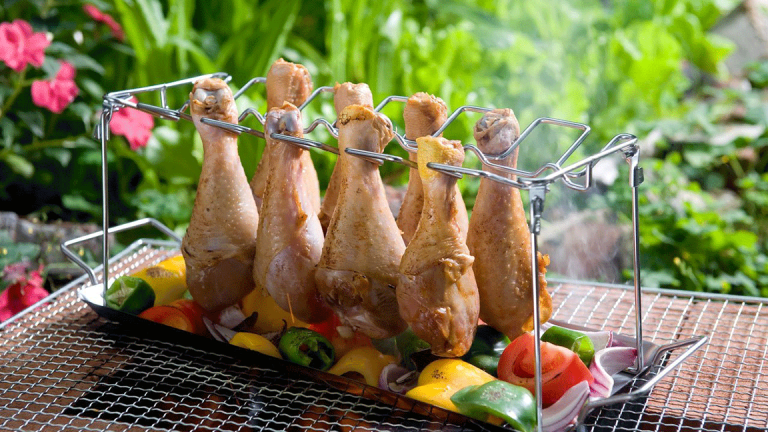 Your Football-Worthy Wing Buying Guide
When it comes to barbecuing wings, go hard or go home.
Football season is upon us and with that comes all of its associated sacred traditions -- one of the most important clearly being eating as many wings as you physically can. 
To help you in this time-honored endeavor, we've scoured Amazon (AMZN) for some of the best purchases that will make this your best wing consumption season yet, even if your fantasy team bites the dust. 
Go forth and conquer. 
Seven Pepper FaceLift Wing Dust $12.36
2015 World Champion BBQ injections & grilling spices you apply after the barbecue -- so guests can add more or less as they please. 
BBQ Wing Rack $11.99
A 12-piece capacity that cooks your wings and thighs evenly as Game Day intended. 

Ultimate Barbecue Spices Seasoning Set $49.95
Having the whole team over? Five pounds of dry Carolina rub should suffice. 
50 Disposable Trays $6.99
Because washing dishes for a crowd is just cruel. Go with a plentiful, lightweight option they can utterly destroy with sauces and the like. 
Buy it here

Guy Fieri BBQ Sauce $9.55
If Guy Fieri couldn't make it to the party, at least he'll be there in spirit (and it's not a party until Fieri rolls through). 
Detroit Red Wings BBQ Set $45.23 
This heavy duty BBQ set also conveniently comes with two bottle openers affixed to it for the Detroit sports fan in your life. 
Heat Resistant Grilling Gloves $25.99
Get your mitts on these heat-resistant BBQ gloves so the only burn you get is when your QB takes a tumble.