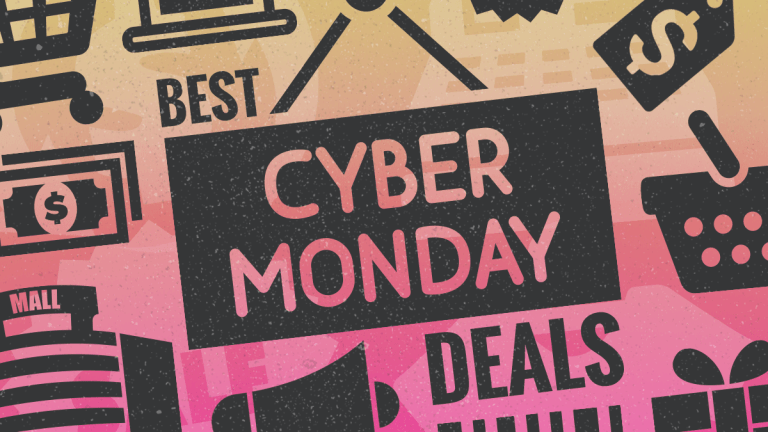 Best Cyber Monday Deals 2018: Walmart, Amazon and More
With Cyber Monday just around the corner, here are the retailers that historically have been the place to get some of the best deals online.
Not everyone has the time or patience to sit outside in the cold to wait for a good Black Friday deal. For those who need a better day with a more convenient option, Cyber Monday may be more your speed.
Falling on the first Monday after Thanksgiving -- Nov. 26 this year -- Cyber Monday is newer than Black Friday, which has its own lengthy history. But the younger online shopping holiday is a huge day for sales for bother consumers and retailers.
Because Black Friday and Cyber Monday are so close together, the lines can get blurred on which sale is which. Plenty of retailers have Black Friday sales online as well as in-store, and these can sometimes extend to Cyber Monday if not further. Some places have announced their big Black Friday deals, but have yet to announce their Cyber Monday sales, possibly to keep other stores from offering similar deals. Either way, you'll be able to find a bargain somewhere.
Here's a look at what some of the biggest retailers are offering this Cyber Monday.
Walmart's Cyber Monday Deals
Walmart (WMT) - Get Walmart Inc. Report has yet to put out a release of what will be on sale for Cyber Monday. As part of its Black Friday sale, online deals are happening on Walmart's website as early as Wednesday night at 10 p.m. EST. This sale will offer impressive deals on electronics like televisions and laptops, as well as gaming consoles like the PlayStation 4 bundled with the Spider-Man game.
It's a reasonable assumption that many of these same big-ticket items - consoles like the PS4, Xbox One and Nintendo  (NTDOY) - Get Nintendo Co., Ltd. Report Switch, Samsung (SSNLF) smart TVs, etc. - will also be heavily incorporated into Cyber Monday deals. It's a smart move for the savvy shopper who doesn't want to have to elbow their way to a smart TV when they can order it online instead.
According to BestBlackFriday.com, last year Walmart's Cyber Monday deal included deals like a $189 Xbox One S, a 58" Samsung 4K Smart LED HDTV for $598 and a 55" RCA (RCA) - Get Ready Capital Corporation 7 % Convertible Notes -15.08.23 Report 4K Roku Smart HDR LED TV for $379 (that last one saved $420). Expect similar items to be big selling points in upcoming deals.
Target's Cyber Monday Deals
Target (TGT) - Get Target Corporation Report also has not yet announced official Cyber Monday deals, but definitely keep your eyes peeled for when they do; last year's Cyber Monday ad promised 15% off items sitewide.
That likelihood of getting good deals on any available item, not just the biggest ones, makes Target's Cyber Monday deal one of the best ones out there. Target Cyber Monday sales aren't concentrated on big-ticket electronics entirely. Last year's ad promoted 30% off Safavieh rugs and Threshold Windham & Hadley furniture collections.
Again, look to the Black Friday sales they're having for hints as to what you may find online for a good discount come Monday. This can include a Nintendo Switch and smart TVs from Samsung and Element. The details of how the deal will differ from Black Friday will come out closer to the actual Cyber Monday.
Amazon's Cyber Monday Deals
Amazon (AMZN) - Get Amazon.com, Inc. Report always tries to go bigger than any other retailer, and Cyber Monday is no exception. The online retail giant does Cyber Monday Deals Week, which this year will start on Sunday, Nov. 25 at 8 p.m EST and run through the next Sunday, Dec. 2.
Some of the Cyber Monday deals on Amazon won't actually start until Monday, but the earliest time Amazon is rolling out their deals is important for anyone who owns a device with Alexa; Amazon is promoting early deals for Alexa owners on the Sunday before. At the aforementioned time, if you ask Alexa for deals, you have the opportunity for a head start on Cyber Monday. Members of Amazon Prime will also get early access to deals.
The way both Cyber Monday and Black Friday deals work on Amazon is a constantly updating set of products are on sale for limited times. If you miss getting a deal on your preferred item in time, you have the option to be put on a waitlist and get notified if it becomes available again.
Staples' Cyber Monday Deals
Staples may be more associated with office supplies than anything else, but they're also fully stocked with some of the best up-to-date electronics. So when Cyber Monday arrives, Staples is sure to have printers and office chairs on sale online, but they're also somewhere to look if you're in need of a laptop, PC or tablet as well.
Last year's Cyber Monday deals for Staples had some impressive savings, including HP laptops for as much as $350 off and an HP (HPQ) - Get HP Inc. Report Pavilion PC for $419.99. Office chairs were on sale with as much as $130 off. In addition to similar sales likely for 2018, the dates these sales occur matter as well. Last year, certain sales only lasted for 2 days, while others extended all the way to Saturday.
Kohl's Cyber Monday Deals
The Kohl's website will soon be announcing their Cyber Monday sales. Nov. 26 is sure to have a plethora of deals on their wide variety of apparel, jewelry, electronics and much more.
Their Black Friday sale advertised its "Doorbusters" deals on a Samsung 4K TV ($549.99, down from $899.99) and T.W. diamond bracelets ($69.99, down from $305), among many others. These are options for what you may find online at Kohl's (KSS) - Get Kohl's Corporation Report come Cyber Monday, but their 2017 sales suggest that these could be the deals for someone looking to get discounts on the apparel they plan on giving their loved ones. Last year, Kohl's offered 25% off Nike (NKE) - Get NIKE, Inc. Class B Report clothing, shoes and accessories for a deal that started on Cyber Monday and went through Saturday.
Macy's Cyber Monday Deals
Another retailer to look to if you want deals on clothing is Macy's (M) - Get Macy's Inc Report . Avoid the mall altogether with their Cyber Monday deals, which the Macy's website says will begin Nov. 25. The deals haven't been announced yet, but according to their site those who download the Macy's app can qualify for 25% off on their first order on the app.
Last year's Cyber Monday sale for Macy's lasted from the Sunday prior to the Wednesday after, and deals included 60% off wool blend coats, 70% off 14K gold chains and 65% off select kids' outerwear. One of the leading outlets for Cyber Monday deals on apparel, expect similar sales this year.
TheStreet's Cyber Monday Deal
TheStreet is offering the lowest price of the year on subscriptions to Action Alerts PLUS, Jim Cramer's VIP club for investors. People who subscribe on Cyber Monday will enjoy a 66% discount off of regular membership fees.
Action Alerts PLUS members enjoy such benefits as:
A complete list of all stocks in Jim's investment portfolio, which he runs for charity.
E-mail alerts before Jim makes any trade for the portfolio, so that you can not only trade along with Jim, but actually place your order before he does.
Access to a private monthly video conference call for club members only, in which Jim answers e-mailed questions and updates you on his latest thinking.
Exclusive commentary throughout every trading day from Jim and his personal team of analysts, who let you see the research that Jim uses in making trading decisions.
Click here for a special 66% holiday discount!
(Editor's Pick. This article originally ran on Nov. 23.)