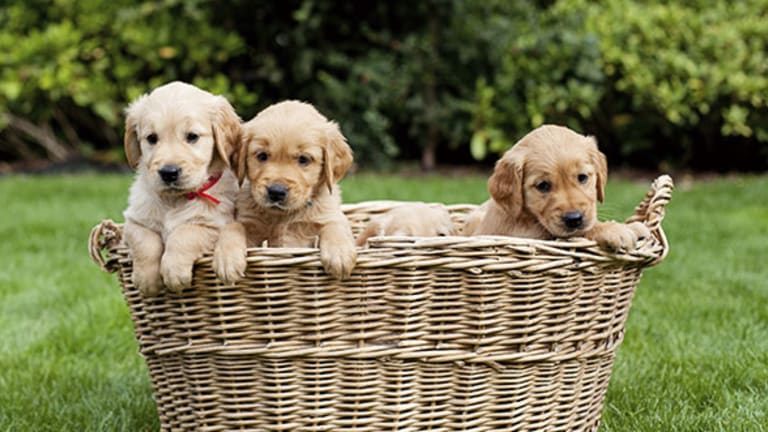 Best Animal Charities for Holiday Giving
Whether they're furry or feathered, at home or in the wild, animals could use some extra love this holiday season. Here's how to give back.
Editors' pick: Originally published Dec. 16.
According to the 2015-2016 National Pet Owners' Survey, documented annually by the American Pet Products Association, nearly 80 million (65%) U.S. households share their hearths with a companion animal. That pet population is comprised of roughly 78 million dogs, 85 million cats, over 100 million fish, 14 million birds, 1 million small animals (think gerbils and hamsters), 9 million reptiles, and 7.54 million horses...and that doesn't begin to address farm animals considered a member of the family, as opposed to being, say, tomorrow's bacon.
It is no surprise, then, to discover from the same survey that 80% of dog-owners alone buy gifts for their canines throughout the year, and at Christmastime, 50% of them plunk down cash for a holiday treasure for Rex -- hand-baked peanut-butter-and-lamb biscuits, anyone? 
However, many animal-lovers think beyond Fido and Fifi and donate generously to animal-related organizations, particularly at the end of the year. A quick search on GuideStar, which lays claim to being the world's largest source of information on non-profit organizations, reveals some 28,000 animal-related charities in the country, dedicated to noble objectives -- rescue, research, advocacy, and/or conservation. So extensive is GuideStar's database, that the organization has prepared a video to search its wealth of information efficiently.
While GuideStar does not grade organizations with a report card, you can glean a lot from an organization's tax filings; look to the upper right-hand side for a drop-down menu of tax filings on an individual charity's info page. The level of transparency provided by an organization is labeled from bronze to platinum, but do not be put off by a small, local cat-rescue group, for example, that can barely keep up with feeding and housing strays, and has no time to do extensive paperwork and, therefore, may have submitted very little to GuideStar. Similarly, do not think just because an organization has an elaborate, glitzy website that it doesn't need your contribution--that small group may have a volunteer who is a computer whiz and has designed and maintains the site.
Suzanne Coffman, editorial director of GuideStar, suggests looking to an organization's mission statement to see if it aligns with yours and then scrutinizing the programs (and success rates) the organization has spearheaded. This should give you a solid idea if that charity is in sync with your goals for giving.
Of course, everyone already knows the biggies -- the ASPCA, the Humane Society, the Seeing Eye, Canine Companions for Independence, the International Antipoaching Foundation and newly popular organizations like K9s For Warriors. If you are partial to a particular breed of dog or cat, there are breed-specific organizations; and, in fact, there are organizations that are devoted to every animal you can think of, again from some that enjoy great renown, like Save the Whales and Save Tigers Now to others less well-known: giraffes under the auspices of the African Fund for Endangered Wildlife (Kenya), Ltd., elephants, the rhino under the aegis of the International Rhino Foundation, the big cats at Panthera and even the bat.
Here's an eclectic mix of both local, community-based organizations and multi-national charities, all of which may pull at your heartstrings --and with luck, your wallet: 
The Toby Project is the brainchild of Dr. Andrew Kaplan, a beloved vet on Manhattan's Upper West Side. Named for his adopted and adored mixed-breed canine, Kaplan established Toby in 2005, with the targeted goal -- through an aggressive spay/neuter program and outreach education -- of reducing animal overpopulation in and out of the shelters, where annually in NYC, thousands of dogs and cats are euthanized. Several days a week, Toby's mobile hospital van plies the boroughs -- usually Brooklyn and the Bronx, where more animals wind up in shelters -- to provide either free or low-cost sterilization. Costs (and aftercare, if needed) for the procedures can be as little as $30 and as much as $250; clients who show proof of public assistance, pay nothing, and pit bulls are also spayed/neutered gratis. To date, the Toby Project has spayed/neutered nearly 25,000 animals; the organization estimates that if these animals had bred, in a mere five years, their issue would have numbered nearly 300 million. 
Who doesn't love a golden retriever? Visit to the website for Yankee Golden Retriever Rescueand you'll learn that the organization has placed over 5,000 abandoned/surrendered goldens in their forever homes. Founded in 1985 by Joan Puglia and Susan Foster, both active in the golden community, the organization provides comprehensive medical care, behavioral/temperament evaluations and adoptive homes to homeless goldens from the six New England states. In the early days, one of the founders said that if she were in the dentist's office and there were more than two people in the waiting room, she considered it a fundraising opportunity. Today, this extraordinary group has a beautiful 22-acre campus, with a state-of-the-art kennel (and separate facilities for seniors and special-needs dogs) and a staff of 16, along with well over a hundred volunteers, who, among other duties, transport strays from animal control officers, oversee visits to potential adopters, and organize fundraisers, auctions, and so on. The organization has expanded its mission to accept part-golden canines as well as a major influx of goldens from Turkey, where the breed is considered a prestigious wedding gift. (Airlifting a dog from Turkey alone costs $2,000.)
Anecdotal stories abound about the silent, knowing connection between pets and "their people" -- how the animals calm the bi-peds, lower blood pressure, provide a shoulder to cry on, and on and on. True? You bet. The Human Animal Bond Research Initiative (HABRI) Foundation is dedicated to researching these bonds, sharing scientific research and educational projects that demonstrate the pervasive, positive health benefits -- emotional, physical and psychological -- to both human beings and companion animals. The organization (founded jointly in 2010 by the American Pet Products Association, Zoetis and Petco -- arguably, all have a vested interest in promoting pet guardianship), seeks to unravel this complicated relationship and the results of its studies form the cornerstone of HABRI Central, possibly the largest online library of human-animal interaction science, the go-to repository for academics and research scientists. Some of the areas of current study include allergies and immunology, Alzheimer's Disease, cancer, depression, post-traumatic stress disorder and autism spectrum disorders. 
Servicing central and northwest Oregon, as well as southwest Washington state, Fences for Fido is an award-winning organization that seeks to unchain tethered dogs, liberating them to a fenced-in backyard. In close to eight years, the organization has freed 1,500 dogs from their backyard chains or trolley systems and watched them perform what it calls "zoomies," as the dogs experience freedom for the first time, dashing around their enclosures. Fences for Fido also provides a warm, insulated dog house, spay/neuter services and critical veterinary care, as needed (at no cost to the client). With a battalion of 1,000-plus volunteers, it easily gets the necessary four to 15 people required for two partial days' work, to complete a fenced enclosure. The group is most proud that it was instrumental in a significant change in Oregon law: the historic passage of the state's first anti-tethering legislation, which restricts the amount of time a dog can be chained, thus making it easier for animal control officers to enforce the law and to locate potential clients. 
Just as many tech companies began in a garage, many canine and feline companies/organizations began at a kitchen table: One that comes to mind is the Morris Animal Foundation, begun by Dr. Mark Morris, Sr., a visionary in animal clinical nutrition. Intrigued by the kidney disease of Buddy, the guide dog of Morris Frank, then the national ambassador for the Seeing Eye, Dr. Morris was convinced he could stanch Buddy's illness through nutrition. Dr. Morris and the missus starting canning nutritionally sound dog food at the kitchen table; ultimately, he sold the company to the Hill Packing Company (and thus was born Hill's Pet Nutrition Prescription Diet), a deal that provided a half-cent royalty per can to Morris's foundation. That revenue became the group's original "nut,", but has expired today. At any given time, the organization has some 250 studies underway--some for a little as $3,000 (researching an inventive method for vaccine delivery) and some for millions and millions (monitoring more than 3,000 golden retrievers over their lifetimes, a study that could even shed light on human diseases -- everything from cataracts and cancer to obesity and heart disease). Today, it is perhaps the largest nonprofit that you've never heard of for companion animal and wildlife health studies. (Another interesting story, somewhat parallel, is that of Dr. Gary Michelson, who ultimately established the Michelson Found Animals Foundation), another very worthy organization. 
In its thirtieth year, Farm Sanctuary's mission is to protect farm animals from cruelty, including from factory-farming, which is perhaps never more apparent than at the holiday season, when nearly 68 million turkeys end up, well, on the table. The organization promotes a compassionate lifestyle and vegan values, and it is proud of the 1,000 animal-residents at its three sanctuaries; additionally, the group adopts out another 1,000 animals to other suitable sanctuaries. Rescued animals include cows, sheep, goats, geese, turkeys, pigs and the occasional llama and donkey. A look at a few 2016 rescues finds Derek Zoolander and Hansel, who survived cock fights; Clarke and Kent, two kids, both left to fend for themselves, one in a parking lot, one on an abandoned farm; Frank, the bull who escaped the slaughterhouse and was captured gallivanting around Queens, New York, last April. And on and on.
There are virtually thousands of cat-rescue organizations around the country, and if your goal is to find a worthy one in your neck of the woods, ask a local vet which ones in your area live up to their missions; in almost every instance, the goal is to reduce the cat population, either by TNR (trap, neuter and return), or by capturing, fostering and adopting out. There are valid arguments for both approaches to controlling the feline population.
One committed organization in Los Angeles is the Stray Cat Alliance, dedicated to TNR, particularly in south Los Angeles; it is here that the largest number of cats is brought to shelters, and where, previously, most lost their lives. The organization believes it is humane to neuter strays living in outdoor colonies and return them to their groups, after attending to veterinary needs. Once under anesthesia, a cat gets an ear-tip, indicating a successful spay/neuter. Since 2000, the organization has sterilized some 25,000 cats, and has also placed about 5,000 in safe, loving homes -- 500 alone this year. When kittens are brought to the organization, the staff and volunteers work hard to find homes for them, since they have never lived on the street and have not fended for themselves. (Anjellicle Cats Rescue, a Manhattan-based organization, rescues from the euthanasia list at the city's Animal Care Center, then fosters and adopts out, in addition to testing, de-worming, vaccinating, micro-chipping, and spaying/neutering; since its founding nearly 20 years ago, it has rescued and placed about 5,000 cats.)