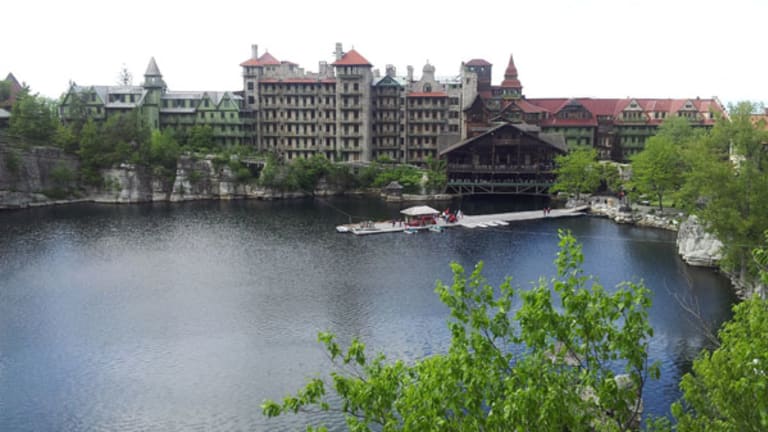 Publish date:
At Historic New York Hotel, In-Room TV Is Optional
Guests at this grand hotel could rent a TV for $25 per night, but hardly anyone avails of the offer.
Guests at this grand hotel could rent a TV for $25 per night, but hardly anyone avails of the offer.
NEW YORK (TheStreet) -- In the heart of upstate New York's scenic Hudson Valley is a picture-perfect Victorian castle called Mohonk Mountain House. It is a grand hotel, where overnight accommodations start at $582, excluding taxes and gratuity.
The nightly rate includes wireless Internet access, meals and many luxurious amenities such as valet parking and use of a heated indoor pool. What about in-room TV? That will be an extra $25 per night, plus tax.
Watching television in the guest rooms has been added to the hotel's list of activities that are not complimentary to overnight guests. For the management of Mohonk Mountain House, this is not an attempt to nickel-and-dime its guests, but an incentive for visitors to go out and explore the property's natural setting.
is at the heart of a 40,000-acre natural area in the Shawangunk Mountains, which is comprised of the resort property, private preserves and a state park preserve. The hotel itself stands above the waters of Lake Mohonk, a half-mile long, 60-foot deep, freshwater lake.
Hiking, swimming and boating on the lake are included in the overnight rate. "We also have complimentary yoga and meditation classes, along with 500 rocking chairs on porches and balconies for those who want to relax and enjoy a spectacular view," says Nina Smiley, Mohonk's marketing director.
Smiley says the hotel provides televisions for a fee so that guests who feel the need to "tune in" have the option do so. Each of the 259 guest rooms is cable-ready, so a guest who simply must have a TV in the room could have one hooked up very easily.
Other services and activities at the Mountain House that come with an additional fee include
spa treatments
, rock-climbing, mountain-biking and horseback-riding.
Also see:
At private nature locations, TVs are considered part of the usual distractions to escape from. Many of these places do not offer TV and Wi-Fi access, expecting guests to enjoy their surroundings and relax. Mohonk Mountain House is unique in that it offers TVs for a fee, but provides complimentary Wireless Internet access.
"Mohonk Mountain House is truly one-of-a-kind," says Robert Mandelbaum, director of research information services at
PKF Hospitality Research
. In the hotel industry, he says, rooms either have televisions or they don't. The concept of TVs for rent is largely unheard of.
Guests at the Mountain House don't seem to care much about televisions. Reviewers on
TripAdvisor
(TRIP) - Get TripAdvisor, Inc. Report
and
Yelp
say there are enough activities to keep them preoccupied. Many of them were even unaware of the hotel's TV rental policy. They are pleased, however, for Wi-Fi, which makes it easier to post status updates and pictures on social networking sites.
"The TV is no longer as essential as it used to be, Mandelbaum says. "Guests check into hotels with multiple Internet-connected devices already. Just like in-room telephones, hotels just don't make money anymore from in-room entertainment."
Also see:
Hamptons: Tour an 18-Million Home
PKF Hospitality has been studying the decline of travelers' interest in hotel-provided in-room entertainment. As a percentage of total hotel revenue, in-room movie rentals dropped to 0.21% last year from 0.70% in 2000.
So, does this mean hotel TVs will soon be phased out? Or that more hotels will follow Mohonk Mountain House's example and offer TVs for rent?
Mandelbaum doesn't think so. If anything, he believes there is a move in the hotel industry toward making televisions serve as monitors for portable electronics and in-room services. Guests can view their account, order room service or play video games using the monitors.
Travelzoo's
editorial director, Andrew Young, says in-room TVs for rent is not a trend his company is seeing among
. "There are a few 'escape-type' resorts that don't have TVs, but that's part of the appeal -- to unplug. TVs are a pretty standard part of a hotel room, from five-star resorts that even have TVs in the bathroom mirror to roadside motels offering free HBO."
Even with Wi-Fi, Young says, "more and more hotels are rolling back charges for that amenity, since paying for Internet is one of the major pet peeves of travelers." Hotels have either removed the fee entirely, made it free for loyalty club members or rolled it into a larger resort fee.
Should hotels try to emulate Mohonk Mountain House's TV-for-a-fee policy, PFK's Mandelbaum is certain it will not be a profitable venture. "After guests check in," he explains, "managers struggle to get them to spend more on additional services and amenities."
According to the
2013 edition of Trends in the Hotel Industry
, PKF Hospitality Research's annual compilation of hotel operating statistics, U.S. hotel guests spend more to rent rooms, but not on much else.
-- Written by Marilen Cawad in New York.
Disclosure: TheStreet's editorial policy prohibits staff editors and reporters from holding positions in any individual stocks.