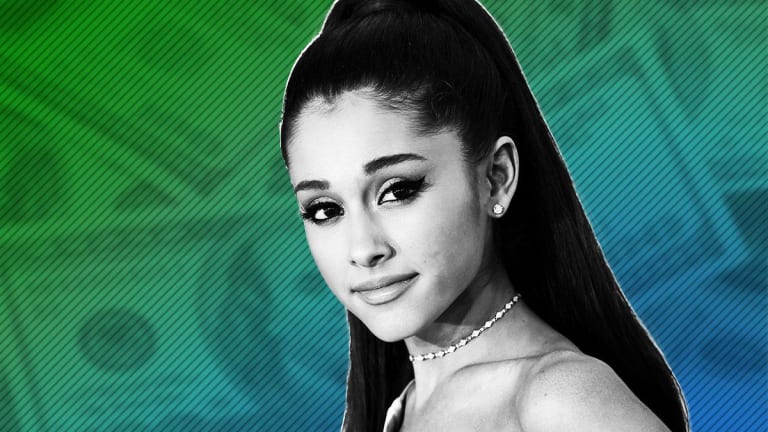 What Is Ariana Grande's Net Worth?
In her controversial hit song '7 Rings,' Ariana Grande talks about having riches, and spending money on her friends. But just how much money does she have? Another lyric in the song may give fans a clue: 'Whoever said money can't solve your problems/Must not have had enough money to solve 'em.'
Celebrities have fascinated American fans since at least the time of Rudolph Valentino and Mary Pickford. With the rise of the rockstar, starting with Elvis Presley in the 1950s, that fascination also led to curiosity not just about their personalities, but also about their expected lavish lifestyles and spending. When people can make money just being famous, for being famous, they can earn more money than someone working their entire life and saving.
So naturally, it wasn't long before fans started wondering, in addition to being a celebrity, how wealthy are they?
What Is Ariana Grande's Net Worth?
Ariana Grande, the singer, is one such phenomenon. At 25, she has, as of April of 2019, an estimated net worth of between $50 million and $80 million, according to media reports. She has a number of projects underway this year, so her net worth is expected to continue growing with new releases, tours, and endorsements.
Ariana Grande's Career
Ariana Grande has won two MTV Video Music Awards and three American Music Awards, and has been nominated for six Grammy Awards.
Born in 1993, she started in acting at an early age, according to Lifetime. She made her debut on Broadway at the age of 15, debuting in 2008 in "13," a play about growing up in New York City. Not long after, she had a break-out TV role on Nickelodeon's "Victorious," as an aspiring singer-actress Cat Valentine, from 2010-13. According to TMZ, which obtained a copy of her contract for the show in 2014, she made $9,000 an episode on Victorious.
"Victorious" had a spin-off, "Sam & Cat," which lasted just one season. Eventually she decided to devote her time to singing.
Her debut album, "Yours Truly," was released in August 2013. The album's lead single, "The Way," was a Top 10 Billboard hit. It went triple-platinum, selling more than 3 million units. In its first week, it sold 169,000 copies. She went on tour to promote the album, and in eight months brought in $40 million.
Her next album, "My Everything," debuted at No. 1 on the Billboard Top 200 in August 2014. Several of her songs on the album were all hits on the Billboard Hot 100, including "Bang Bang" with Jesse J and Nikki Minaj.
Her third album "Dangerous Woman," came out in February 2016, and, with it, she broke a record, becoming the first person in Billboard history to have lead singles from each of her three albums debut within the Billboard Hot 100 top 10 in the US.
"Dangerous Woman," which she also promoted with a tour, earning $71 million. According to Variety, she earned an average of $630,000 per night, and made an estimated $50,000 in merchandise sales every night as well, earning $4.7 million in a week.
Endorsements
In addition to singing and acting, she has earned money through endorsements, and even launched her own perfume collection, three fragrances which grossed $150 million in retail sales in two years as of 2017. She signed an endorsement contract with Reebok in 2017.
The year before, in 2016, Grande became the 'face' of UK brand Lipsy.
This year, Ariana Grande headlined Coachella for two weekends, for which she earned $8 million - $4 million each weekend.
Controversy
Like any celebrity, especially young ones, Ariana has had her share of controversies since her first appearance on television.
In 2011, two years before her debut album, the lead singer of The Cab, Alexander DeLeon, published a Tweet that said simply: "hope none of my fans ever have the displeasure of meeting @ArianaGrande. The most stuck up, disrespectful person I've ever met in this industry."
In 2014, Grande's spinoff of "Victorious," "Sam & Cat," with costar Janette McCurdy, was canceled after just one season. The spinoff was actually a combination of side characters from two Nickelodeon shows, with McCurdy having played "Sam Puckett" on "iCarly." The controversy focused on rumors of discord between the two stars on set, with a suggestion McCurdy was unhappy with her salary in comparison to Grande's. Grande called the rumors "absolutely ridiculous." But McCurdy never addressed the rumors head-on, and wasn't mentioned in a heartfelt statement lamenting the end of the series - even though Grande had debuted with her first album by then.
Also in 2014, Grande tried to refute some fans' claims that she was acting like a 'Diva,' being rude to contest winners and trying to control how and when she is photographed.
And Bette Midler criticized the rising pop star in The Telegraph when asked about the 'pornification' of pop music in an interview. "Don't have to make a whore out of yourself to get ahead."
In 2015, a surveillance camera video surfaced from a donut shop in which the singer with the distinctive ponytail appears being flirty with one of her backup dancers, kissing him and secretly licking donuts for sale. When an employee sets out another tray of donuts, Grande says to her friends "I hate America, I hate Americans," and "that's disgusting." Grande apologized after the video surfaced, noting she "should have known better" in how she expressed herself, and that she was "EXTREMELY proud to be an American." She explained her reaction was based on her frustration with the country's high child obesity rate, causing her to curse the unhealthy donuts.
Also in 2015, Grande's mother ran into trouble at the U.K. border at Dover with a ferry company as she attempted to bring Grande's dogs over from Calais, France to accompany her on her '"Honeymoon" tour. Grande's mother tweeted about the time Grande's dogs were "almost murdered," and Grande attacked the ferry company with a tweet about not messing with her dogs, ever.
Grande was quoted in a Seventeen magazine interview saying she had been "bullied" on the set of "Victorious." Victoria Justice, that show's star, addressed the rumors on The Meredith Viera Show. Justice said Grande texted her, privately, apologizing and contending she had been 'talking about someone on Broadway' she had worked with.
In 2017, Grande's concert stop in Manchester, England, was the target of a terrorist attack that killed 22 people and injured 800 more. Grande tweeted she was "broken." She has talked about having post-traumatic stress disorder since witnessing the attack.
In May, 2018, she broke up with Pittsburgh rapper Mac Miller, whose real name was Malcolm McCormick. The 26-year-old rapper was found dead in his Los Angeles home of an apparent overdose of cocaine and fentanyl in September of the same year. He had struggled with substance abuse for years, and, according to Grande, that had been a reason they broke up after a two-year relationship.
Shortly after breaking up with the rapper, and before his death, Grande became engaged to Saturday Night Live comedian Peter Davidson. She wrote the song, "Pete Davidson," as a tribute to him and recorded it on her "Sweetner" album. A month after the McCormick's death, and four months after the relationship's start, she and Davidson broke up.
"Thank You, Next," came out in February 2019, and contained a first-released in November as a single song by the same name, which contained lyrics indicating she was reflecting on past relationships like the one with Davidson. Partly because of the popularity of that album, the title of which has since become a cultural reference, and partly because of "Sweetner," Grande was nominated for two Grammy awards in 2019.
But she decided not only to not perform, when invited, by the Grammy's, but to not even attend.
Grande had wanted to perform "7 Rings," another hit song on her "Thank You, Next," album, but the song and its accompanying video -- all of which came out on the album about two days before the Grammy's were to air - met with controversy from the beginning.
In the video, a tattoo of Japanese characters is seen on her hand briefly. The characters, Grande expected, would spell out '7 Rings' in Japanese. But apparently translated by observers or fans, it actually says 'BBQ Grill.' Grande had it 'fixed,' so it now says 'Japanese BBQ Grill.'
Grande was accused of cultural appropriation by having and displaying a tattoo in a foreign language and not knowing what it actually said. And she is also accused of marketing merchandise with Japanese writing in an attempt at appropriating Japanese culture.
Grande contended there is a difference between cultural appropriation and cultural appreciation.
But the "7 Rings" video also caused critics to accuse her of trying to appropriate 'black' culture, as did lyrics and the stylings of the song itself, which appears at first to be an ode to 'My Favorite Things,' the classic Richard Rogers song from the movie "The Sound of Music." In fact, some are still accusing Grande of not 'appreciation' or even 'homage' of black artists, but plagiarism from similar songs by 2Chainz, Princess Nokia and Soulja Boy.
As with the Japanese, critics contend Grande is attempting to promote herself using touchstones of cultures she "knows nothing about."
One critic, Wanna Thompson, wrote in Afropunk, that by using the same residence as appears in a song by 2Chainz, and "Black women as props to assert her 'coolness,'" the pop singer has become "yet another white pop star clinging onto marketable imagery of the hood to push her 'bad girl' persona."
Defenders note she has consistently been produced and influenced by black musical artists, such as Pharrell Williams.
How Does Ariana Grande Spend Her Money?
In her song "7 Rings," the pop singer's lyrics are all about spending money and buying things she sees if she likes them, including the seven diamond rings she buys her friends.
Grande said she went to Tiffany's to buy the rings, in an attempt to assuage the pain of her breakup with Davidson with 'retail therapy.'
But she also is a philanthropist. According to LooktoTheStars.org, Grande supports 10 charities: the Cancer Research Institute, Elizabeth Glaser Pediatric AIDS Foundation, Entertainment Industry Foundation, Make-a-Wish Foundation, Melanoma Research Alliance, PETA, Ryan Seacrest Foundation, Stand Up to Cancer, St. Jude Children's Research Hospital, and the TJ Martell Foundation.
Grande also raised $2.6 million in donations, part of the $13 million in total raised, giving a benefit concert for the victims of the Manchester bombing, a month after the attack, in June 2017.
According to TheTalko, Grande likes high fashion-brands. She likes Gucci boots that cost $1,790 a pair; she likes Louis Vuitton, and wore a skirt in a photo in June 2018 that reportedly cost $1,200. She's also partial to $2,392 Fendi jackets, and, in addition to Tiffany, she was spotted with a lot of purchases from Chanel in her post-breakup with Davidson spending spree.
In 7 Rings, she sings "lashes and diamonds, ATM machines, buy myself all my favorite things."
When she and Pete Davidson were together, she bought a small play crib for a pet pig, Piggy Smalls.
Grande also, in 2017, spent money on a Colorado Airbnb that cost $10,000 a night.
Ariana Grande's Home
Grande bought a $16 million apartment in Manhattan's Chelsea area for her and Davidson to live in, two months after the couple first formed. At this time, it remains uncertain if she'll keep it. Davidson all along said it was Grande's place, and that he thanked her for letting him live there.
She leased a house in Los Angeles on Mulholland Drive for $17,000 a month, and sold one in Boca Raton, where she's from. The value of her Boca Raton house was estimated at $4.3 million in 2018.
She owns a Range Rover valued at $94,050, and a Ford (F) Mustang valued at $34,845.