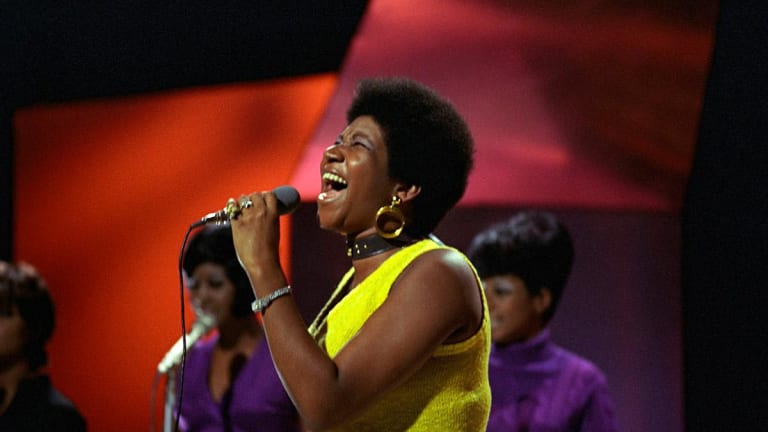 Aretha Franklin's 5 Most Impressive Career Achievements
Aretha Franklin was a powerhouse vocalist, a Civil Rights icon, and one of the most successful female recording artists in music history. These are just a few of the biggest career highlights for an imitable legend.
Aretha Franklin, the legendary R&B and soul artist, has passed away at 76. Doctors said the cause of death was advanced pancreatic cancer.
Nicknamed the "Queen of Soul," Franklin's powerhouse vocals made her a household name, chart-topping sensation, and perhaps most importantly a Civil Rights icon. Her cover of Otis Redding's "Respect," which she reimagined to fit both her vocal range and point of view, became an anthem of both the Civil Rights and feminist movements.
Born to a preacher father in Tennessee but raised in Detroit, Franklin started out as a gospel singer, touring with her father and singing in churches. By 14, she signed her first record deal, and by 18 she was signed to Columbia Records. She quickly became a mainstay on the Billboard Hot 100, and in 1967 got her first #1 hit - "Respect."
Her talent made her ascent to greatness seem inevitable, and her career became the stuff of legend. She was one of the most successful recording artists of the rock and roll era, and a pioneer for female singers and songwriters. She was also an activist, with Dr. Martin Luther King among her colleagues, and performed at three different Presidential inaugurations. Her career was truly something to behold.
These are five of Aretha Franklin's most incredible achievements in a career with plenty to spare.
1. Held Record For Billboard Hot 100 Singles By a Woman for 40 Years
Try and think of an Aretha Franklin song, and you'll very quickly end up with several. "Respect." "Think." "Spanish Harlem." "Chain of Fools." There are dozens of iconic Aretha Franklin singles. She became a titan in the recording industry, and rarely was there a Billboard Hot 100 chart in the 1960s, 70s, or 80s that did not have an Aretha Franklin song.
This made her a record-holder in short order. According to Billboard, in 1977 she became the recordholder for most Hot 100 chart appearances by a female artist after "Break It To Me Gently" became her 54th song to make an appearance. She would finish her career with 73 songs that charted in the Hot 100, and she was able to keep that record for 40 years. It was broken in 2017, when Nicki Minaj got her 74th, 75th, and 76th Hot 100 hits.
Of those 73 Hot 100 hits, 16 reached the top 10 and 2 of those hit number 1: "Respect" and her 1987 duet with George Michael "I Knew You Were Waiting (For Me)."
2. 8 Consecutive Grammy Awards and 17 Overall
In 1968, the National Academy of Recording Arts and Sciences debuted the Grammy Award for Best Female R&B Vocal Performance. It was awarded to Aretha Franklin for "Respect."
She would go on to win the next 7 of those as well. From 1968-1975, Aretha and only Aretha won this award. They may as well have named it after her.
These were the 8 of the 17 Grammy awards she would win in her storied career, nominated a total of 31 times. And that doesn't even include the special Grammy awards she was given: a Grammy Legend Awrd in 1991, the Grammy Lifetime Achievement Award in 1994, and the MusicCares Person of the Year Award in 2008 (which focuses more on philanthropy).
3. First Woman Inducted Into the Rock & Roll Hall of Fame
Aretha Franklin's role as a trailblazer for women in music cannot be overstated enough. She made sure she was heard. She took an Otis Redding and made the changes that turned it into a feminist anthem. She became a star by doing the songs her way, in her inimitable style.
In 1987, she was honored as the pioneer she was by becoming the first woman to be inducted into the Rock & Roll Hall of Fame. Her biography on the Hall's website begins simply with "All hail the Queen of Soul."
4. List of Honorary Doctorates Includes Harvard and Yale
There was no shortage of honors for Aretha Franklin. She won awards, she held records, and saw great acclaim. She was a Rock & Roll Hall of Fame inductee and has a star on the Hollywood Walk of Fame.
One other way she was continually and deservedly recognized for her greatness were the myriad honorary degrees she was awarded by a number of prestigious universities. Her first one was awarded back in 1975, receiving an honorary Doctor of Law degree from Bethune-Cookman College. Her last one was in 2014 - an honorary Doctor of Arts degree from Harvard University.
In between these degrees were honorary doctorates in music from Princeton University, Yale University, Berklee College of Music, New England Conservatory of Music, and University of Michigan, as well as Wayne State University awarding her an honorary doctorate in Humane Letters.
5. Her Voice Was Deemed a "Natural Resource" By Michigan
Aretha Franklin never forgot her home. Franklin gave back to the city of Detroit and the state of Michigan throughout her career, as recently as 2016 when she donated free hotel rooms to Flint residents during their water crisis.
Michigan loved Aretha Franklin back, and in 1986 honored that in an amazing way: the state legislature deemed her voice to be a natural resource. She was also inducted into the Michigan Women's Hall of Fame in 2001.