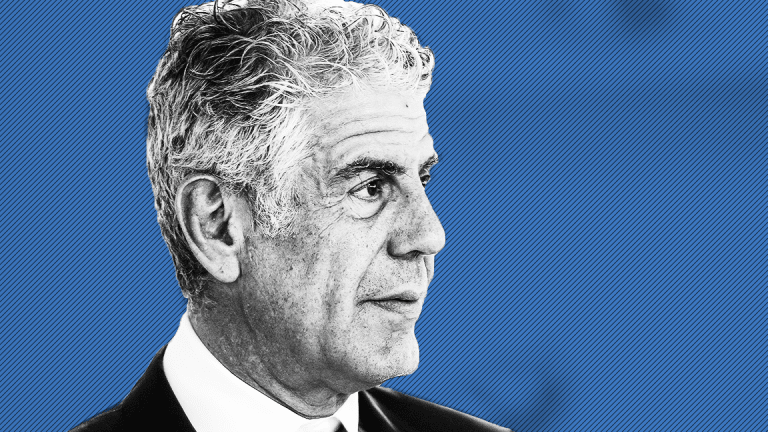 4 Surprising Facts About Anthony Bourdain's Life and Career
Bourdain was a best-selling author and host of hit CNN show 'Parts Unknown.' But there was much more to the man than that.
Anthony Bourdain, famous chef, best-selling author, and television personality, passed away today in an apparent suicide at the age of 61 in France.
Bourdain spent years in the restaurant industry, working his way up running kitchens around New York City before becoming Executive Chef at the Manhattan restaurant Les Halles. His career took an unexpected turn in his 40s from chef to New York Times best-selling author, starting with his 2000 book Kitchen Confidential: Adventures in the Culinary Underbelly. From there, he brought the wit and charisma that made him a successful author to television; first with A Cook's Tour on the Food Network in 2002, then to the Travel Network for the nine-season No Reservations. Most recently, he hosted CNN's hit show Parts Unknown.
Not content to simply coast on celebrity, Bourdain used these shows for a larger purpose. He traveled around the world to dozens of countries over the past two decades and used his programs to highlight those countries' people and cultures, making them as much the focus of the episode as himself. He used his voice and platform to speak out against anti-immigration policies and loudly support the #MeToo movement.
His openness on these and more are part of what made him so beloved by fans. Bourdain was not afraid to discuss his past struggles with drug abuse, loved punk rock, and spoke in a casual, profanity-laden manner that eschewed the "professional" speak many expect from their television personalities. He presented himself not as an A-list celebrity, but a man who was really, truly passionate about food, travel, and people.
Bourdain saw great success in his career; Celebrity Net Worth estimated his net worth as $16 million. Here are some facts about Bourdain's life and career you may not have known.
His Big Break Was a New Yorker article
The bluntness and quick wit that made Bourdain such a uniquely engaging host on TV was first seen through his writing. His first of several books to appear on the New York Times best-sellers list was the aforementioned Kitchen Confidential in 2000. But that was far from his first piece of published writing.
Bourdain's 1999 New Yorker article, "Don't Eat Before Reading This," made waves almost immediately, and quickly put him on the map as a writer to watch. In his piece, Bourdain used his no-holds-barred attitude to candidly discuss the goings-on in the kitchen of your average New York restaurant, from the quality of meat used for well-done steak to just how often the food you eat is handled with bare hands.
Providing juicy insider secrets and written in a distinct, immediate voice, it's no wonder that the article led to Kitchen Confidential's release just one year later.
His TV Career Includes a Sitcom Based on His Book
Anthony Bourdain had been a mainstay on television, in ways you may not recognize or even remember. In July 2005, Bourdain's Travel Channel program No Reservations made its debut. It would remain on the air for nine full seasons. A few months after its debut, a different Bourdain product premiered.
The personality Bourdain displays in Kitchen Confidential was so boisterous and lent itself so naturally to comedy that a sitcom based on it was inevitable. FOX first aired the sitcom adaptation Kitchen Confidential in September 2005, starring a not-yet-superstar Bradley Cooper as "Jack Bourdain." Among other notable cast members included John Cho and Frank Langella.
Unfortunately, the series was pulled after three episodes as opposed to the success of No Reservations. It seems the most important part of an Anthony Bourdain project was making sure Bourdain himself was there.
He Spent 250 Days a Year on the Road
Bourdain talked at length about his love of traveling, and he visited nearly one hundred countries for his television shows. His shows were educational as much for himself as the audience, as he wanted to learn and take in the culture of the various places he had seen.
All of that traveling, combined with television production, is incredibly time-consuming. In an interview with People Magazine, it was revealed that Bourdain and his crew spent about 250 days a year on the road -- though always making time each month to see his daughter Ariane.
He Also Wrote Fiction
Bourdain, at one point both an Executive Chef and best-selling author, was an exceptional multi-tasker who succeeded in several different fields. One less-known fact about his time as an author, though, is that prior to topping best-selling lists with nonfiction books he aspired to write fiction too.
His career as an author technically began in 1995, when he published a crime novel called Bone in the Throat where an aspiring chef gets a job in a restaurant run by the Mafia. His next book, Gone Bamboo, came out two years later, a story of an assassin and his wife brought back into the world of crime after retiring to an island.
Even nonfiction success didn't stop him. The Bobby Gold Stories was published in 2001, about a criminal who returns to dirty work after ten years in prison. While not about him, these fictional novels are another way to appreciate the legacy and the inimitable voice of Bourdain.
A new report from the U.S. Center for Disease Control claims that suicide rates in America have gone up 30% since 1999. If you or someone you know is in need of help, the National Suicide Prevention Lifeline phone number is 1-800-273-8255. The Crisis Text Line can be reached at 741741.