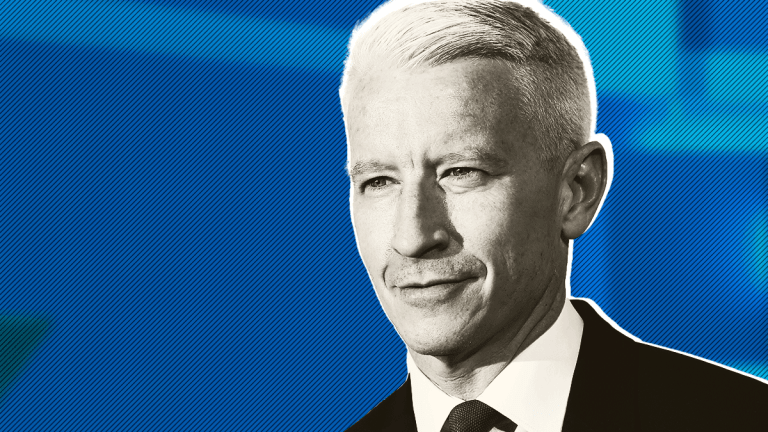 What Is Anderson Cooper's Net Worth?
Anderson Cooper was born in the lap of luxury, but with a nose for news and a hardworking attitude.
Anderson Cooper, broadcaster, news anchor and reporter for CNN and CBS (CBS) News, has a net worth valued at about $100 million, and earns an annual income of $12 million, according to media reports.
Cooper, the host of CNN's nightly "Anderson Cooper 360" and a contributor to CBS News "60 Minutes," has a more complex wealth story than most high-profile Americans.
His mother, heiress Gloria Vanderbilt, recently died from stomach cancer at the age of 95 and is reportedly leaving a big inheritance to Cooper. Gloria Vanderbilt's estate was valued in the neighborhood of $200 million (some major media reports say the estate is worth much than that figure) and she will reportedly leave a big chunk of that estate to Cooper when it is settled.
For years, Cooper said he expected no trust fund nor inheritance from his wealthy mother, noting that any huge financial windfall would only result in his losing his ambition and drive to make it as a major media figure on his way up the ladder.
"My mother made it clear to me there is no trust fund," Cooper told Howard Stern in a 2014 interview. "There's none of that."
"I don't believe in inheriting money. I think it's an initiative sucker. I think it's a curse," Cooper said. "Who has inherited a lot of money that has gone on to do things in their own life? From the time I was growing up, if I felt that there was some pot of gold waiting for me, I don't know that I would've been so motivated."
Now that Cooper is apparently coming into a huge sum of money from his mother's estate, his actual net worth should soar well above the $100 million he has accumulated to date.
What's the story with Anderson Cooper and what does his financial and career picture really look like?
Let's take a deeper dive and see where Cooper stands in terms of net wealth, and his ascent as a global broadcasting icon.
Early Life
Anderson Cooper was born in New York City June 3, 1967, to Wyatt Emory Cooper and Gloria Vanderbilt, in what only can be described as the lap of luxury.
Cooper's father was an accomplished writer and his mother was a highly noted fashion designer and an heiress to the famed Vanderbilt name and fortune (Cooper, through his mother's family ties, is a direct descendant of business titan Cornelius Vanderbilt.)
Cooper caught the media bug early in life, appearing in a photo shoot for Harper's Bazaar at age three while also appearing on "The Tonight Show" the same year.
At age 10, Cooper modeled for major fashion brands like Ralph Lauren (RL) and Calvin Klein, and seemed to have an ideal childhood before family tragedy struck.
First, his father died at age 50 from ongoing heart issues and then his older brother Carter Vanderbilt Cooper committed suicide in 1988, falling to his death from the 14th floor of his family's New York apartment.
Facing those challenges early in life, Cooper pressed on, attending the prestigious Dalton School in New York City at age 17 and moved on to Yale University after an extended trip to Africa, where he sought to contemplate his family losses and take stock of his early life.
It was at Yale that Cooper found his true career passion in journalism and public policy - a path that would take him within two decades to the top of the broadcasting world.
Anderson Cooper's Career
After interning for the U.S. Central Intelligence Agency, Cooper turned from studying political science to journalism, taking on some reporting work before taking another extended trip to Vietnam in the early 1990s.
Cooper was able to parlay his "on the ground" freelance reporting in southeast Asia to Channel One, where he began climbing the journalism ladder. He spent more time in Vietnam reporting for Channel One, reporting from war-torn bourses like Somalia, Bosnia, Rwanda, and Burma.
That work led Cooper to a reporter's job at ABC in the mid-1990's, where he worked his way up to a co-anchor position in 1999.
After doing further broadcasting work, and hosting the ABC show "The Mole" for a few years, Cooper accepted a job as a correspondent and anchor at CNN. He capped his early career ascent with the rollout of his new CNN show, "Anderson Cooper 360," a show that continues to this day.
That job continued Cooper's career as a roving global correspondent, only this time he was taking a highly rated show with millions of viewers to hot spots like Sri Lanka, Beirut, and Niger, with stops for lighter fare like a royal wedding in London in 2005.
He always returned to New York City to host CNN's New Year's Eve show, and would soon adopt a more aggressive and confrontational tone covering events like Hurricane Katrina, the emerging climate change issue, and the Great Recession of 2008 and 2009 back in the U.S.
Following in the legendary footsteps of industry titans like Walter Cronkite and Edward R. Murrow, Cooper joined the CBS news staff as a correspondent for "60 Minutes" in 2007, a post he continues to this day.
Anderson Cooper's Houses
Cooper is an avowed world traveler, both for his work and recreation, a combination that has led him to own houses in the U.S. and in Brazil, where he owns a vacation home.
His primary residence is Rye House, a Litchfield, Conn., mansion he purchased in 2014 for between $5 and $9 million.
The home has six bedrooms and six baths, is measured at 10,000 square feet. It was designed and built with the aid of famed architect Wilson Eyre. The home is built of stone and stucco, with massive iron gates and a cobblestone courtyard fronting the residence. An Olympic-sized swimming pool is out back, adjacent to a tennis court and greenhouse for Cooper's plants and flowers.
Cooper also owns a Greenwich Village apartment, which was originally a New York City firehouse built in 1906. He purchased the property in 2010 for a reported $4.3 million, installing a gym, brass fire pole, and other older, yet chic, accoutrements for the Beaux-Arts residence in the heart of one of New York's most historic neighborhoods.
In 2014, Cooper added to his home ownership list with a vacation home in Transcoso, Brazil, in the country's state of Bahia on the Atlantic Coast.
The compound is a self-described oasis for Cooper, recently divorced from long-time partner Benjamin Maisani, and he makes the 13-hour trek to Transcoso as often as possible for a heavy dose of jungle-themed rest and relaxation.
How Does Anderson Cooper Spend His Money?
Aside from his homes, Cooper isn't a spendthrift, opting to focus on his career and his charitable aid efforts, where he gives time and money to favored causes like the Elton John AIDS Foundation, the American Heart Association and GLAAD, among others.
Cooper is a self-described big reader and reportedly loves to spend a good portion of his free time buried in a good book. He also is a big fan of TV binge-watching when he can get to it - "Breaking Bad" was reportedly a favorite show of Cooper's.
As far as spending his wealth on luxury items, Cooper doesn't really do that, outside of his home furnishings and travel budget.
Instead, he has "found his bliss" (a favorite term used by his mother) in reporting and globetrotting as one of the world's most respected and watched news personalities.
It's never too late - or too early - to plan and invest for the retirement you deserve. Get more information and a free trial subscription toTheStreet's Retirement Dailyto learn more about saving for and living in retirement. Got questions about money, retirement and/or investments? EmailRobert.Powell@TheStreet.com.