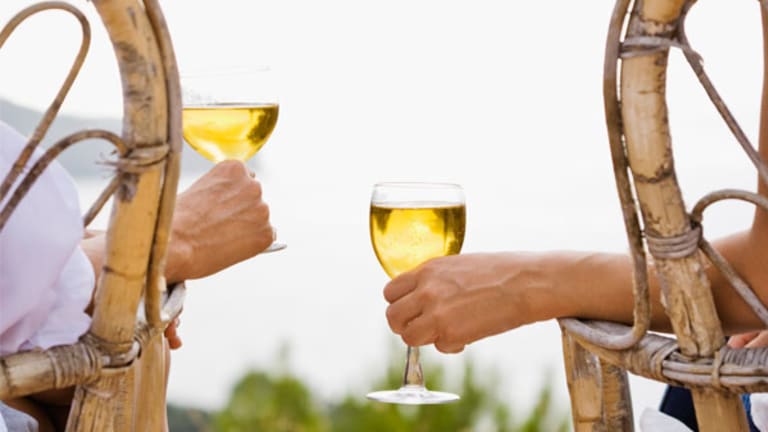 Agritourism for the Luxury Traveler
Travel incorporating a working garden or farm has a few truly great American examples.
Travel incorporating a working garden or farm has a few truly great American examples.
Despite its popularity in Europe, the mainstream American travel market knows little about agritourism -- travel incorporating a working garden or farm, from simply growing vegetables to larger livestock and farming. In its strictest interpretation, the farm would come first and the hotel or inn second, with modest farm-style accommodations heavy on communal dinners and rooms of grandmotherly charm (likely with more than a few homemade quilts and flags).
With no shortage of sites such as
catering to the more basic end of agritourism, luxury travelers looking for a little more lordship and a little less serfdom have to dig a bit deeper.
California's Russian River Valley region is the home of the Farmhouse Inn, a spinoff of a century-old, family owned farm.
You wouldn't guess that one of the country's greatest agritourism hotels would be found in the backdrop of the Smoky Mountains, where in the mid-1930s a Chicago native planted the roots for
. A sprawling 4,200-acre estate just outside Knoxville offers one of America's foremost luxury farm resorts, where guests are encouraged to partake in harvesting heirloom produce from the gardens, a working orchard of cherry and apple trees as well as blueberry bushes and blackberry brambles. During late summer, the surrounding forest provides an excellent backdrop for foraging morels, chanterelle mushrooms and cauliflower mushrooms in a scene straight out of old world Europe.
Weekend farmhands in Ralph Lauren find a series of cottage-style, freestanding villas that mix a New England sense of design with southern hospitality and unrivaled mountain views. Entry-level rooms within the main estate building offer fluffy feather beds and fully stocked mini bars of farmhouse snacks and baked goods. Larger, more impressive suites including the Farmhouse Cottage offer three wood-burning fireplaces as well as a private gourmet kitchen to cook up home-grown produce. There's also an Amish-style barn eatery with jacket-required dinner service using antique linens with tables set in sterling silver and meals cooked with produce grown only feet from a kitchen led by Tennessee native Chef Joseph Lenn.
California's Napa Valley was a pioneer in the farm-to-table movement but has lagged in farm-based stays. The uber-lux Carneros Inn is an exception. It's spread over 27 acres of working farmland and vineyards, with an eatery called Farm that uses produce harvested within a 150-mile radius and organic wines from the Plumpjack Winery owned by the same family. Farther north, past Healdsburg in the Russian River Valley region, is the
, a ranch and farm-style inn with restaurant owned by the Bartolomei family. It opened in 2001 about three miles from the family's century-old nearby ranch.
The inn's 6-acre compound includes the main house reception, refurbished barn and freestanding cottages. Hardly a labor camp, it boasts six concierges and three other staff working to ensure the impeccably styled rooms are kept in fresh, homegrown flowers and cookies that are actually still hot from the oven at turndown. Mornings feature farm-fresh breakfasts with homemade pastries. By night, a gourmet dining room led by Steve Litke tells a tale of local recipes influenced by the Italian, French and Mexican immigrants that have populated the valley over the past 100 years.
While most people think of frilly cocktails and lazy days at the beach when it comes to the Caribbean, the island of St. Lucia in the Lesser Antilles has been an agrarian nation back to the 17th century, when much of it was used as colonial sugar plantation. Today,
makes a market in catering to travelers looking for some of that infamous past. The property is in the island's Soufriere area, home to the famous Piton Mountains and a densely planted farming region only a short drive from most of the tourist mainstays. Granted under King Louis XIV, this 19th century French Colonial plantation cultivated coffee, cocoa and sugar cane over its 250-year history. After a four-decade abandonment, it was bought and turned it into a working organic farm estate.
Fond Doux Estate is made up of a main house and series of freestanding guest cottages mixing a homey, colonial charm and reminders of a rich past. Days are spent at leisure, exploring the beaches or participating in the day-to-day operation of the on-site cocoa plantation that includes shifts harvesting, drying and grinding cocoa beans as well as rolling and ultimately eating the end product. Afterward, guests find eateries for daily meals that include a mix of Creole and Caribbean cuisine. In recent years the plantation has become even more famous for a visit by Prince Charles and wife Camilla, strong supporters of organic farming and agritourism -- even if they didn't actually break a sweat.
>To submit a news tip, email:
.
RELATED STORIES:
>>Realizing the Summer Dream of Capri
>>Weekends Really Work in L.A.'s Silicon Beach
>>Home Exchanges Mean Free Stays in Luxury
Follow TheStreet.com on
and become a fan on
Michael Martin is the managing editor of JetSetReport.com, a luxury travel and lifestyle guide based in Los Angeles and London. His work has appeared in InStyle, Blackbook, Elle, U.K.'s Red magazine and on ITV and the BBC.