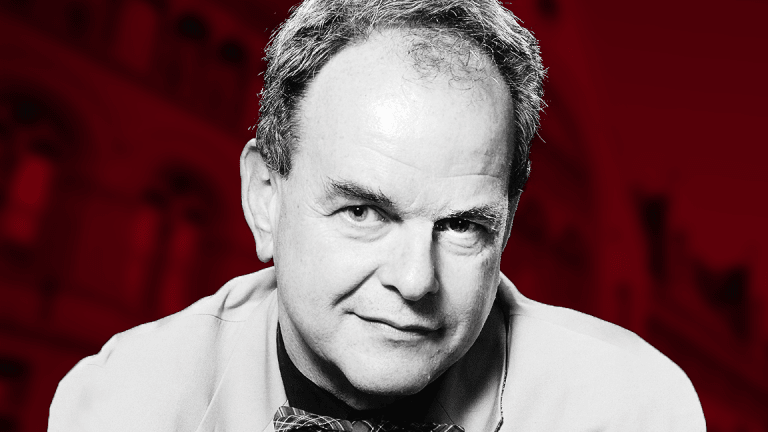 1 Big Life Lesson From Fascinating Food Life of This College Professor
David Shields writes about the history of Southern food as part of an unconventional academic project.
Many academics relax when they receive tenure. Some try to reach a broader audience; others focus even more intently on an aspect of their chosen field of study. But when The Citadel made David Shields a professor of English in 1989, he had an unusual response.
"The prospect of having a job for life makes you think about death," he says now. Not wanting to waste his intellectual freedom, he decided to cultivate an expertise for each of the five senses.
For sight, he wrote the book Still: American Silent Movie Picture Photography and maintains a website devoted to American theatrical photography. For hearing, he amassed an online collection of obscure Russian piano music scores composed between the 1880s and 1930s and keeps a diary of musical meditations. In the realm of touch, he's working on a study of the physical culture movement in the U.S., most famously represented by bodybuilder and actor Steve Reeves.
As for taste and smell, Shields has become a preeminent historian of Southern food culture. Last fall, he published The Culinarians: Lives and Careers from the First Age of American Fine Dining, a compendium of biographies of great 19th century chefs. The group that ranges from Ann Poppleton, who "introduced the luncheon as an institution of women's refreshment and sociability into the U.S. in 1816," Shields writes, to John Michaels, "the 19th century poster boy for self-destroying chefs," he says.
As a child, Shields spent time in Japan, where his father was in the CIA and he developed a taste for congee, a rice porridge traditionally eaten for breakfast. The family later moved to the Washington suburbs, and Shields graduated from William & Mary College in 1973 before earning his doctorate at the University of Chicago. He started his teaching career at Vassar College, then moved to The Citadel in Charleston because his wife, a stockbroker, hated cold weather and saw professional opportunity in the South Carolina city, whose food and culture were not yet objects of academic study and gastronomic obsession when the couple moved there in 1984, Shields says.
He's played a major role in changing that. In 2003, the year he moved to the University of South Carolina, he helped organize a conference on the food of the Low Country attended by chefs, writers and producers of food, including Glenn Roberts, the founder of Anson Mills, which supplies many of today's top chefs with grits, cornmeal and polenta. Many participants expressed a desire to recover old varieties of fruits, vegetables and grains that had been lost when producers increasingly opted for varieties with less flavor and greater durability as the U.S. became a truly national market and food could be shipped from coast to coast.
Roberts, Shields says, "challenged me to research the growing system around Carolina Gold Rice, so that the entire set of landrace grains and heirloom vegetables might be revived and their tastes restored to southern cooking."
To understand how those plants were cultivated in the 19th century and help make them viable economically and physically today, Shields had to understand the principles of older American agriculture and learn botany and biology. The literary product of his labor was Southern Provisions: The Creation and Revival of a Cuisine, in which Shields follows 19th century Southern food from farms, fields and waters to the region's best tables and brings the story up to the present by discussing Roberts's work.
Shields extends the story to the entire country in The Culinarians, whose subjects Roberts finds strikingly contemporary. He points to Jules Harder, who came to New York from France in 1852 to be an assistant chef at Delmonico's and moved in 1875 to the Palace Hotel in San Francisco, where, Shields writes, "Harder secured the finest seed from French and eastern American sources for garden produce and put it in the hands of California farmers" to ensure he could get the best possible produce.
"Harder was doing farm to table as a high art in 1880s and 1890s," says Roberts. "I had no idea. Jules Harder was to the end of his career going out into the field and growing his own food."
The Culinarians ends in 1919, the year before Prohibition, which devastated American fine dining by outlawing the sale of alcohol, a major source of profit for restaurants. Shields is considering writing an essay about fine dining in the U.S. between the two world wars, and he continues to be fascinated by the recovery of old foods. At the beginning of a meal at Cosme, a Mexican restaurant in Manhattan, he orders a Daminia beer brewed in Baltimore from a traditional Mexican corn. As he's leaving, he mentions the Anne Arundel cantaloupe, an heirloom variety being grown at Monticello, Thomas Jefferson's estate near Charlottesville, Va.
More of What's Trending on TheStreet: