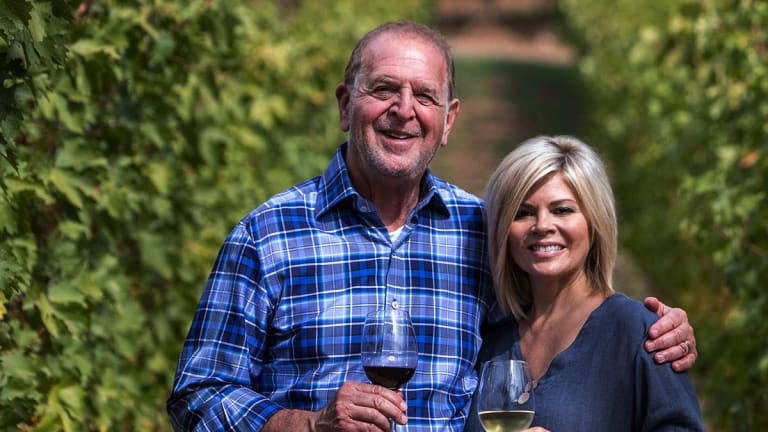 A Hollywood Studio Head's Long-Running Second Act in Napa
After being an executive at Disney and Paramount, Rich Frank has spent a quarter-century building a winery in Napa Valley.
Rich Frank redirected his commercial acumen when he moved to Napa Valley. After a highly successful career as a studio head at Paramount and Walt Disney Co. (DIS), where he created a slew of hits including the television shows Golden Girls and Home Improvement and movies such as Good Morning Vietnam and Pretty Woman, in 1993 he launched what is now Frank Family Vineyards. A quarter-century later, Frank and his wife Leslie have built it into a business with an exceptionally loyal customer base and a strong reputation in the wine world.
Frank had no such ambition when he bought a second home in 1990 in Rutherford. In that era, he says now, "No one was buying grapes from anyone. There was oversupply, and the thought of starting a winery was crazy, because there were so many family wineries." But when Hanns Kornell Champagne Cellars filed for bankruptcy, the bank that foreclosed on the property had to sell it within 24 hours because the bank wasn't allowed to hold a liquor license. One of Frank's friends called to tell him the winery was for sale.
"I didn't even see any financials and said, 'Offer them half,'" Frank says now. "It was just as a hobby. I was going to make a couple of hundred cases a year." He now makes 100,000.
For the first eight years, production grew slowly, and, Frank says, "I didn't pay that much attention to it." But after a fire in 2000, he rebranded the winery with its current name and hired Todd Graff as winemaker. "Now it was my name on the label," Frank says, and his old instincts kicked it. "It's all about brand. You have banged into your head all day long at Disney that it's brand, brand, brand."
Originally focused on Cabernet Sauvignon, Frank and Graff expanded their offerings to include Chardonnay, Pinot Noir, Zinfandel and Petite Sirah. The Chardonnay is the only white wine the vineyard makes, because, Frank says, it's the only one he and Leslie drink themselves. "You can only do what you're comfortable with," he says. "I never made a horror movie when I was in the movie business."
Frank designed the labels of bottles made to be sold in stores to be see-through so they would catch the eye of retail customers. "When I looked at all the aisles in all the stores, nothing stood out to me." he says. "And I thought these would really stand out on shelves."
Perhaps most importantly, he realized the importance of narrative in selling his wines, which is critical in Napa because so many customers join mailing lists after visits to a winery. "There are so many good wines in Napa," he says. "People want a story with it, and they want to hear your story. Our best guests are the ones who come here because they like our story." Frank himself is a strong presence at the winery, and he's emphasized its familial quality by, for example, naming its top sparkling wine after his mother Edythe and its top red The Patriarch in honor of his father Hy, a World War II veteran.
He's tried to preserve that intimacy while changing the experience guests have when they visit. In the last year and a half, he says, Leslie redid the tasting room. Rather than "packing in as many people as your permit would allow," he says, "what we found was that the real buyers would rather sit down with you for an hour. So we built five sit-down rooms, and we've gone to all reserved tastings on the weekends. We do more business with fewer people coming in now. You have to adjust your business over time, or it runs by you."
The Franks have capitalized on their popularity with their customers by sponsoring cruises with members of their wine club, most recently a trip from Venice to Athens in September. "I'd say half the people have been on multiple trips with us," Frank says. "They become your ambassadors."
Such enthusiasm is critical in a business where there's been significant consolidation among both producers and distributors in recent years, which has put pressure on many small producers. The trend is in part a response to the greatly increased cost of doing business in Napa as land prices have skyrocketed. Frank says unplanted land went for about $10,000 an acre when he moved to the area and that he bought the 87-acre Benjamin Vineyard for a little under $200,000 an acre in 2012. Now, he says, "You can't find a piece of land in Rutherford for under $500,000 an acre. You won't be able to find a bottle of Napa wine for under $100 in a couple of years. Your brand had better be pretty strong for people to stand for that. I think that will encourage more and more people to sell."
Frank doesn't plan on being one of them. "If you're eating at a restaurant and the chef comes out and says hello, the food tastes better, and I believe that's true here," he says. "It's why I'm always going to be a family winery. We'll be in it until I'm not around."