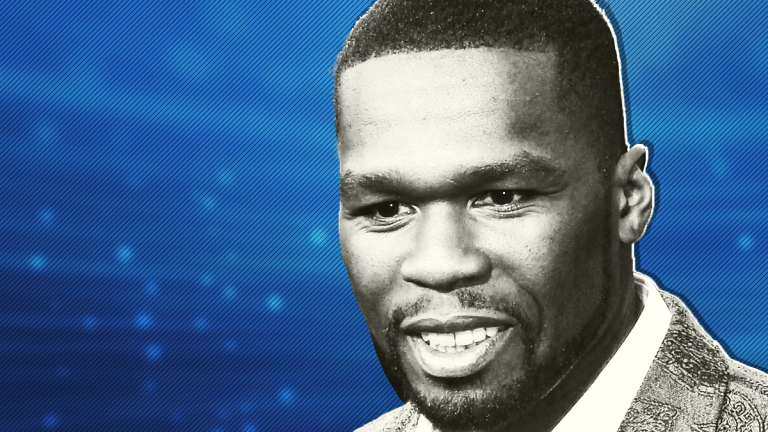 What Is 50 Cent's Net Worth?
Despite his rap handle and a bankruptcy, 50 Cent is one hip-hop's wealthiest artists.
You'd think, judging by his rap handle, 50 Cent would not have much net worth. But if you thought that, you'd be wrong.  He's come a long way from the drug-dealing street gang kid. But his interest in money hasn't changed much, even though he has more than he ever dreamed of just about a decade ago.
50 Cent's Net Worth
As of earlier this year, the 44-year-old rapper and entrepreneur Curtis James Jackson III, aka "50 Cent," who also goes by the names Fitty and Fiddy, had an estimated net worth of $30 million. That was considerably down from his peak, estimated at $155 million in 2015, when he was listed by Forbes as one of hip-hop's wealthiest artists. 
Early Life
Jackson was born in 1975 in the borough of Queens, New York, in the neighborhood of Jamaica, to a single mother who, according to his biography on Biography.com, raised him while working as a drug dealer. She died in an unexplained fire when he was eight. After her death, his grandmother raised him.
As a boy, Jackson wanted to be a boxer. He trained and fought at the junior level, but began selling drugs at 12. At 19, an undercover narcotics officer arrested him for selling four vials of cocaine. When his home was raided three weeks later, crack and heroin were found. Sentenced to three-to-nine years for the felony, he was sent instead to a military-style correctional boot camp, where he served six months instead and obtained his General Education Development diploma.
He was already rapping by then, and took the name "50 Cent" - the nickname of a notorious Brooklyn robber, Kelvin Martin, from the 1980s, but also as a metaphor for change.
Rumors also have circulated since his first hit that Martin used to rob celebrities - inspiring Jackson's first hit: "How to Rob."
Rap Career
Jackson has so far sold more than 30 million albums worldwide, and won several awards. 
According to a BBC profile of him in 2007, Jackson's first important contact in the New York hip hop scene, which spawned rap, was an introduction to Jam Master Jay (Jason William Mizell), a DJ and musician with the group Run-DMC. 
Jackson credited Mizell with teaching him to "count bars, write choruses," and about song structure.
Mizell planned to produce an album for Jackson, but it never came out. Still, a mixtape recording of Jackson titled "Guess Who's Back?" made its way to Eminem (Marshall Mathers) in 2002, and impressed the big name in rap at the time. Mathers was produced by Interscope Records, a division of Universal Music Group, and the group signed Jackson on as yet another of its growing list of gangsta rap artists, with production help from Dr. Dre. 
Between Jam Master Jay and Eminem, though, Jackson was signed on by Columbia Records, which planned to debut an album he recorded called "Power of the Dollar." The album, which featured guest appearances by Destiny's Child, Noreaga, and a host of other well-known names, was shelved by the label when it learned Jackson was struck by nine bullets in a shooting that took place two months before the album's scheduled release. Jackson was dropped from the label, and there are no plans to release it.
Besides impressing Eminem in 2002, tragedy struck the same year when Jackson's supporter and mentor, Jam Master Jay, was shot and killed by an unknown assailant while recording new music in his studio in Jamaica, Queens. 
His commercial debut album, "Get Rich or Die Tryin'," in 2003, earned him a Best New Artist nomination at the 46th Grammy Awards. It also won him a Billboard Music Award for Album of the Year, and the ASCAP Songwriter of the Year award. 
On "Get Rich or Die Tryin," the single, "How to Rob," which was bootlegged from "Power of the Dollar," -  a facetious song about plans to steal from stars such as P. Diddy, Jay-Z and Missy Elliott - showed his confrontational style but also in the vein of some of the original "calling out" of other artists to get their attention - a slight tradition from the genre's origins.
What 50 Cent had done was manage to take a slightly facetious aspect of 1980s rap - like that of "Fresh Prince" Will Smith, and combine it with the in-your-face aggressive lyrics of gangsta rap, brought to prominence in the late 1980s by Tracy Morrow, aka Ice-T and Jesse Bonds Weaver Jr., aka Schoolly D.
"Get Rich or Die Tryin'" was produced by Eminem and Dr. Dre, and eventually sold 9 million units. Singles on it such as "Wanksta" and "In Da Club" helped turn them into crossover pop hits, and his credibility was enhanced by his reputation as writing from personal experience - when most rappers boasts are more character-acting than real.
After his being shot, and the shooting death of his mentor, 50 Cent started appearing at clubs to perform wearing a bullet-proof vest.
His next album, "The Massacre," in 2005, earned five Grammy nominations, six Billboard Music Awards, and another ASCAP Songwriter of the Year award. Jackson continued to rap about drugs, crime and sex on the album, with tracks like "Candy Shop" and "Just a Lil Bit."
His third album, "Curtis," won him Best-Selling Hip-Hop Artist at the 2007 World Music Awards. In 2009, his album "Before I Self-Destruct" only sold modestly, but his position as a survivor of past criminal behavior, violence and poverty made him an influential figure in hip-hop culture.
He has won a Grammy Award, 13 Billboard Music Awards, 6 World Music Awards, three American Music Awards and four BET Awards.
After a stint with other ventures, Jackson returned with the release of his "Animal Ambition" album in 2014. But feuds with other rap icons Ja Rule, Rick Ross and The Game appeared to distract from his art.
Business Ventures
In addition to being a rap artist, Jackson is also an actor.
As 50 Cent, Jackson has starred in 17 different movies. In addition to his classic "Get Rich Or Die Tryin'," he has starred in "Home of the Brave," "Righteous Kill," "Before I Self Destruct," "Streets of Blood," "Dead Man Running," "Caught in the Crossfire," "13," "Gun," "Twelves," "Blood Out," "Setup," "All Things Fall Apart," "Crossfire," "Fire with Fire," "Escape Plan," and "Oath."
"Get Rich or Die Tryin'," in 2005, was his debut movie, and was said to be semi-autobiographical about his experiences becoming a celebrity artist in the "Gangsta Rap" genre. Despite Jackson's competent acting, movies with him as a character alongside the likes of Samuel L. Jackson ("Home of the Brave") and megastars Al Pacino and Robert DeNiro ("Righteous Kill") did not fare well with either critics or the box office.
He then turned to writing and producing, which led to his being co-creator and producer of the crime drama television series "Power," which debuted on Starz television in 2014, and is in its sixth and final season in 2019.
After following hip-hop legends Fresh Prince (Will Smith), Ice-T (Tracy Morrow), Ice Cube (O'Shea Jackson) and LL Cool J (James Todd Smith), among others, into acting, he also followed moguls Dr. Dre (Andre Romelle Young), Jay-Z (Shawn Corey Carter) and Puff Daddy, (Sean John Combs) into expanding his brand.
He promoted and invested in a minority stake of Vitamin Water, for instance, a partnership that allegedly netted him $100 million when The Coca-Cola Co. (KO) bought the brand from Glaceau for $4.1 billion in 2007. Jackson's stake in the water company was estimated at 2.5%, giving credibility to estimates of his making $100 million to $150 million on the deal.
In 2003, he partnered with Mark Ecko to create a clothing and accessories line, named after his G-Unit crew of rappers. As of 2019, the line is now exclusively sold online.
Jackson also founded the successful headphone line SMS Audio (Studio Mastered Sound) in 2011. His success in audio equipment was similar to original "N.W.A." gangsta rap member Dr. Dre and Interscope producer Jimmy Iovine's Beats, now a subsidiary of Apple Inc. (AAPL)
Controversy
Not counting investigators' concern that Jam Master Jay's murder was a case of the victim being mistaken for himself, or at least possibly caused by his mocking of gangsta rap artists, 50 Cent's meteoric rise and discovery has, as might be expected, produced a number of controversies. One of the first came a decade after he made a name for himself joking about robbing hip-hop celebrities.
In 2009, Lastonia Leviston sued 50 Cent for allegedly uploading a stolen sex tape to his website, which featured his then-rival Rick Ross's "intimate moments" with Leviston. In July of 2015, she won, and 50 Cent was ordered to pay her $7 million.
His feud with Ross hasn't ended, though it appears his feud with Leviston may have.
As the decade changed, and 50 Cent made more money, it seems, more problems followed.
One day in 2016, a producer, Brandon Parrott, alleged Dr. Dre and 50 Cent used a beat of his for the "Get Rich or Die Tryin'" song "P.I.M.P." Parrott sued both artists, about 13 years after the first hit brought 50 Cent to hip-hop fame. As one might imagine, lawsuits over such intellectual property disputes are not uncommon, particularly in hip-hop. But the "P.I.M.P." lawsuit was dropped the same year it was filed, by Parrott, in 2016.
In 2018, he was sued, along with Akbar Abdul-Ahad, by Teairra Mari for allegedly planning to sexually objectify, threaten, intimidate, humiliate and degrade her. Abdul-Ahad was her ex-boyfriend. She claimed he logged into her Instagram account and posted a sexually graphic video that featured ejaculate on her face.
Mari said after she removed the video and photo posted by her ex-boyfriend, 50 Cent posted the material on his own page.
50 Cent denied the allegations. And a judge sided with him, ordering her to pay him $30,000 for filing a frivolous lawsuit, and also ordered her to pay him extra sanctions of $4,392.50 for not paying him in a timely manner.
Bankruptcy
In 2015, 50 Cent declared Chapter 11 bankruptcy to have time to reorganize his business interests and expenses. He was ordered the following year by the bankruptcy court in Connecticut, where he lived, to pay creditors $23 million over five years. He paid it off after a few months, helped by a settlement in his favor from another case.
He sold his Connecticut mansion that same year for an estimated $8 million. 50 Cent had bought the mansion from Mike Tyson, the boxer, in 2003.
How Does 50 Cent Spend His Money?
Before selling the home of the former World Heavyweight Boxing Champion, 50 Cent spent $70,000 a month to maintain three homes. The former Tyson mansion, which had 21 bedrooms, an 8-car garage, a racquetball court and a home movie theater, was 50 Cent's main home.
But he also has two other investment properties in Atlanta and Long Island, and a New Jersey apartment he leases.
Besides homes, 50 Cent has a fleet of expensive vehicles, which are estimated at a total of $500,000. Among his vehicles are a 1966 Chevrolet Coupe, a 2015 Chevrolet Suburban, a Rolls-Royce Phantom, a 2005 Chevrolet Suburban, 2008 Dodge Sprinter, a 2003 Chevrolet Suburban and a 2012 Suzuki Kizashi Sport.
In addition to spending on homes and vehicles, 50 Cent also owed $855,091 in child support to ex-girlfriend Daphne Narvaez, according to his bankruptcy documents.