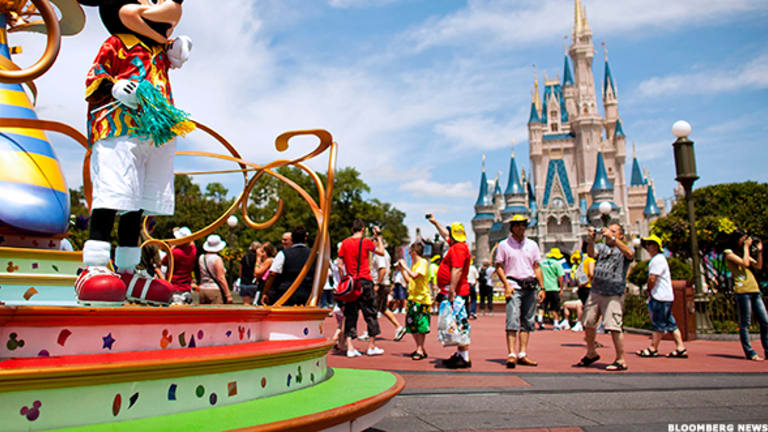 5 Ways to Boost Your Walt Disney World Trip ROI
Long lines and high prices, how can you maximize your Disney World return on investment?
You want that magical family vacation, but while you're fighting off the crowds, you also want to get the most bang for your buck. How do you bring that Disney pixie dust to your wallet?
Of course, you'll be fighting the against everyone else who wants a bargain. Walt Disney World's Magic Kingdom hosts an average of 56,142 people per day, according to data from project management organization, AECOM/TEA. Interior parks such as Epcot average 32,323 visitors per day, Animal Kingdom hosts 29,923 and Disney's Hollywood Studios has approximately 29,666 visitors per day . Considering a visit to the "happiest place on earth" won't be without heavy crowds, families try to find ways to not only maximize their time in the park but also minimize the deep dollar they are spending.
Average costs for a family of four to take a four-day vacation to Walt Disney World in Orlando is around $1,700, says Lissa Poirot, editor-in-chief of Family Vacation Critic.
"One of the most common mistakes families make is trying to squeeze in too much each day," Poirot says. "Sure, you're spending a fortune to visit the land of the mouse but if you have tired and cranky kids, are you really enjoying the vacation? Make time for breaks. If traveling with young kids who nap, head back to your hotel and keep your nap schedule to keep kids from breakdowns. Remember it is O.K. to just sit back and enjoy your vacation."
1. Maximize Your Park Time
Schedule your trip off-season to save money and beat the crowds, Poirot says. "Some of the best deals at Disney can be found in October and the majority of November, before the holiday rush. Because visits are down, you'll wait in shorter lines and find better rates at the area hotels."
Also, skip peak holiday periods, Poirot adds. "Disney peaks at Christmas and between February and April experiences a rolling spring break comprised of different break schedules from around the country," she says. "Summer traffic is high, but visiting in early May or after Labor Day reduces crowds and lowers hotel prices."
If you purchase a park hopper pass, avoid "hopping" too much, says Shannon Schell, avid Disney visitor and former employee. "Buses only go to and from resorts, not to and from parks," she says. Schell suggests hitting one park per day, with the exception of Animal Kingdom, which closes early. 
Also, visiting early or late in the day is always best, Schell suggests. "Try to find popular rides near each other so you can bounce to two or three during the first hour," she says. "Also, after you hit those popular rides early in the morning, bounce back around and grab fast passes for later in the day. If you stay on the property you can take advantage of the 'early magic' hours." Magic hours are designed to provide those who stay at Disney hotels a little extra time in the parks before doors open to the general public.
2. Save on Tickets
A standard park ticket price costs $101 per ticket, not including parking and food, so money can be saved based on how you purchase the park pass alone, Poirot says. "If you purchase a three-day pass, the price drops to about $97 and if you do a four-day pass, it drops to about $81, or $1,300" she says. "Purchasing the multi-day tickets will save your family of four nearly $400."
Another way to save is to let travel day be the day you unwind instead of rushing into the park. Schell says her family doesn't purchase a ticket for the day of their arrival, but instead spends their first day getting settled and then exploring some of the free attraction areas such as the Boardwalk resort instead.
"We did, however, buy a ticket for our last day, because we had a late flight out," she recalls. "We were in the parks until about 2 p.m. to 3 p.m. then back to the resort to catch our bus to the airport. Adding that last day only cost us $40 total so it was worth it.  We got there as early as possible and hit a few favorite rides, ate a delicious lunch and left."
3. Use Convenience Services to Your Advantage
Disney's Fast Pass+ service essentially allows you skip the lines and schedule your attraction time beforehand, but visitors should know how to work the system.
"FastPass+ also allows you to avoid waits on up to three rides, but you have to purchase them," Poirot says. "Instead, our tricks were to utilize park schedules to our advantage. Most people will gather along Main Street for the afternoon and especially the evening parades and fireworks. This was the time we would visit the rides that typically had the longer waits, knowing half of the park was away watching the shows."  Fast Pass ride reservations can be made online well before you arrive at the park.
A more recent addition to Disney services are the Magic Bands, which were created to make it easier for visitors to spend at Disney resorts, Poirot says. The bands also hold your admission to the theme parks, connects photos taken by Disney to your account, gives you faster check in at FastPass entrances and is your Disney resort room key.
"If you have older kids who want to experience the parks away from mom and dad and younger kids, the bands give them the freedom to buy snacks and souvenirs without you," she says.
Are these bands a good thing?  It's convenient, but it's also easier to spend money when you aren't paying attention and many times families are hit with a big bill come check out, Poirot remarks. "An alternative is to give kids a cash allowance to carry, along with their hotel key," Poirot says. "You'll be more aware of your spending and can keep to a budget."
4. Rein in Food Costs
Both Schell and Poirot suggest avoiding Disney dining altogether to save on costs. "Bring in snacks, drinks and as much as you can," Poirot says. "We stock up at the local grocery store instead of paying the big bucks at Disney. You can also leave the theme parks and get your hand stamped for re-entry. Take a break and give the kids a chance to wind down while dining off property for lunch or dinner, then go back to the theme parks after you have rested and saved some money."
If you are traveling by air, Schell suggests shipping food to your hotel. "If you stay on the property you can ship a box of food right to your resort up to five days ahead, this way it doesn't weigh down the luggage," she says.
Meal sharing and the Disney dining plan are other ways you can save. "Sharing meals is about the easiest way to cut costs," Schell says. "The dining plan is not a huge bargain, but takes the pressure off of food budgeting--the meals are paid for and you simply order whatever you like and enjoy."
5. Save on Hotels
Staying on-site can be budget friendly if you know where to go. "The Disney All-Star line of hotels, Art of Animation and Pop Century offer rooms that can comfortably sleep four, with shuttle service and early-entrance amenities," Poirot says. "Disney's Wilderness campground also provides a camping option, if you're willing to rough it."
She suggests discount seekers check out hotels near the park in Kissimmee, Florida instead. "The Magic Kingdom's main gates are actually in Kissimmee, and you'll skip the traffic while finding the best hotel rates," Poirot adds. "You can find hotel rooms for four that are half the price of Disney and Orlando hotels. The Omni, which is in Kissimmee, also features Shrek-inspired activities and character breakfasts - you don't have to do everything Disney to enjoy a great vacation for less."
Editors' pick: Originally published March 29.
Popular Articles on TheStreet:
Under Armour Just Released $300 Sneakers That May Be Its Coolest Looking Ones Ever