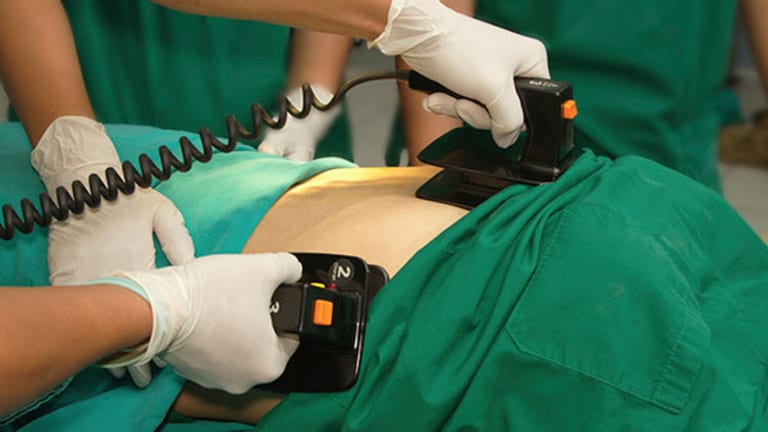 6 Mall Brands That Are Near Death or Have Already Dropped Dead
Wet Seal joins the ranks of the dearly departed.
Editors' pick: Originally published Feb. 2.
Prior to the current era where e-comm sites often have better deals or simply more selection than their brick-and-mortar counterparts, the mall was the end-all, be-all of mass market style. 
The mall was comforting. You knew what brands and styles were going to be there plus cheap, instantly gratifying accessories and the simultaneously terrible yet amazing food court. 
When I asked my social following about what they thought about the demise of mall brands, people had strong opinions, particularly about the rise of free shipping — the true opiate of the masses. 
"I'm more comfortable trying clothes on at home, getting my wife's opinion, and dropping boxes back off at the UPS store,"  Menswear blogger Tailor and Barber noted. "I do like concepts like Bonobos/Suitsupply where I can go to get help, see fabrics, get measured, but having things shipped home is just easier. I also like online shopping, because I can order clothes from stores that are new to me. Lately I've been ordering from stores in England and Italy. I'm not so thrilled with the American cuts of clothing lately, and Europe seems to be a better option. Some European stores have U.S. distribution centers so the shipping is the same."
Millennial @Oliviainthesea noted, "My age group would rather get a lousy quality blouse from Target than go to the Limited, for example, because convenience."
Other users lamented the loss of American Apparel and steady decline of the Gap (GPS) - Get Free Report , two once formidable options sliding into irrelevance. 
The most recent slam on mall brands was the closing of all The Limited Stores and their intellectual property will be auctioned off shortly. In honor of these staples of the early aughts, a list of brands that have been all but laid to rest in the age of Amazon (AMZN) - Get Free Report :  
Wet Seal 
Surprising no one, Wet Seal LLC filed for bankruptcy protection on Thursday according to Reuters. The company listed assets of $10 million to $50 million and liabilities of $50 million to $100 million in a filing with the U.S. bankruptcy court in Delaware. This comes on the heels of shuttering all their stores last week after being unable to find a buyer for the once cool brand trapped in a bygone era that depended on mall traffic.
Wet Seal first filed for Chapter 11 protection in January of 2015 with $103.42 million in liabilities, citing its inability to generate high sale volumes. Versa Capital Management bought Wet Seal out of bankruptcy for $7.5 million in cash.
"Unless they have a radical, fundamental change, oftentimes a Chapter 22 case is the end," said Jasmin Yang, a bankruptcy attorney at Snell & Wilmer. "Chapter 22" is the unofficial term given to a company's second Chapter 11 filing.
Wet Seal was founded in 1962 by Lorne Huycke in Newport Beach, California and primarily has sold trendy apparel and accessories for #CoolTeen girls. The brand's website currently has a "all sales final" caveat at the top of the page.

The Limited
Private-equity backed The Limited is closing all 250 of its stores nationwide, resulting in 4,000 job cuts, according to the Associated Press. "We're sad to say that all The Limited stores nationwide have officially closed their doors," the company said in a statement on its website. "But this isn't goodbye. The styles you love are still available online -- We're just a click away 24 hours a day." The mall staple sold work-appropriate clothes for women at reasonable prices. Meanwhile, Ann Taylor/Ann Taylor Loft (ANN) is probably laughing maniacally while sipping spiked coffee and making "there can only be one highlander" jokes. 
American Apparel
Apparel maker Gildan Activewear (GIL) - Get Free Report recently purchased American Apparel at auction for $88 million in cash. The deal includes intellectual property rights and certain manufacturing equipment, but Gildan will not be purchasing any retail stores. "We see strong potential to grow American Apparel sales by leveraging our extensive printwear distribution networks in North America and internationally to drive further market share penetration in the fashion basics segment of these markets," Gildan CEO Glenn Chamandy said in a statement. In other words, if you're a fan of metallic leotards get thee to an AA store while it still exists and there's a liquidation sale. 
Claire's
Lower-end prom accessories and debt payments apparently go hand in hand in 2017. Brian Sozzi reported that "Claire's Stores could be in the same position as Limited Stores later this year." Given that Claire's still operates 2,800 stand-alone retail outposts and hundreds more concessions pop-ups in retailers like Toys 'R' Us, its closings would cause more of a splash than the shuttering of Limited stories. And as Sozzi adds, "Claire's is listed by Fitch Ratings as one of the retailers most at risk of a default within the next 12 to 24 months." So I would plan on getting your ears pierced somewhere else. 
Borders
Remember Borders? The bookstore/music emporium was once a proud example of literary prowess competing with Barnes & Noble, but with the advent of online book ordering and e-readers, the chain was too late to the game. The company redirected online ordering to Amazon, and while Barnes & Noble went all out with the Nook, Borders was still hawking CDs that were becoming irrelevant with the iPod. On that note, last week I got made fun of for going to the library instead of just ordering everything on my kindle. 
Limited Too
In a surprise twist ending, Limited Too is coming back as The Limited shutters its doors. The New York Post reported that Bluestar Alliance acquired the rights to the Limited Too from Sun Capital Partners, and will supposedly be opening 200 stores over the next five years. "We are going to bring it all back," said Bluestar's Ralph Gindi, which owns more upscale brands such as Michael Bastian and Catherine Malandrino among others.
This might be a smart move as the women who fondly remember Limited Too from the nineties would shop there for their own children and other kids' brands like P.S. from Aeropostale shuttered all of its stores in favor of e-comm. Glitter tees for everyone!