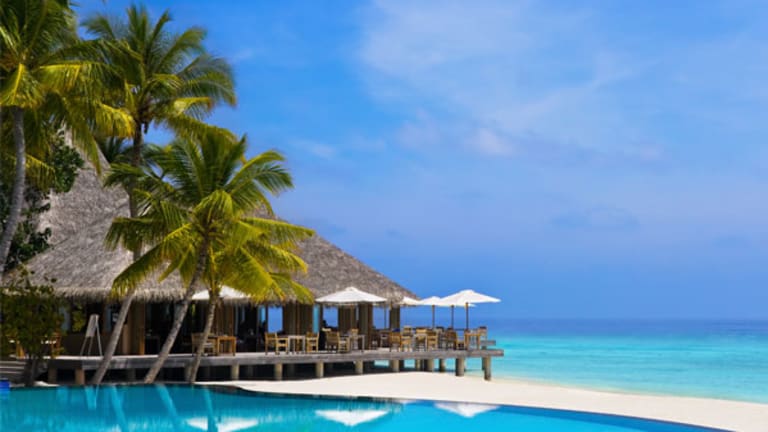 5 Home Beer Brewing Kits for Holiday Giving
Beer fans longing to dump hops into an IPA or make a Bud knockoff from a packet will love these holiday home brew ideas.
BOSTON (MainStreet) -- Kits are a big step when holiday shopping for a beer lover, but good ones will ensure home brew for many holidays to come.
Shoppers considering a splurge on home brewing equipment for their favorite beer fan this holiday season should know they have plenty of drinking buddies doing the same. The Boulder, Colo.-based American Homebrewers Association surveyed home brewing supply shops earlier this year and found that their gross revenue grew 16% last year, matching growth in 2009. Roughly 82% of those shops also saw an increase in beginner-kit sales.
Part of the appeal, especially for cash-strapped holiday shoppers, is that it doesn't take a whole lot of cash to get your gift recipient brewing. All-in-one novice brewer sets can be had for $40 or less, but even a professional-grade beginners kit that can follow a brewer from his or her first batch to the 150th runs between $80 and $110.
If shoppers want to cut costs, there's a good chance that some of the key home brewing supplies are already in a friend or loved one's kitchen. The five-gallon pot he or she uses to boil pasta will work just fine for boiling beer. Their empty Christmas Eve beer bottles? Keep those around for the first case.
Gary Glass, director of the American Homebrewers Association, recommends starting with a plastic bucket fermenter, an air lock and stopper, thermometer, racking cane for siphoning, tubing, bottling bucket, bottle filler, bottle capper, sanitizer, bottles and a bottle cleaning brush. While most of those can be found in simple starter kits, some of the seemingly extraneous items that accompany them will come in handy later.
"They don't really need a hydrometer, though pretty much every kit on the market will include one," Glass says of the alcohol-content measuring device. "However, once someone gets a brew or two under their belt, they will likely want to have a hydrometer, so it's worth buying a kit that includes one."
Matt Simpson, owner of The Beer Sommelier and TheBeerExpert.com, recommends that gift givers giving a beginner's kit to a serious brewer should also consider investing in a turkey fryer. The combination burner and five-to-seven-gallon pot requires some space to use, but beats making a mess in the kitchen or making the whole house smell like hops and malt. He does note, however, that it's not a must-have and can stay on the shelf with advanced gadgets such as refractometers, pH strips or a fancy framework setup with multiple pots and pumps. Aside from a long spoon for stirring, Simpson says the only other extras that should come with a home brew gift set are a meet-and-greet with the home brew store owner who sold it and perhaps a brewing session with people who've done it before.
"Make friends with your local home brew shop keep and pick his brain about everything -- recipes, ingredients, the brewing process, etc., and try to find a local home brewer to shadow and learn as much as possible," Simpson says. "Brewing is always easier to understand when you can see it done firsthand and even pitch in."
A little light reading doesn't hurt either. The American Homebrewers Association offers its Zymurgy: An Introduction To Homebrewing as a free, online guide that takes new brewers through the process a step at a time. Simpson, meanwhile, recommends John Palmer's free online book How To Brew as a blueprint for making one's own lager and IPA.
Throwing in a $25 to $40 "kit" of malt extract, hops, grain and yeast for a brewer's favorite beer wouldn't be such a bad idea, either. Tess Szamatulski, who owns the Maltose Express brewing supply shop in Monroe, Conn., with her husband Mark and contributed to beginners' light beer reading with the recipe booksBeer Captured and Clone Brews, has produced more than 400 such kits for brewers trying to clone everything from a Sierra Nevada IPA or Guinness  (DEO) - Get Diageo Plc Report to the long-discontinued Pete's Wicked Ale or extremely rare Brouwerij Wesvleteren 12. Not only do the kits make it easy for novice brewers to make a batch of something they'll like, but the cost of producing it is roughly one-third of what it would cost to buy a case and an even steeper discount for some of the pricier Belgian offerings.
"It couldn't be easier," Szamatulski says.  "And like I always tell potential brewers, 'If you can boil water you can make beer!'"
With the quickest route from Point "A" to Point "Beer" in mind, we poured through the home brewing market and found the five best starter kits for the burgeoning home brewer this holiday season:
Maltose Express starter kit
The one brewing kit Maltose offers isn't that dissimilar from what can be found at home brewing stores across the country, but the Szamatulskis feel that putting all the components together and giving an up-and-coming brewer just a bit of guidance will make a better beer in the end.
"We put this kit together ourselves instead of buying the brew kits that our wholesalers offer because this is how we believe we can get our customers to brew a successful beer the first time they brew," Tess Szamatulski.
The $110 kit includes a primary 7.8-gallon plastic fermenter with a drilled and grommeted lid, a secondary stage five-gallon glass carboy, airlock and stopper, racking cane, five feet of flexible tubing, bottle filler, capper, caps, sanitizer, hydrometer, floating thermometer, bottle brush, and two books. The first volume is Byron Burch's how-to guide Brewing Quality Beers and the second is the Szamatulskis' clone-beer recipe book Beer Captured.
The buyer is on his or her own for ingredients, but Maltose also offers kits of its Beer Captured recipes for sale from $38 to make little more than two cases of a reasonable facsimile of Tusker Premium Lager to $65 for a Samuel Adams  (SAM) - Get Boston Beer Company, Inc. Class A Report Double Bock doppelganger. The brewing kit and the kits of ingredients fall right in the middle of the price range for home brew products of their kind and serve as strong starting points for potentially serious brewers. If you can't picture this present being pulled out of the garage more than twice or so after it's given, though, might we suggest:
Brooklyn Brew Shop brewing kits
Sometimes you just want to make a batch of beer in your apartment and say you did it. That's just fine, too, but that doesn't mean you have to use inferior equipment to do it.
The Brooklyn Brew Shop home brew kit was put together by Erica Shea and Stephen Valand after Shea found a vintage fermenter in her dad's basement and set about making brewing her business. After a beer tour of Europe, she and her partner decided that all a home brewer needed to brew in tight quarters such as, for example, a Brooklyn apartment, is a one-gallon fermenter, an air lock, a screw-top stopper, thermometer, plastic tubing, a clamp, a racking cane, some sanitizer and a kit full of ingredients.
The two showed fellow Brooklynites how to make these small batches at the Brooklyn Flea before taking their equipment-and-ingredient kits to the public for $40 a pop. Though the little system still requires boiling your mash, sparge and wort and finding bottles for the finished product, its creators made brewing as easy as baking a batch of cookies by providing detailed written and video instructions for free online, writing a recipe book for those who outgrow their kits and posting a blog full of formulas, pairings and events for those who hold to the gallon-at-a-time approach.
"As long as it's a trusted source creating the kit, it should be just fine for crafting a great beer," Simpson says. "Just make sure it's a kit meant for real brewing; any no-boil kit can be ignored from the outset."
As brewing training wheels go, the Brooklyn Brew Shops kits are a sturdy set. Available varieties for holiday starter kits include Gingerbread Ale, Chocolate Maple Porter and Chestnut Brown Ale, but $15 seasonal refill packs offered throughout the year have featured varieties such as Everyday IPA, Honey Sage Seasonal and Jalapeno Saison.

Buy the Brooklyn Brew Shop Beer Making Kit, Everyday IPA on Amazon here.
Mr. Beer kits
If you've ever shopped for a home brewing kit at Target  (TGT) - Get Target Corporation Report or Wal-Mart  (WMT) - Get Walmart Inc. Report , this is likely what you found.
Mr. Beer makes no qualms about being the everyman's brewing kit and makes it as simple as possible for its buyer to get a beer in hand quickly. The kits come with a two-gallon barrel-shaped plastic fermenter with built-in airlock and tap, sanitizer, dry brewing yeast, hopped malt extract that puts hops and malt into one simple mixture and "booster" that serves as a sugar-producing substitute for actual grain. To top it off, Mr. Beer provides one-liter plastic bottles to avoid the messiness of bottle collecting or capping.
Since the whole concoction still needs to be boiled, it just clears Simpson's bare minimum for home brew kits. At $30 to $40 for basic beer and cider kits and an array of flavors including stouts, doppel bocks, blonde ale and English brown, though, it's about all a low-maintenance brewer-to-be can ask for.
If there's a chance that a home brewer is going to take up his or her hobby long term, however, there's only so much Mr. Beer can do. Mr. Beer's recipes grow along with a brewer as the booster-packet refills give way to bolder brews for which kits include actual hops and extracts.
That's going to be plenty to keep the casual brewer satisfied, but a beer lover who wants to experiment with different hops and malts or create some more technically challenging blends is going to feel a bit cramped by Mr. Beer's constraints.
"Many home brewers get started with the Mr. Beer and Coopers kits," the American Homebrewing Association's Glass says. "Those kits can make decent beer and they are very affordable, but anyone who really gets into the hobby will quickly outgrow the equipment included with those kits and will be seeking out a more complete equipment kit from a home brew supply shop."

Buy Mr. Beer kits on Amazon here.
Coopers beer kits
If Mr. Beer had 149 years of brewing history behind it and gave its buyers equipment they ever stood a chance of using again when they became more regular brewers, its products would be virtually indistinguishable from Coopers.
Having brewed its beers in Australia since 1862, Coopers is perhaps better known worldwide as a producer of home brewing products and easy-to-make home brewing mixes. Like Mr. Beer, Coopers relies heavily on cans of hopped malt extract and brewing sugar "enhancers" to ease home brewers into the process and get them producing IPA, stout, pilsner and witbier as quickly as possible.
Is it a bit of corner cutting? Sure. Does it still require boiling, fermenting, bottling and simpler forms of the basic steps required to make beer? Absolutely, and it even provides the right equipment for doing so.
The $100 to $125 Coopers kit includes a six-gallon plastic fermenting bucket, hydrometer, measuring flask, instructional DVD, long mixing spoon, an adhesive thermometer strip and 30 plastic screw-top bottles. Once a brewer finishes the lager brew pack, sugar booster and carbonation drops, however, that fermenter and airlock can make the transition to standard malt, hops, grain, yeast and water brewing a lot more easily than the two-gallon Mr. Beer.
That still leaves a home brewer short of items such as tubing, actual thermometers, sanitizer and other brewing necessities, but it allows him or her to find their footing with the Coopers offerings while building up to bigger brews. Coopers will even have standard malt extracts waiting for the novices once they hit the next level.
"The equipment available at home brew supply shops offers more room for advancement in the hobby than the Mr. Beer or Coopers kits," Glass says. "For someone really not sure about jumping into the hobby, a Coopers kit might be just the thing to test the waters with."

Buy Coopers beer kits on Amazon here.
The Beer Machine
If you really like a macrobrewed beer, don't want to get your hands dirty and find the actual brewing process a painful bore, you're likely in The Beer Machine's key demographic.
The Beer Machine is the kind of product that makes home brewing enthusiasts cringe, but lets home brew wannabes play Anheuser-Busch (BUD) - Get Anheuser-Busch InBev SA/NV Report for a few days. The 2.6 gallon contraption is basically a giant refrigerator-friendly fermenter with a tap and CO2 dispenser. It's entire brewing process, meanwhile, consists of combining water, hop-and-barley-derived "beer mix" and yeast, letting it ferment for about six days and throwing it into the fridge for another 10 days.
For $115 to $135 per machine, plus about $26 to $35 for beer mix packs, armchair brewers get to brew stout, porter, brown ale and lager through a process that in no way resembles actual brewing. It's not the best option out there, but if your potential home brewer is among the laziest people on earth and is OK with never holding a handful of hops in his or her life, the Beer Machine is definitely the path of least resistance.

Buy The Beer Machine on Amazon here.
-- Written by Jason Notte in Boston.
>To contact the writer of this article, click here: Jason Notte.
>To follow the writer on Twitter, go to http://twitter.com/notteham.
>To submit a news tip, send an email to: tips@thestreet.com.
RELATED STORIES:
>>10 Best Holiday Beer Buys For 2011
>>How Home Brewing Beats Beer Buying
>>Why Joe Six Pack Pays $11 A Beer Bottle
>>How to Survive (and Enjoy) the 2012 Holiday Season
Follow TheStreet.com on Twitter and become a fan on Facebook.
Jason Notte is a reporter for TheStreet. His writing has appeared in The New York Times, The Huffington Post, Esquire.com, Time Out New York, the Boston Herald, the Boston Phoenix, the Metro newspaper and the Colorado Springs Independent. He previously served as the political and global affairs editor for Metro U.S., layout editor for Boston Now, assistant news editor for the Herald News of West Paterson, N.J., editor of Go Out! Magazine in Hoboken, N.J., and copy editor and lifestyle editor at the Jersey Journal in Jersey City, N.J.
Disclosure: TheStreet may get a share of the revenue from affiliate partners included in this article.