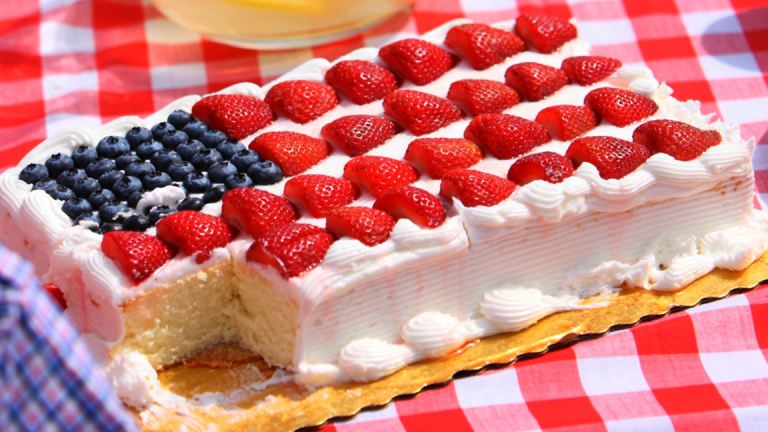 4th of July Party Ideas for Any Budget in 2018
It's that time of the year when the star-spangled banners come out, the fireworks boom, and you actually meet those neighbors you haven't seen all year. Here's how you can enjoy the day on any budget.
It's that time of the year when the star-spangled banners come out, the fireworks boom, and you actually meet those neighbors you haven't seen all year. Here's how you can enjoy the day on any budget.
Not all of us can quite reach the level of a Taylor Swift 4th of July type of party. But, even if we can't drop millions for Independence Day, we can celebrate it in style. With so many party ideas and DIY options, creating a fun Independence Day has never been easier. Check out some July 4th party ideas that will still leave some cash in your pocket (to invest in stocks, of course).
4th of July Party Ideas on a Budget
There aren't any holidays that are quite like the 4th of July - with family and friends soaking up the sun, parades down the main street of towns everywhere with a colorful blur of red, white and blue. Throwing a good, old-fashioned Independence Day party is a great way to spend this holiday. And there are lots of ways to make sure your party stands out on the block, but stays on a budget. 
Low-Cost July 4th Party Ideas
Just because you're budget conscious doesn't mean you can't have (and host) a blast. Enjoy the summer holiday spirit with these cheap 4th of July party ideas that are sure to make your Independence Day festive and fun - without depleting your funds.
Mason jars
You don't have to be a décor aficionado to know that mason jars are "in." But, for the holidays, mason jars serve infinitely more purposes than your standard table decoration or drinking glass.
For this 4th of July, use mason jars for all of your serving and decoration needs. Try sprucing them up with paint or ribbons (in red, white, and blue of course) to instantly make serving containers for forks, spoons, condiments, or drinks.
And, the best part - they're cheap! You can find 12 mason jars for only $18. Just add a bit of paint and you're golden.
Paper and plastic décor
Nothing says cheap and easy like paper products. From banners to table settings, going with paper this Independence Day will keep you within budget without sacrificing that fun, festive factor.
You can get a 6-pack of paper fans for only $8, 100 patriotic balloons for $11, or some easy festive tape (only $8 for 5 rolls) to wrap around your utensils for an instant party look.
Lawn painted Stars
For a cute look for your lawn, try spray-painting red, white and blue stars on the grass. Not only will it look cool for the kids, but it's a cheap way to add some color and playfulness to your backyard bash. And, it's only $10 per can.
Mid-Range 4th of July Party Ideas
For those of us with a little spare change, try decking out your party with some of these moderately priced 4th of July party ideas. Whether you go for a photo booth or deck out your porch with a good old patriotic banner, we've got you covered with ways to show your holiday spirit.
Photo booth
Every party-goer loves a photo booth. With tons of fun options for backdrops and reasonably priced props, you can ensure every guest remembers the occasion. Snap up a backdrop for a respectable $48, and while you're at it, grab a 20-pack of photo booth props for only $20.
Cocktails
With all that running around after kids and soaking up the rays on your patio, cool off with a festive cocktail. Whether you prefer a Fourth of July frozen sangria or a red, white, and blue cocktail, you can avoid breaking the budget while still sipping pool-side. Mocktails are a tasty alcohol-free, cheaper alternative.
Patriotic banners
Deck out your deck or give your porch a little extra flair with some patriotic banners. You can layer multiple banners for under $20 - making it a great, inexpensive way to show your USA spirit. Pick up a rustic banner for only $9, or add some burlap for a country feel for $6.
Expensive 4th of July Party Ideas
If you're one of those people who goes all out for the 4th of July, this one's for you. If money is no object, we've got you covered - try one of these ultra-patriotic party ideas that will make your guests "ooh and ahh" over more than just the fireworks.
Blow-up castle
If you want to be every kid's best friend this 4th of July, buy or rent a blow up water slide or inflatable castle for your backyard bash.
You can get a multi-slide, blow-up water castle for $579.
Bean bag toss
For the adults, you can never go wrong with a good game of bean bag toss. As the perfect game for a lazy Independence Day, get a sophisticated set for $199.
Pool floaties
Perfect for that holiday Instagram picture, grab a few pool floaties for your guests to hold their drinks or lounge in to block the heat.
Put a few patriotic floats in the pool for $25 each, or go all-out with playful floats for everyone at the party, for between $50 and $170.
Fancy deserts
For those party guests with refined taste, order some patriotic chocolate-covered strawberries for $45 and an elegant touch. Or, go with some red, white, and blue cupcakes for $36 (for 12) to make your celebration a little more luxurious.
Whatever your budget, there are countless ways to make your 4th of July celebration memorable and patriotic.