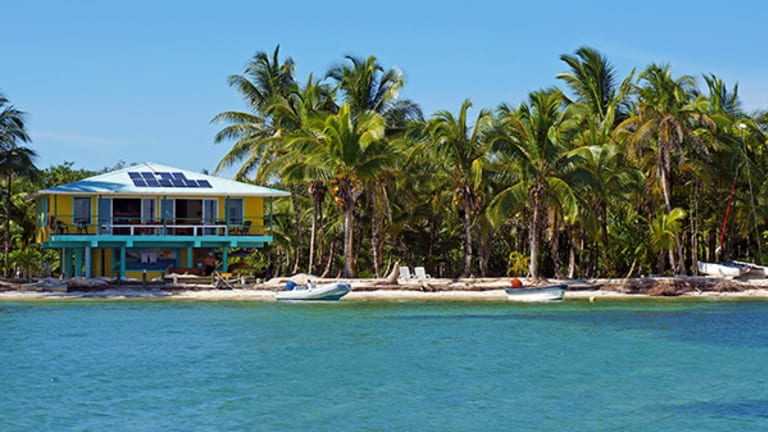 4 Reasons Why It Can Be Much Cheaper to Live as an Expat
Labor, health care and insurance costs are generally lower, although the overall quality of life can be equal to or better than expats have experienced in their native countries.
At Best Places in the World to Retire, there are more than 8,900 answers to the most often asked questions about moving abroad, and no subject is more popular than the cost of living.
In a recent study of expats mainly from the U.S. and Canada living in Panama, Belize and Nicaragua, titled Expat Reports: Is it Cheaper to Live Abroad?, 34% of respondents reported that the cost of living in their expat country was less than half that in their native countries, and 74.8% said that, for the same money, their lifestyle abroad was "much better."
To be sure, an "apples to apples" comparison can be difficult when analyzing distinct locations, even within a country. Prices may vary widely between rural, suburban and metropolitan areas. However, it is possible to come to a few conclusions.
Here are some specific cost-of-living examples:
Mike Cobb was originally from Pennsylvania and now lives in Nicaragua with his wife and two daughters. According to Cobb, "The rate for a gardener or a maid in Nicaragua is about $1 (an) hour, depending on location."
Of his family budget, Cobb said: "For $3,500 per month, including housing, we have both girls in private school, they go to ballet class three times a week, gymnastics and Girl Scouts, we eat out whenever we want, go to the movies, etc. In the U.S., it would be three times as expensive. For most people, living in Nicaragua would result in about a 65% discount to what it would cost to live a comparable life in the U.S."
It's not much more in Panama, where, according to Terry Bradford, who used to live in Southern California, "The cost for a housekeeper or maid in Panama is around $11 to $20 per day."
Other contributors from Panama said it is also possible to receive discounts as a retiree on everything from medicines to airline tickets. They also said that it costs from $3.75 to $4.25 per person to see a first-run movie in English, that health care costs are less than a third of what they are in the U.S., and that it is possible to receive a property tax exemption for up to 20 years.
To be sure, you can't get a property tax exemption in Mexico. But the cost is so low, it hardly matters. According to David Schwendeman, formerly from New York, "As a general rule, owners pay about $100 annually per $100,000 in tax value per year. In other words, a property valued at $100,000 will have a yearly tax of approximately $100, while the owner of a $500,000 tax value property will pay $500 per year." According to personal finance technology company Smart Asset, the owner of a $500,000 house in Texas will pay $9,865, almost 20 times more than in Mexico.
In Belize, as in all the countries we cover, imported items are usually more expensive than in the U.S., but if you buy local items like fruits and vegetables, the costs can be low. Jaseth Bassaragh, who spends part of her year in Belize and part in New York, gave us an example. "The cost for eight locally grown bananas in Belize is 50 cents total," says Bassaragh, "but just one imported American apple will also cost you 50 cents. To get the advantage of lower costs, you need to stick with the local produce such as watermelons, papayas, cantaloupe, and oranges, which will cost you around one dollar for a bag of 10 to 14."
As a test, on our road trip through Mexico, I had my hair cut for less than $3, went to a podiatrist for an hour for $15, and had a bunch of sewing done for $1. My wife and I had lunch at an Argentinian restaurant for $3 each and dinner for two at a fancy restaurant with peacocks strolling the grounds for $9. In each of these examples, the quality in Mexico was equal to or better than in the U.S.
Because imported items tend to be more expensive, the prices will vary among countries. For example, Mexico and Belize share a border. However, Mexico's economy is the 15th largest in the world (more than 200 times the size of the Belize economy), and Mexico's construction industry is so big that many construction materials don't have to be imported because they are manufactured in the country. That's why, combined with Mexico's low cost of labor, it is less expensive to build your dream home in Mexico (about U.S. $50 per foot) than to build it in Belize (in most areas, around $100 per foot), which doesn't have the same access to materials. 
This leaves the question of why in general it is so much less expensive to live in places like Mexico, Panama, Belize and Nicaragua than in the U.S. or Canada. Here are the four main reasons our contributors provided:
Insurance is less. Not only health insurance costs less (for the reasons above), but so does car insurance, with one of the main reasons being that there is much less litigation abroad.
The cost of health care averages from 60% to 80% less. That lowers costs throughout the economy. Part of this has to do with the low cost of professional services in general, but there are other reasons. Compared to U.S. physicians, doctors in Mexico, Panama, Belize and Nicaragua spend less time filling out forms for insurance companies and hiring staff to get reimbursed (because most patients pay out of pocket). They neither pay high malpractice insurance premiums, nor do they practice so-called "defensive medicine," ordering tests that aren't really medically necessary to protect against malpractice lawsuits. Those types of suits are almost unheard of. 
Labor costs are low. As a typical American, my wife was concerned that the 50 Mexican pesos per hour we paid the housekeeper ($2.50) was too low. By Mexico standards, that is the equivalent of about one haircut. Similar services in many parts of the U.S. would cost $20. Travelers and expats should measure value in terms of what their pesos can buy, so we are paying our housekeeper about $20 per hour. The value of payment is what money can buy for you in the place where you're located.
Taxes are lower. There is a trade-off of lesser quality public services than some expats have in their native countries. With some exceptions, roads generally are not up to U.S. standards. Fire and police protection is usually not as good, nor is the education system. This stems largely from the government simply not having as much money to provide these services as in the U.S. or Canada. According to Flip Nicholson, who used to live in Colorado and now lives in the Lake Chapala, Mexico area, "You're going to get a pothole in the road, the schools aren't as good, and there isn't enough signage on the road for a newcomer. Everyone who has been living here for a while has figured it out. There is a one-way street, but there is no sign saying so. So what? We can all know that now. And when we pay our property tax, it's $80 for the year, so it's hard to complain."
This article is commentary by an independent contributor.