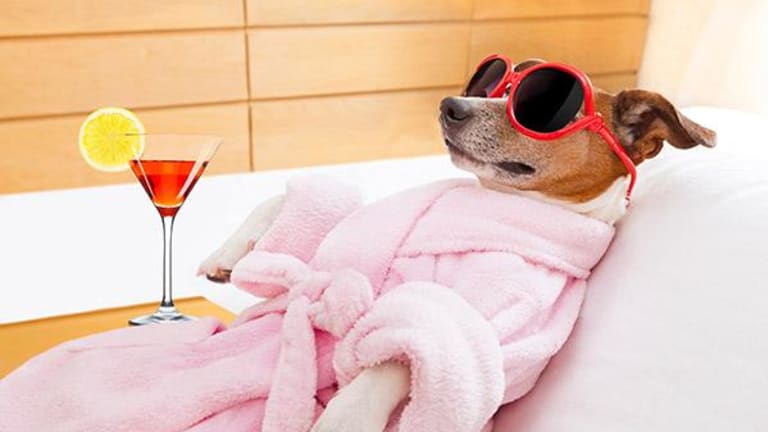 Publish date:
4 Most Expensive Ways to Pamper Your Pet
Anyone can give their pet a treat or the occasional grooming, but room service, a hotel room of their own or immortality?
Anyone can give their pet a treat or the occasional grooming, but room service, a hotel room of their own or immortality?
Editors' pick: Originally published July 29.
Pampering yourself with the finer things in life is rewarding, but lavishing those luxuries on your pet? That's just a power move.
According to the American Veterinary Medical Association, 36.5% of U.S. households own dogs. Though just 30.4% of U.S. households own cats, domestic cats outnumber dogs in U.S. homes 74.1 million to 69.9 million -- with the average household owning 2.1 cats, compared to 1.6 dogs (though we don't want to see what those fractional animals look like).
They aren't afraid to shell out for them, either. Consider that the average household with dogs spends $378 a year just for veterinary care. That's more than the $373 a year that horse owners spend on their animals, with the per-animal cost for dogs ($277) far outweighing that of horses ($133). The spending doesn't stop there, either. The American Pet Products Association finds that dog food costs owners another $269 a year, with kennel services running another $333. That's nearly $1,000 a year in ownership costs alone. Cat owners don't get off all that lightly. The annual vet bill is $191 and kenneling is $130, but the $240 they spend on food is almost equal to what dog owners pay.
Yet pet owners are always willing to pay extra to keep their companions happy. Treats run an extra $51 to $61 a year, with trips to the groomer landing between $43 and $83. Throw in toys -- between $28 and $47 a year -- and you're looking at between $120 and $200 just to placate a pet.
But is that enough? The top 1% of pet owners have far more laving ways to pamper their pets. We scoured the luxury pet market and found five ways that pet owners throw big cash at their pets while investing in their own happiness as well:
The Lowell Hotel, New York City
The Lowell isn't the kind of facility that's going to scoff at cooking meals for dogs.
During its summer off season, room rates start at $540 a night for a basic room with a king-size bed and can cost as much as $2,000 a night for fairly modest suites. When autumn arrives in New York, that lowest rate jumps above $860 a night, while the price of larger suites climbs to nearly $3,000. If you're looking to secure the penthouse, that will run you $12,000 to $13,000 a night.
In that context, a $9 serving of Harry's Milk Bone Biscuits isn't quite so head-turning. Neither is the $14 Bow Wow Wow ground beef patty, the $24 Sophisticated Dog filet mignon tartar or the $18 Healthy Friend plate of cage-free turkey, organic oats, fruits and vegetables.
The Wagington Luxury Pet Hotel, Singapore
"Situated in the heart of the city below Dempsey Hill in a small village on Loewen Road, surrounded by verdant greenery, tranquility and nature, a heritage standalone old colonial conservation bungalow is transformed into the finest and most luxurious 5 stars pet hotel in Singapore."
That is the Wagington's own description of the location of its pet hotel -- not a kennel, mind you, but an actual pet hotel. "Just steps away from one of the city's top lifestyle destinations that lies some of the most renowned restaurants and bars" -- because if there's anything pets love, it's idle chatter with expats over Singapore slings at Raffles -- the Wagington offers three levels of suites for dogs, daycare options, grooming and styling, a bone-shaped pool for your dogs and limo services for pet transfer. What do your dogs get in their rooms? LCD televisions, mood lighting, nighttime tummy rubs, climate control, cameras for the owners to check in on them, twice-a-day fitness and walking and surround-sound classical music.
Cats aren't excluded, as the hotel's Purr-fection Suites are kept away from the dog areas. Cats get many of the same perks, but with a littler box and a Swarovski Crystal Feeding Bowl, which seems completely appropriate for an animal that would eat tuna straight from the can daily if allowed to do so. Though dog suites range from $63 to $150 per pet per night, cat suites range from $29 to $66 a night. Daycare, grooming, styling, pool or limousine service are extra.
Virgin Australia
Three years ago, Virgin Australia asked itself a question: If pets are flying with their owners, shouldn't they get miles, too?
Surprisingly, that answer was yes. Depending on which tier of Virgin Australia's Velocity Frequent Flyer program a passenger occupies, he can get 300 to 600 points for each flight he takes with their pet. Even if you aren't traveling with your pet, you can earn points through pet travel service Jetpets, which attempts to move pets with as little stress as possible. Even if you simply buy pet insurance to cover your pet's health care, you receive 3 points for every $1 spent. Sadly, Virgin America doesn't offer similar perks, because they don't fit the super sexy brand, but it would be nice to see an equivalent in the U.S. at some point.
Celestis pets.
Ordinarily, if you bury a pet in the backyard or keep their ashes in a tin somewhere in its favorite corner of the house, you're going above and beyond the call for a pet owner.
But if you're spending $1,295 to send your pet's remains into zero gravity to have a look at the curvature of the Earth, that's dedication. Celestis started its business in 1995 by sending human cremated remains into orbit and to the moon. Later it began launching engraved flight capsules containing approximately one gram of cremated pet remains into various reaches of space, with family members invited to watch the launch. Families receive certificates with launch vehicle and flight information, and their pets get a spot on Celestis's website
As Celestis points out, animals have been sent to space with various degrees of success for decades. 
However, an Australian Shepherd appropriately named Apollo and a Shiba Inu named Laika (akin to the first dog in space) are thus far the only animals to be memorialized in this fashion. Granted, the cost is a bit prohibitive: roughly $1,295 for high altitude, $5,000 to hitch a ride on an orbiting satellite and $12,500 to go to the moon or into deep space as part of the Voyager program. That said, it's harder to have a more lavish sendoff for your pet than one that involves a rocket and NASA participation.
1. Immortality
Sooam Biotech in Seoul, South Korea
What if you could have your current pet forever?
Sooam is proposing exactly that by extracting DNA from owners' recently deceased dogs and using it to produce clones of those beloved pets. Since 2006, the facility has done so with almost 800 dogs. Around half of the requests come from the United States, including one to clone a rescue dog that found the last survivor of the Sept. 11, 2001 terror attacks in New York.
The $100,000 cost of the cloning procedure isn't cheap, but that hasn't exactly soured Sooam's clients on the results. It's difficult to let go of a beloved pet, and if $100,000 means you don't have to, it becomes a much smaller price to pay.
This article is commentary by an independent contributor. At the time of publication, the author held no positions in the stocks mentioned.