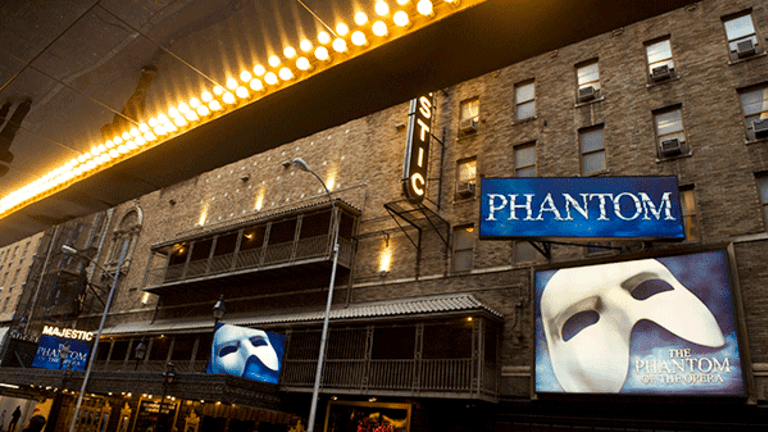 4 Affordable Broadway Musicals
Broadway tickets can get pricey, but Phantom of the Opera and Chicago are among the four shows where tickets are less than $100.
Editor's pick: Originally published Dec. 20.
Sometimes a look at the latest ticket prices for Broadway shows can send people racing back to their television screens, which is a sad state of affairs to many in the theater industry. But thankfully, not every show on Broadway has tickets selling for north of $200. Here is a look at four great productions you can see for under $100 a ticket.
Phantom of the Opera
This production at the Majestic Theatre continues as the longest-running show on Broadway. With songs such as "Think of Me" and "All I Ask of You," Andrew Lloyd Webber's musical is thought by many to be one of theater's most astounding musical scores ever.
The emotional story opens in the Paris Opera House, where a facially disfigured man (The Phantom!) roams in the tunnels below, haunting anyone who doesn't meet his every need. His current desire is for young ingenue Christine to get the lead in an opera he's written, so he threatens the new theatre owners that if she's not the star, disaster will strike.
The Phantom guides Christine to become a singing star and believes that she, in turn, will fall in love with him, despite what lurks behind his mask. Broadway vet James Barbour is currently playing the Phantom, and Ali Ewoldt his Christine. Phantom of the Opera tickets are as low as $29, which is almost as much as a movie in Time Square will cost these days.
Chicago
The Ambassador Theatre is home to the second longest-running show in Broadway history, Chicago. For two decades, the Bob Fosse/Fred Ebb-penned production has been offering some of the best dancing and singing on the Great White Way. Dylis Croman and Amra-Faye Wright are currently mixing it up as Roxie and Velma, respectively. Christopher Sieber plays slick lawyer Billy Flynn, who does a great turn on "We Both Reached For the Gun." A pair of tickets costs just $80, so even if you've seen it before, taking another trip to Murderer's Row is well worth it. Broadway fans can secure the cheapest Chicago tickets through the box office.
The Humans
After an impressive showing at this year's Tony Awards, The Humans cemented itself as one of Broadway's best plays in ages. Written by playwright Stephen Karam, a two-time Pulitzer finalist making his Broadway debut, the show began early last year after a highly successful Off-Broadway run at the Roundabout Theatre Company.
The Humans follows the story of Erik Blake, who after undergoing a sleepless night, has brought his family together on Thanksgiving at his daughter's new apartment in Manhattan. As darkness falls outside the crumbling pre-war duplex, mysterious things start to go bump in the night and family tensions reach a boiling point.
Directed by two-time Tony winner Joe Mantello, the show will play until Jan. 15 and stars Reed Birney, Jayne Houdyshell, (both of whom won 2016 Tony Awards for their performances), Cassie Beck and Lauren Klein. With The Humans tickets still at $40, you'd be crazy not to check this show out before it leaves Manhattan.
Oh, Hello on Broadway
Looking for laughs? Head to the Lyceum Theatre where comedians Nick Kroll and John Mulaney bring out their 70-something alter egos, Gil Faizon and George St. Geegland, for a night of outrageousness in Oh, Hello on Broadway. The two friends wrote the story together and have been honing the characters at comedy clubs for more than a decade. Part scripted, part improv, the show even welcomes special guests to the stage each night, with Alan Alda stopping by a few times since it opened. Directed by Alex Timbers, this is one show you don't want to miss, and for $59 a ticket, you don't have to.
This article is commentary by an independent contributor.