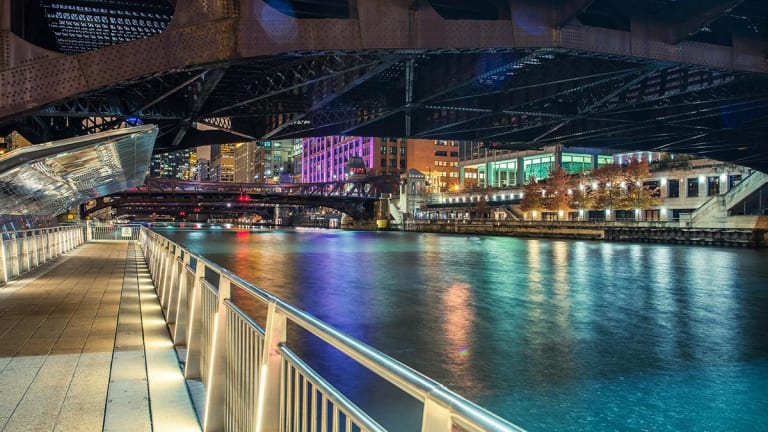 31 Free Things to Do in Chicago
A list for people who want to know how to enjoy their time in Chicago without spending too much money.
Whether you've paid your dues waiting on the L tracks through the city's freezing winters or are just visiting for a summer weekend, there's no denying that Chicago can put a strain on your wallet. Not that it isn't fun to splurge on a Michelin-starred restaurant in one of America's foodie capitals or buying tickets to one of the many shows the city's vibrant art scene has to offer, but Chicago also holds plenty of interesting places to see and things to do that won't cost you a cent. Here are a few you can't miss.

Free Things to Do in Chicago: 31 Things
1. Check Out the City's Park: Millennium Park
While plenty of Chicagoans may disagree on what the city's best park is, almost all have at least a bit of love for Millennium Park. The glistening architecture of curved steel, the mazes of flowers, the bizarre screens with massive projected faces spewing water onto summer crowds, you'll be hard-pressed not to find anything you like in this city staple.
2. See the Animals at Lincoln Park Zoo
Come by the zoo to connect with your inner child as you walk through exhibits of penguins, monkeys, tigers, and more. Situated in the middle of Lincoln Park, it's an easy way to add some more excitement to a stroll through the park (don't forget to check out the Lily Pool right outside.)
3. Hit Up the Street Fest Circuit
If you're in Chicago during any odd weekend in the summer, chances are that there'll be a street fest going on. Come by, donate if you can, and see some of the music, food, and people that flock the streets during the summer heat.
4. See Fine Art: Art Institute of Chicago
With works from all different parts of the world and time periods, The Art Institute of Chicago hosts one of the world's finest art collections. Normally this would come with a hefty price tag of somewhere between $20-$25, but if you're an Illinois resident, you can work around this by coming between the hours of 5 p.m. and 8 p.m. every Thursday.
5. Soak Up Some Sun: Chicago's Beaches
Every Chicago local knows the city wouldn't be what it is without the lake. On a warm summer day, crowds flock to the beaches for some time in the sun. While there are plenty of options to choose from, some of the city's most popular beach destinations are North Avenue, Montrose, and Oak Street beach - though there are plenty others.
6. Take a Hike Along the Water: Lakefront Trail
Another way to enjoy Lake Michigan is the Lakefront Trail, an 18.5-mile path stretching near the full length of Chicago. Excluding a couple of tight spots downtown, parkland and beaches flank the trail, making it a beautiful place to bike, run, or just relax and take in the scenery.
7. Walk on Train Tracks: the 606
The 606 was Chicago's response to New York's High Line Park. Offering 2.7 miles of elevated railroads repurposed into a bike path, the 606 provides a convenient way of traveling between some of the city's more interesting neighborhoods.
8. Go Outside Millennium: Chicago's Parks
Parks are everywhere in the city, not just downtown. And thanks in no small part to the work of famed landscape architect Frederick Law Olmsted, they're some of the most beautiful you'll find in any city. The South Side holds some stunning spots, like Washington and Jackson Park (the latter holds remnants of the 1893 Columbian Exposition), but others spots like Humboldt and Lincoln Park certainly pull their weight as well if you're looking for a relaxing bit of greenery.
9. Catch Some Free Theater: Shakespeare in the Park
Each summer, The Chicago Shakespeare Company goes on tour of the city parks, putting on free performances of Shakespeare plays. You don't need tickets to get in, just check the time and location, bring a blanket, and settle in to enjoy some of the Bard's work.
10. A Park for the Kids: Maggie Daley Park
One of the newer additions to Chicago's parks, the city built Maggie Daley Park in dedication to the former mayor's late wife. The jungle gyms scattered around the park make it a great downtown spot to bring the kids, and if you're willing to drop some cash, they've got a rock-climbing wall in summer and an ice-skating rink in winter.
11. A Cultural Monument: the Chicago Cultural Center
The Chicago Cultural Center holds everything from chamber music to art exhibits to world-class architecture, and none of it costs you a thing. Stop in some time, whether it's for an event or just to appreciate the building's Neoclassical design.
12. A Bigger Screen Than Your Laptop: Summer Movies in the Park
Along with concerts and Shakespeare, film screenings are a staple of the outdoors during summers in Chicago. You can find a calendar of films on the park district's website, with everything from Pixar to slasher flicks to art house cinema on the table.
13. Chill Out: Wicker Park Chill Fest
One of the more low-key music fests Chicago has to offer, the Wicker Park Chill Fest involves dozens of artists coming into the shops, galleries, and restaurants along the Wicker Park neighborhood to give free performances. Come by and see local artists support local businesses in some truly unique venues.
14. Give the Avant Garde a Try: The Renaissance Society

Visit The Ren to find a space that gives the experimental a new platform. Situated within University of Chicago's campus, the Ren is an affiliated art gallery free to the public. Along with checking out its rotating gallery, you can check its calendar for a chance to attend one of its many free events.
15. Head to the Point: Promontory Point
A popular spot for nearby University of Chicago students, Promontory Point gives visitors a stunning view of the city's skyline. People flock on Summer days to hold barbecues, play Frisbee, enjoy the view, take a dip into the water, or host their wedding.
16. Pay Respects to an Institution: Maxwell Street Market
While UIC displaced the original of Blues Brother's fame (along with a good number of other people), the eclectic market dating back to the late 19th century survives a few blocks over on Des Plaines avenue every Sunday between 9 a.m. and 3 p.m. Check out odd trinkets, some great Mexican food, and live music.
17. See an Underrated Treasure: The Museum of Mexican Art
A hidden gym among Chicago's art museums, the Museum of Mexican Art sits in the city's increasingly-popular Pilsen neighborhood. Admission to the museum is always free, and it hosts a rotating gallery highlighting the great works of Mexican artists from the past and present.
18. Go to the Library, for Fun: Harold Washington Library
Chicago's biggest library is also one of its architectural centerpieces.You can check out the massive owls perched on all corners of the building before heading inside to see the stunning glass ceiling on the ninth floor.
19. Add a Kick to Your Monday: The Empty Bottle
Just to make your case of the Mondays a little easier, The Empty Bottle makes all of its Monday shows free. It's a small venue with cheap drinks and indie bands. While not all of them may be hits, it's a free show and a Monday, so what have you got to lose?
20. Be That Tourist: The Bean
Yes, you will 100% find yourself engulfed in tourists if you go, but there's a reason why things draw tourists, sometimes. The Bean remains a unique example of modern sculpture, and the novelty of it makes it well worth the visit. Do it for the obligatory selfie if nothing else.
21. See The River Up Close: The Riverwalk
The Chicago Riverwalk has seen some major renovations in the last few years. Today, you can find public art, a museum, and even an Apple (AAPL) - Get Apple Inc. (AAPL) Report store along the lowered pathway. If none of that sounds up your alley, the path still provides a calm alternative to the bustle of downtown tourists and workers above it.
22. Watch a Cubs Game Outside With the Real Fans: Wrigley Field
Wrigley Field stands as an icon of both Chicago and baseball. Unlike most stadiums across the country, Wrigley has held onto the Art Deco style that it was first constructed in. If you come by an afternoon or evening during baseball season, you can enjoy the architectural gem while keeping track of the game alongside fans littering the bars, buildings, and streets surrounding it.
23. Hit Up a Conservatory: Garfield or Lincoln Park Conservatory
If you're craving some nature right in the city, consider giving the city's two main conservatories a look. Whether you go for Garfield or Lincoln Park, you'll find a great selection of flowers, ferns, and ponds to transport you somewhere more exotic (though you'll only find the flower famous for smelling like a dead body at Garfield Park).
24. Get Smart: the Smart Museum
Another opportunity brought by the University of Chicago, the Smart Museum of Art hosts a mix of modern, European, Asian, and contemporary art, accruing to around 15,000 objects in total and, save for the odd exhibit, all completely free.
25. See a City at Its Best (or Worst): St. Patrick's Day
Chicago does not stay in on St. Patrick's day. Go downtown to catch the parade and see the city dye its river green (well, greener at least). Or don't. Whether you look for it or not, you'll probably come across the festivities with crowds throughout the city working their way through pub crawls, parties, and more.
26. Get Lost in a Bookstore: Myopic
While independent bookstores have been stuck in an uphill battle for a while now, a few institutions still hold strong in the Windy City. Myopic continues to bring in dozens of people each day, usually drawing in the hipster denizens of Wicker Park looking for a good David Foster Wallace read or for some time to just aimlessly browse through the row after row of the store's extensive used collection. If something catches your eye, consider flipping through a few pages on the tables in the store's top floor overlooking the neighborhood.
27. Take in Some German Holiday Spirit: Christkindlmarket
From Nov. 16 to Dec. 24, Daley Plaza turns into a German outdoor market, Christkindlmarket. Another great place for the family, you can find hot chocolate, festive ornaments, and all manner of German sweet and savory cuisine with a Christmas tree and the plaza's Picasso to keep you company.
28. Embrace Your Bookworm: Printers Row
For two days every June, downtown Chicago hosts the Midwest's largest literary festival, Printers Row. You can go and check out the selections of over 100 book suppliers, with everything ranging from rare editions to New York Times best sellers up for grabs. Have enough books on your plate? Come check out the speaking events. Along with vendors, the festival brings in the authors behind some of the year's biggest books to come talk about their work, and each one is free!
29. Eat (or at Least Sample) Local: Farmers Market
There's a farmer's market almost every other block in Chicago during the summer. While the food may not be free, that doesn't mean you can't enjoy walking around the market, sampling some of the fresh produce, and catching the live entertainment that usually finds its way in. The Logan Square, Green City, and Andersonville markets are some of the city's biggest, but they're far from your only option.
30. Leave the City Behind (but not Too Behind): Chicago Botanic Garden
While this one's technically outside of Chicago, the beauty of this place makes it well worth the trek. With 385 acres of meticulously landscaped gardens, it's a space you can lose yourself in while rediscovering your love of nature right next to the city.
31. Relax on a Not-so-Private Island: Northerly Island
Just across from the Shedd, Field Museum, and Adler Planetarium, Northerly Island offers a scenic and less-expensive respite from Chicago's museum campus. At its heart just a wide-open field away from the city, the island also holds a beach for the warmer seasons and a concert space for some of the bigger acts that come into town.
It's never too late - or too early - to plan and invest for the retirement you deserve. Get more information and a free trial subscription toTheStreet's Retirement Dailyto learn more about saving for and living in retirement. Got questions about money, retirement and/or investments? We've got answers.