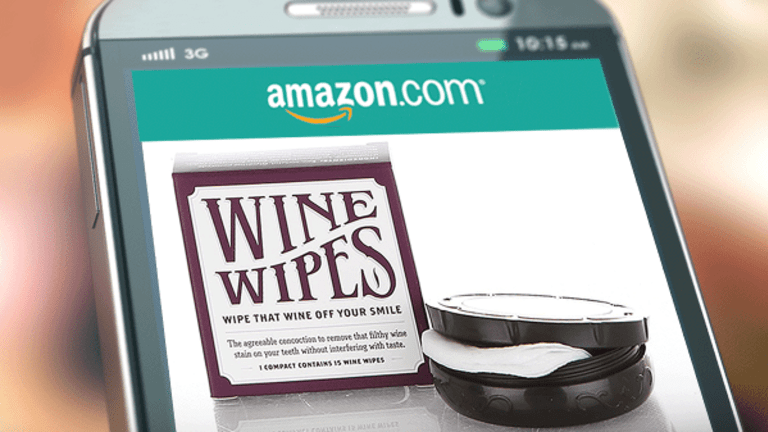 25 of the Weirdest Things You Can Buy on Amazon
Admit it, you know you want to get 'em.
Editors' pick: Originally published Feb. 16.
When it comes to impulse purchases, Amazon (AMZN) - Get Amazon.com, Inc. Report takes the cake. With a Prime membership you can usually order without fear of delivery charges, and the online shopping giant carries a disconcerting number of items. Some of which would be disconcerting on their own. We've rounded up a few of those gems for your perusal or apathy shopping spree. Credit card points don't accrue themselves! 

Brew Candle 3-Pack $39.99 
Though it doesn't need to smell like a flower coated in cinnamon sugar, his man cave doesn't have to stink. These Happy Hour inspired candles are hand poured into recycled beer bottles.


Portable Wireless Floating Bluetooth Speaker - $127.49

A magnetic base causes the orb to levitate and spin and any smartphone or tablet can pair via Bluetooth. It's a form and function win/win that anyone will appreciate. 

Keyboard Waffle Iron 
Breakfast is the most important meal of the day.
Avocado Slicer And Pitter - $9.95
Even with the future of avocado prices up in the air, anyone and everyone knows avocado toast isn't going anywhere. Get this cool avocado tool that splits, pits and slices the green gems for a scant $9.99.
Bacon Bowl Maker - $24.99 
On the subject of bowls, when something's not broken, add bacon.
Fred & Friends Cursed Cookies Voodoo Doll Cookie Cutter - $8.33
Why don't you show your real feelings about the gingerbread man? You're going to tear his legs off anyway; your cookie might as well look the part.
Yoda Rubber Ducky - $14.72
Duck or do not. There is no try.  
Zoku Fish Pop Molds - $19.95
At the end of the day, you're still a big kid. Now you can step up your Popsicle game and freeze your favorite locally produced juice in a unique aquatic mold.
Microwaveable S'mores Maker - $14.95
Because everything has to be easier. Damn Millennials...
Light Saber Handheld Immersion Blender - $29.99
Mixing everything from "mashed potatoes to martinis," this is an heirloom to be passed down from generation to generation.
Plus Pumpkin Pie Hat - $8.97
Be yourself, we guess. 

Fred & Friends SLOW BREW Sloth Tea Infuser - $8.52

Live life outside of the bag and step up your tea game. This sleepy sloth makes a perfect gift for the friend who really needs to learn how to relax.
The Original Airfryer with Bonus 150+ Recipe Cookbook - $184.88 
No, this isn't a dream. The Gordon Ramsay-backed Airfryer allows you to fry up some of your favorite sinful snacks with a tablespoon of oil or less. Your New Year's resolution to eat better may have just gotten a little more realistic.
Star Wars Measuring Cups - $24.99
These are the measuring cups you're looking for. This disassembling and reassembling set of four measuring cups and four spoons makes the perfect functional kitchen accessory.
Wingman Shot Glass - $8.95
Never forget your wingman. This mini shotski provides the college nostalgia and the buzz you're looking for, delivering up to 2.75 ounces per person.
Sonic Foam Beer Head Dispenser - $29.99
Every craft beer deserves the perfectly crafted head. The sonic foam uses ultrasonic vibrations to create the perfect head, enhancing the taste of your beer and orchestrating an Insta-worthy experience.
Coffee Mug - $12.95
It's much more simplistic than passive aggressive sticky notes.


PetChatz HD Greet & Treat Videophone- $379.99
Cater to the closet cat lady in your life with this two-way video and audio call service. Now, your sweetheart can chat, feed and even provide a comforting scent to the real love of their life no matter how far away they are.
Paperback Cologne - $20
It's the perfect gift for someone who always has a nose stuffed in a book, whether for reading or aromatic purposes. This ungendered scent from the Library of Fragrance will turn any book lover into the bitter old librarian they aspire to be. Just keep in mind that you'll be smelling it...a lot.
Shiitake Mushroom Log - $32.00 
Forget trips to the farmer's market. This log comes fully equipped with everything needed to become the next Pioneer Woman. The hand-cut log arrives with spores already visible in drilled holes.
After that, it's simply a matter of keeping the log moist so the crop can grow. In about a year, you'll either have a delicious stir fry ingredient or a very sad story.
Pineapple Pet Bed House - $49.97
While your pet may not live in a pineapple under the sea, it can certainly lounge in this land loving one. 

Buy it here
Enjoy that hearty red sans fear when you have these wipes.
3-in-1 Multifunction Breakfast Center - $35.41
This combination toaster, coffeemaker AND grill is what lazy breakfast dreams are made of. 
WowWee CHiP Robot Toy Dog - $138.67
The future is here with a robot dog that recognizes and responds to you without having to take it out for potty breaks. 
Buy it here
Wacaco Company MiniPresso GR Espresso Maker - $59.95 
Take your caffeine addiction on-the-go! 
Disclosure: TheStreet has advertisers and partnerships; we may get a share of the revenue from your purchase.3-in