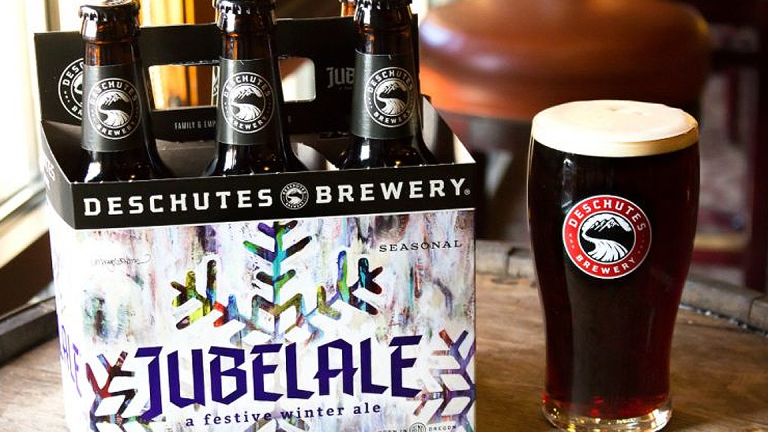 25 Great Holiday Beers for Your Winter Fridge
Holidays beers span styles including stouts, porters, old ales and saisons, but no beer captures the holiday spirit quite like a winter warmer.
Winter beers are the beer industry's brief respite between pumpkin-spiced everything and the new year's bleak months of nothingness.
In fall, brewers rest their hopes on pumpkin beers, Oktoberfest Märzen lager and, in certain corners of the country, pale ale and IPA brewed with hops fresh from the recent harvest. However, winter brings a far more diverse selection of offerings.
Sure, there's holiday-specific beer that's just as packed with ingredients from the spice rack as any pumpkin ale attempting to mimic a pie. But winter holiday beers also include Porters, Stouts, Brown Ales, Old Ale, Barleywine, Amber Lager, Wheat Wine, White IPA and other styles.
They aren't limited to offerings from small brewers, either: MillerCoors' (TAP) - Get Free Report Leinenkugel and Blue Moon brands produce winter seasonals, as do some of its recently acquired craft brands including Saint Archer and Terrapin. Anheuser-Busch InBev (BUD) - Get Free Report , meanwhile, releases winter seasonal beers through its Shock Top label, as well as many of the 10 craft beer brands it's purchased since 2011.
All of that winter beer arrives just in time, too, as the beer industry goes into its last big push before sales drop during the new year. According to the  U.S. Treasury Department's Alcohol and Tobacco Tax and Trade Bureau, the 16 million barrels of beer that the industry sells in August winnows away to 12 million by November before briefly climbing to 13.5 million for the December holidays. By January, sales drop to fewer than 13 million barrels and remain frozen there until roughly St. Patrick's Day. New Year's resolutions often make beer an unwelcome winter guest, especially among folks who see eliminating it in late winter and spring as a shortcut to a beach body by summer.
That said, when people do reach for a winter beer, they look for one that's perhaps the most seasonally appropriate of the bunch: The Winter Warmer. It would be helpful if everyone agreed on what that is. According to the folks in the Beer Judges Certification Program, that term can apply to "Winter Seasonal Beer" that suggests "cold weather and the Christmas holiday season, and may include holiday spices, specialty sugars, and other products that are reminiscent of mulling spices or Christmas holiday desserts." Those beers are typically dark in color and have more than 6% alcohol by volume.
However, the BJCP also notes that British Strong Ale falls into the "Winter Warmer" category as well. That particular style is an "ale of respectable alcoholic strength [5.5% to 8% ABV], traditionally bottled-conditioned and cellared. Can have a wide range of interpretations, but most will have varying degrees of malty richness, late hops and bitterness, fruity esters, and alcohol warmth." The folks at beer discussion and ratings site RateBeer don't have a category for winter seasonals and, instead, break winter beers into their specific styles.
But sometimes winter styles just don't want to stay in their little niches. Founders Brewing in Grand Rapids, Mich., reserved its Breakfast Stout imperial stout for winter release in years past, but just announced that it will be a year-round beer starting in 2018. Belgian brewers, meanwhile, will often simply release stronger versions of their year-round beers for the holidays and spruce up the label a bit.
However, you'll know a Winter Warmer when you see it because you just won't want any part of it after New Year's. From the folks at Boston Beer Company who make Samuel Adams and holiday styles like Old Fezziwig to your local bottle shop, everyone is aware that once a beer with a festive holiday label hits the shelves, it'll either sell by New Year's or won't sell at all. Folks get tired of the holidays and those pesky revolutions kick in.
Beer Advocate still sets aside a Winter Warmer category and weighs their merits based on reader input. We've tracked down their top choices and narrowed them down to the Top 25. Our list overlooks stateside favorites such as Sierra Nevada Celebration and New Belgium Accumulation (both IPA) or Belgium's De Dolle Stille Nacht and St. Bernardus Christmas Ale, but it's a good start to keep you in the holiday spirit:
This article is commentary by an independent contributor. At the time of publication, the author held no positions in the stocks mentioned.