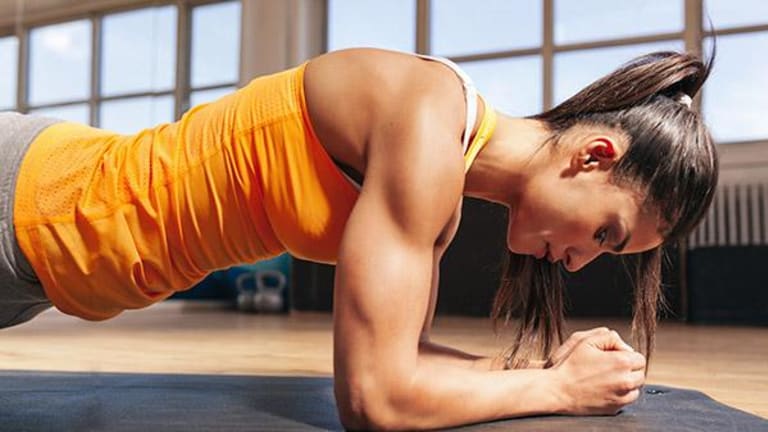 20 Fitness Scores To Scare Away The Halloween Candy Weight
Treat your body to a little TLC in addition to chocolate.
As the day of fright approaches, most of us are already halfway through boxes of candy we bought with trick or treaters in mind. Even more treacherous, are the candy sales that will happen as soon as Halloween passes (which you'd be loathe to pass up, frozen mini chocolate bars are the creme de la creme of long winter days).
Whether you're looking to get a little healthier or simply trying to combat winter weight before it becomes unmanageable, the best offense is defense. Here's some workout gear you can score off Amazon (AMZN) - Get Amazon.com, Inc. Report that doesn't involve your trekking to the store. 
1. Total Core Workout
Save a trip to the gym with a workout kit that includes an ab wheel, push up bars, jump rope and a fitness journal to keep them on track. The recipient, and your abs, will thank you.
2. Strength Training Anatomy, 3rd Edition
With the human body, there's always more to learn. This book gives an illustrated guide to how individual exercises affect primary muscles and the surrounding territory. 
3. Everlast 70-Pound MMA Heavy-Bag Kit
Everyone deserves the chance to feel like Rocky. Prepare to punch out your feelings with a bag that includes gloves, wraps and a bungee cord to add greater resistance. 
4. NordicTrack C 990 Treadmill
Nothing is worse than running when it's too hot or too cold, besides running in general...The NordicTrack makes for the perfect home running experience with a 7-Inch web-enabled touchscreen to record your vitals, a quiet motor, cooling fans and 32 pre-loaded workouts. 
5. Ventilated Weight Lifting Gloves with Built-In Wrist Wraps
Gripping rough pieces of metal for extended periods of lifting can leave hands looking like they spent 40 years working farmland. These gloves protect hands from callouses and tears, while increasing grip and providing the ventilation needed to avoid the sweatiest of palms. 
6. Bowflex SelectTech 552 Adjustable Dumbbells
Maybe there's a reason Bowflex's horrifying infomercials have stood the test of time. The SelectTech makes the perfect gift for the lifter with limited space, combining 15 sets of weights into one, using a unique dial system. Available weights range from 5 to 52.5 pounds.
7. Light-Up Running Belt With Reflective Strip
Running outdoors at night can be a death sentence if you don't properly make yourself visible to motorists. This belt makes sure you stay visible even on the darkest of nights, with the added benefit of a pouch to store a phone and keys. 
8. 17" Extra Thick Barbell Neck Pad
What's a squat without a bad pun? Beyond giving fellow gym-goers a laugh, this pad comes with a lifetime-warranty to protect shoulders from the cold, cruel bar for years to come. 
9. HemingWeigh Extra Thick Foam Exercise Mat
A good exercise mat makes the perfect gift for anyone who'd rather avoid borrowing the questionably hygienic yoga instructor's mat. This double-sided mat from HemingWeigh combines the comfort you want with the play on words you need. 
10. Yogazini Hot Yoga Towel
Just when life couldn't get scarier, some evil genius came up with hot yoga. This machine-washable, non-slip towel protects your mat from the sweat waterfall that commences about five minutes into the class. 
11. Sunny Health & Fitness Indoor Cycle Trainer
It may be less trendy (so it should obviously be done in private), but spinning is still a fantastic way to burn calories and tone your lower body. This adjustable bike from Sunny Health lets you achieve all the benefits of a spin class without having to share your space with 25 angry housewives and an annoyingly perky instructor. 
12. Phaiser BHS-730 Bluetooth Headphones
A great workout often comes down to a great pair of headphones, or so I've heard. The Phaiser BHS-730's memory foam tips provide total isolation from external noise, while a Liquipel Nano coating protects them from sweat damage. 
13. Fitbit Blaze Smart Fitness Watch
Beyond the 10,000 step goal and vital tracking abilities expected in a FitBit, the Blaze provides coached workouts on your wrist with FitStar. In addition, it's more traditional look makes it more adaptable for day-to-day wear. 
14. Activenect Mobile Phone Bike & Gym Mount
Imagine the horror of landing on an older treadmill with no where to put your phone. This portable rotating mount allows precious Twitter to stay in sight at all times. 
15. The Ultimate Bodybuilding Cookbook: High-Impact Recipes to Make You Stronger Than Ever
This book makes the perfect gift for the fool who lives off egg whites and bland chicken. It includes recipes ranging from a Peanut Butter-Nutella shake to 10-Minute Beef Chili. 
16. Ecofit Zone Meal Cooler Bag
With additional space for shaker bottles available, this cooler includes four stackable 28-oz containers and two non-toxic gel ice packs for a day's worth of prepped fitness meals. Although I'm wondering how many chicken nuggets could fit. 
17. Fitlosophy Fitbook: Fitness and Nutrition Journal
When really committed to a healthy lifestyle, you want to keep track of what you accomplished on any given day. This journal easily allows you to monitor his measurements, food intake and workouts with space for planning 12-week goals. 
18. Live Infinitely Forever Cool Instant Cooling Towel
Not all towels were created equal. This perfect stocking stuffer will provide the user with a 30 degree Fahrenheit cooling effect. Simply soak it in water, snap it dry, use and then throw it in the washer before the next trip to the gym. 
19. Trigger Point Therapy Massage Balls
Because life really isn't fair, soreness is an inevitable companion to exercise. These balls allow the user to use their own body weight to relieve muscle knots and tension while increasing circulation. 
20. ProSource Acupressure Mat and Pillow Set
Sometimes the body needs a little more than massage balls to relax after an intensive workout (or any workout in my case). This mat provides a "bed of needles" effect that helps to release tension in tight muscles and promote faster muscle recovery. 
More of What's Trending on TheStreet:
Disclosure: TheStreet has advertisers and partnerships; we may get a share of the revenue from your purchase.