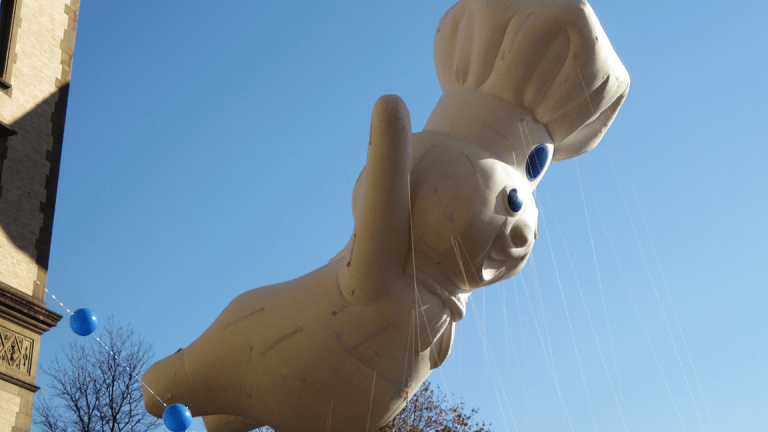 20 Companies Marching in the Macy's Thanksgiving Day Parade
The Macy's Thanksgiving Day Parade is one of the most-watched television events of the year... and a rolling commercial.
The Macy's Thanksgiving Day Parade is consistent proof that, even in the age of streaming, people will watch a commercial if it's entertaining enough.
Basically a rolling showcase of brands that stretches from Columbus Circle to Herald Square, the Macy's Thanksgiving Day Parade features enough Broadway musical numbers, nominal pop stars, random celebrities and frostbitten marching bands to make the Today show cast sound more like hosts than pitchmen. Yet at a time when Netflix allows viewers to skip intros, never mind commercials, the audience for this event just keeps growing.
How big is it? Let's put it this way: host network NBC airs this and a prime-time National Football League game on Thanksgiving each year. Last year, the Pittsburgh Steelers' 28-7 win over the Indianapolis Colts (without injured quarterback Andrew Luck) drew 21 million viewers. That was less than the 35.7 million viewers Fox got for a Dallas-D.C. game just before NBC's kickoff. It also trailed the 27.6 million viewers that CBS pulled in for a Detroit-Minnesota matchup earlier in the day. However, NBC's game roughly tripled the viewership of the next most-popular show to air that evening.
Meanwhile, early on Thanksgiving morning, the Macy's Thanksgiving Day Parade drew 25 million viewers and eclipsed the audience of 22.3 million viewers that watched in 2015. Now guess which Thanksgiving event NBC isn't paying the NFL $1.1 billion to air through 2021.
It generally takes a political debate or a major sporting event to produce the kind of audience numbers this parade draws each year. Started in 1924 and first televised in 1948, the parade originally had Goodyear manufacturing its trademark balloons and had Disney's Mickey Mouse as one of its first floating attractions. However, in the mid-1980s, the parade began increasing corporate sponsorship and letting companies including McDonald's, Unilever, Nestle and Sea World owner Anheuser-Busch enter balloons into the parade. In recent years, Today show hosts Savannah Guthrie, Al Roker and Matt Lauer have basically been describing company billboards to viewers between songs and actual commercials. Along the parade route, marketing teams hand out their wares, lest someone not get the message that the balloons, "balloonicles" and floats are sending.
Not only do people watch in droves, but they still tune into the NBC version despite the fact that CBS has been using its position along the parade route to broadcast The Thanksgiving Day Parade on CBS. If people wanted knockoffs, they'd go down to Canal Street: NBC seems well poised to maintain its monopoly and keep sponsors happy.
Granted, all of those sponsors pay for the bands, entertainers and celebrities you'll watch along the way, but this parade was founded as the kickoff to the holiday shopping season. With huge shopping days on Thanksgiving (which Macy's is open for), Black Friday and Cyber Monday coming up, companies know the opportunity that being presented to them. They aren't schlepping Santa Claus from the Museum of Natural History on the Upper West Side all the way down to 34th Street just to give him a workout. The following 20 companies are letting him know it's time to get to work, and that they'll take the reindeer reins if he won't:
Is Your Wallet Ready for Black Friday?