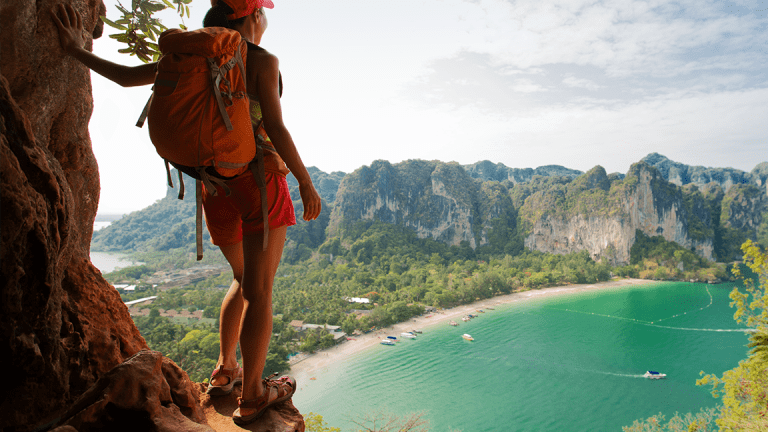 The 18 Cheapest Places to Travel in Summer 2019
Stretch your travel dollar by heading to these exotic and affordable global destinations - and now is the time to go.
It's summer and the living is easy, especially if you're looking to engage in some out-of-state wanderlust and travel during the next few months.
Trust us, you won't be alone.
According to AAA, 43 million Americans traveled on this past Memorial Day weekend alone, and tens of millions more will repeat that on the July 4 holiday and throughout the rest of summer.
As always, the household budget is an issue when travel planning and it never hurts to save some money by choosing a destination that is easy on the eyes - and even easier on the bank account.
What North American and global travel destinations fit the bill in that regard? Read on and see where the cheapest, but still highly enjoyable, travel destinations lie in 2019.
The 18 Cheapest Places to Travel in Summer 2019
Use up your travel rewards points and find the best flight and hotel or private rental, and aim for these inexpensive destinations this summer.
1. Sri Lanka

Nicknamed the "Pearl of the Indian Ocean", Sri Lanka offers hotel stays for less than $20 per night. Make sure to check out the three famous Sinhalese capitals of Kandy, Anuradhapura and Polonnaruwa. Bring bug repellent, though, Sri Lanka is abundant with mosquitoes, so make sure to spray away.
2. Panama

Home to the Panama Canal, Panama is only a few hours away via flight from New York or
, and offers both big city living (in Panama City) and scenic beach and mountain vistas along the coast (both Atlantic and Pacific.) A beachside resort hotel room, all-inclusive, can easily be done at about $80 or so per day, and less than that during the warmer summer months.
3. Munich

Both historic and beautiful, Munich is a must stop if you're traveling through Europe. It's centrally located and the gateway to the Bavarian Alps and Austria, Switzerland and even northern Italy. Flights from main U.S. cities to Munich can be had for under $500 and many of the area hotels cost less than $100 per night.
4. Montreal

Montreal is a Canadian jewel, with a cosmopolitan vibe, great food, and one of the primary people-watching capitals in the world. Montreal has the most restaurants, per capita, in all of Canada, and boasts one of the greatest
you'll ever experience. Eat for less than $15 a meal and buy a one-day public transit pass for less than $10 and see the sights.
5. Laos

Located on the Mekong River,
, Laos is an adventurer's paradise, and one of the true backpacking destinations in the world. Eat great local food from street vendors for less than $5 a day and rent a reliable bike for about $1 a day.
6. Miami

Don't let the summer weather (yes, it's hot) keep you away from one of the liveliest cities in North America, especially the city's fabled Miami Beach. It's cheaper to visit in the summer and good hotel rooms can be had for less than $90 a night. Visit Little Havana and South Beach at night, sleep it off, and then day trip it into the Everglades - free of charge in both instances.
7. Lisbon, Portugal

Stay close to the Baixa district of Lisbon - it's both cheaper and safer for tourists. Lisbon's metro public transportation costs about $1.50 a day (stay away from the taxis, which overcharge tourists) and
and wines for a few dollars a sitting.
8. Colombia

Beaches, jungle canopies and a
- what's not to like about Colombia? It's highly common to do Colombia right at just over $25 a day and, if you bring a college student I.D., that price can go down significantly. Meals can be had for less than $3 and hotels and hostels can go for less than $10 per day.
9. Havana

Now that Americans are largely free to travel to Cuba, it's time to visit Havana, a true seaside mecca for sun-worshipers and night-life lovers. Feel free to negotiate with taxi drivers and hit the
for a classic mojito for $1 a pop and grab a great street-side breakfast for about $3. Hotels are cheap, too - staying the week in a nice, clean room for $56 or so is not uncommon.
10. Ho Chi Minh City, Vietnam

One of the most celebrated cities along the Pacific Trim, Ho Chi Minh City is a funky blend of a city, where one block holds new-age skyscrapers and the next one hold ancient (and beautiful) temples. While you can do Ho Chi Minh City for $30 a day, up your budget moderately to $40 or more and you can rent a room that's comfortable for two and rent a motorbike ($6 apiece) in the process. While you're there, try the local draft better at 25 cents a pop - just be careful on the scooters.
11. Buenos Aires, Argentina

Argentina is at once one of the most beautiful and inexpensive cities in the world, and it's crown jewel, Buenos Aires is the second largest city in South America, behind Rio de Janeiro, Brazil. In Buenos Aires, you'll find a ridiculously strong U.S. dollar relative to the Argentine peso - about one U.S. dollar for 40 pesos these days.
cost about $2 for entry and you can easily nurse a glass of Argentinian wine for the same price, while you wait for the clubs to open at 2 a.m.
12. Romania

Vampire buffs may visit Romania, and its magical Carpathian mountains to check out Dracula's reported home town (in nearby Transylvania), but they'll stay for wonderful medieval villages and great bed and breakfasts, which cost under $30 a night for comfort-minded tourists. Even a high-end dinner in a local eatery won't set you back more than $25.
13. Egypt

Visiting Egypt conjures up vistas of camel rides past ancient pyramids, and of course, that's all possible when tracking through the sand by the Nile River. What's less well known is that you can get a good hotel near or even in Cairo for under $40 per night, and a good meal costs about $8, including a cold beer in the scorching desert. Trains and buses will connect you with Egyptian cities and site-seeing hotspots and take a
guided boat ride down the Nile
for as low as $25 - food included.
14. Bali, Indonesia

Bali is another exotic locale where you can see the sites, get a decent place to stay and have a good meal or three for under $50 a day. Rent a motorbike for $3 per day (stay away from the taxis, which will overcharge you and bite into your budget). Eating is relatively inexpensive, with a big plate of chicken and rice going for $1.50 at a local street vendor or
(i.e., a local restaurant.) You can easily budget $20 per day for food and drink and have change leftover for a plush, $6 massage.
15. Istanbul

Go to where Asia meets Europe, in Istanbul - and you don't have to overspend to do so. It's currency troubles are well known, with a single U.S. dollar currently worth 5.77 Turkish lire. That alone will cut down on your hotel, hostel, and food and drink budget. Take the tram around the city for only three lire and watch the sunset on the famous Galata Bridge, which also connects you to price-friendly coffee houses, bars, and restaurants. Decent
go for $45 or under and great meals usually go for $5 per sitting.
16. Lima, Peru

Lima, Peru, home to the Inca Trail and the fabulous
, is one of the most jaw-dropping destinations in all of South America. You can easily do Peru on a budget of $75 a day. Hostels go for $7 a day while a decent private room may cost up to $40 a day. A good, full meal at a local eatery costs about $5 to $10, while day trips to the Amazon rain forest or Machu Picchu go for about $50 or so, depending on the tour guide you choose.
17. Casablanca, Morocco

A visit to
Northern Africa's brightest light
, made famous by Humphrey Bogart in Casablanca, is well worth your time and can easily fit into your budget. It's easy to get to, as Europe and some its major travel ports are close by and there is an abundant array of hostels and riads (small local hotels and B&Bs) that go for $25 and under for a night's stay. A pot of fresh mint tea goes for $1 or so, while a full meal of
tagine
, the local meat and veggie dish, costs only $5. Hire a guide to take you into the Sahara desert and camp out under a sky loaded with millions of stars with your savings.
18. Reykjavik, Iceland

Iceland is another country where a strong U.S. dollar relative to the country's Icelandic Krona, where $1 gets you 124 Krona, which gives you a great head start on budget savings in one of the most beautiful capital cities in Europe. Check out the Northern Lights (for free), tour the island's glaciers and volcanoes, and take a geothermal bath to refresh your body and senses. Hotels can be had for $50-to-$100, while hostels go for $50 and under in Reykjavik. Get a good seafood meal for $10 and get a flight in and out of the city for $29 each - making Iceland a "go to" spot for anyone visiting major European cities like London, Dublin or Paris.
It's never too late - or too early - to plan and invest for the retirement you deserve. Get more information and a free trial subscription toTheStreet's Retirement Dailyto learn more about saving for and living in retirement. Got questions about money, retirement and/or investments? We've got answers.