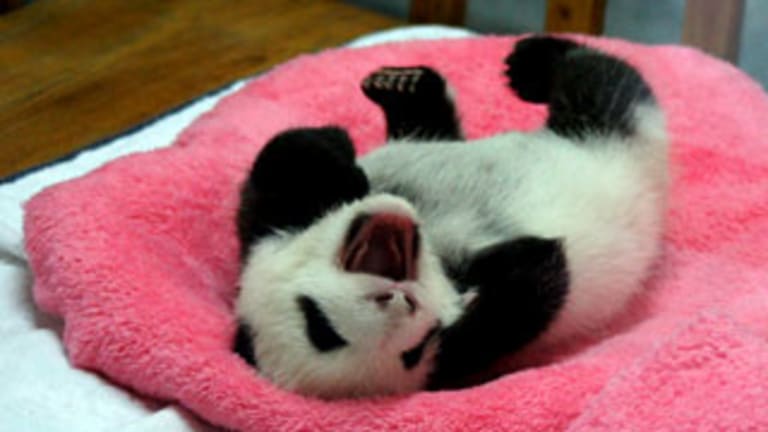 13 Sites I Spied in China
Sure China is spying in America. But the door to the Orient swings both ways.
BEIJING (MainStreet) -- Since the United States Office of the National Counterintelligence Executive has reported to Congress that China is spying in America by hacking into our government and private computer networks, I feel the time is right to disclose the sites I spied during my recent trip to China.
Under the deviously clever disguise of tourist, the following photographs were taken by me from Sept. 11-28. Based on what I discovered, I recommend other U.S. citizen spies give these sites more scrutiny.
My travels included 13 airplane flights, one riverboat, nine tour buses and one magnetic levitation train. If you take on this mission to China and are going to fly Air China, be sure to give them your frequent flyer number for United Airlines -- now part of United Continental Holdings UAL - (Get Report) -- to get credit for the huge number of miles to be traveled. Sign up for free with United's MileagePlus. 
As Bond-level spy craft is all about the gadgets, I was able to sign up for United's MileagePlus over my Apple AAPL - (Get Report) iPhone 4 while waiting on the check-in line at the airport in San Francisco. As I did not have access to Q Branch, I picked up a multi-country electric power converter plug plus a triple plug splitter at Wal-Mart WMT -(Get Report) to recharge my iPhone and Sony SNE - (Get Report) Alpha 33 camera. Be sure to hide all these items in your carry-on bag, as you may be sent through one of the airport's new virtual strip-search machines, which, unlike the old metal detectors, required you to have completely empty pockets.
To get around China and into government-run enterprises, a Communist Party member that ran under the code of Ford met us at the airport in Beijing. Ford chose his name citing how much he admires Harrison Ford, President Gerald Ford and Ford F -(Get Report) cars. I asked if Ford had read The Hitchhiker's Guide to the Galaxy by Douglas Adams, in which an extraterrestrial travel guide writer comes to Earth and chooses the name Ford. He hadn't read it.
In Beijing we stayed at the five-star Hilton Doubletree Hotel, a property of the Blackstone Group LP BX - (Get Report). To conserve electricity, a hotel room key card must be inserted into a slot just inside the door to turn on and keep on the lights.
Forbidden City
Be prepared for a very long walk past the City Gate and Archery Tower in Tiananmen Square. In the Forbidden City, proceed through the gate of Heavenly Peace, gate of Middle Peace, all the way through the gate of Great Harmony to see the emperor's golden throne. The emperor's quarters and private rock garden are the last stop before walking over a moat to exit.
The evening's live performance at the Red Theatre was The Legend of Kung Fu, which has an ongoing run to rival Cats on Broadway. This live martial arts show tells the story of a boy names Chung Yi who is sent off to train in kung fu and how he learns to become a warrior monk. This included suspension-wire sword fighting, nunchucks demonstration and the ability to absorb pain by a cast of more than 30 men and two women, almost all of whom had less than 1% body fat.
The one guy a bit thicker around the middle gets to stay in the cast because he is the only one willing to lay on his back on the blade edge of three swords while a rack of nails is placed on his stomach. Then another man is laid upon the nail rack while holding a stone tablet to his chest. Another master smashes the tablet with a sledgehammer. Feats by others include balancing in midair on the tips of three spears pointed at the neck and abdomen. The balancing act was repeated with just one dull blade to the belly button.
The kung fu monks proved their ability to absorb pain by breaking boards across their backs and chests and shattering metal bars over their own heads. Book the show early and arrive early to get unassigned $30 seats upfront left or front right for best spy angles.
Great Wall
The next day, we climb a section of the Great Wall that features seven guard towers and more than 2,000 irregularly sized steps. If your trip is in summertime, be sure to wear shorts; climbing for two hours gets very warm. A dry shirt waiting back on the bus is also a good idea. The view from the wall did not improve with elevation due to the smog.
At each tower there are nearly vertical climbs where the steps have been worn away. Pressing your arms against the walls of this narrow passage in a similar technique as a mountain climber ascending a crack gets you up to the tower's observation deck.
By the time we reach the summit at tower 13, my ankles started to get the shakes, wobbling on their own whenever I stopped moving. Even if you think you don't need the handrail, use it anyway. One wrong step on the slick stone stairs could cause your mission to fail. Just be sure to bring wipes to wash your hands when you reach bottom. Small bottles of hand sanitizer are also recommended.
Just by climbing up to the first gift shop you are considered by the locals to be a hero. This is to convince you to buy the souvenir certificate of accomplishment.
Pearl Factory
The next government-approved tourist trap we investigated focused on selling freshwater pearl jewelry. In an interesting demonstration, one oyster was plucked out of the fish tank and opened to reveal more than 20 small pearls. Oysters opened in less than seven years contain pearls that are too small for jewelry but still useful for making skin creams.
Unlike ocean pearls, in which a glass ball is inserted to be coated in pearl, Chinese freshwater pearls are made by chopping up oyster meat into tiny pieces to be carefully inserted into new oysters in neat rows. Every size, shape and color imaginable was offered for sale, with quality guaranteed.
We also stop off at a government-run jade factory. Our local guide and the factory representative gave us the hard sell on the cultural significance and mythical benefits of jade. Jadeite is the hardest and therefore most expensive jade they sold.
Officially, China is a communist country. However, only six percent of the Chinese people are actually members of the Communist Party. Party membership requires them to pay monthly dues and obligates them for disaster mobilizations. For a so-called communist country, Chinese-style socialism seems to apply the pure supply and demand - buyer beware – capitalism just about everywhere. We were warned that every item for sale, not in a government approved store, should be assumed to be a fake. This is especially true for street vendors selling pearl or jade jewelry and Rolex watches.
Hubei Provincial Museum in Wuhan
The Hubei Provincial Museum is surrounded by sweet-smelling osmanthus fragrans. The museum features a full set of bells recovered from a flooded burial chamber dating back to the second Bronze Age. The bells can play two tones depending on where they are struck.
When the nobleman Marquis Yi of Zeng died, all wives that had failed to bear children, his concubines and 23 musicians and servants were all willingly poisoned to be buried with him in the tomb. Sixty-five chime bells from 433 B.C. survived and reproductions were expertly played for us.
As they believed in an afterlife, tables, storage containers and statues such as a combination deer/crane for strength and longevity were included. Only the wood instruments covered in lacquer survived the soaking flood. Yi liked his wine cold. So, in winter they carved ice from a lake and stored it underground. One artifact was a double-layered wine dispenser built so the outer section of the container could hold the ice. Too bad we didn't have one of those on our bus to keep the water bottles cold
Bamboo strips containing an accounting of the items to be buried in Yi's tomb were recovered. Matching the tomb contents to the accounting may be the earliest known example of under-promising and over-delivering. No chairs were found in the tomb, as they were not used in China until Europeans introduced them to the Hong Dynasty Emperor.
Officially, China is a communist country, but only 6% of the Chinese people are actually members of the party. Membership requires them to pay monthly dues and obligates them for disaster mobilizations. For a so-called communist country, Chinese-style socialism seems to apply pure supply-and-demand, buyer-beware capitalism just about everywhere. We were warned that every item for sale not in a government-approved store should be assumed to be a fake. This is especially true for street vendors selling pearl or jade jewelry and Rolex watches.
Bathroom tissue in the museum was a product of Kimberly-Clark KMB - (Get Report). Unlike American bathrooms, on the way in you stop at the sink to take the quantity of toilet paper you plan to use and bring it with you into the toilet-paper-free stall. More importantly, outside of our hotels, most of the toilets were rectangles in the floor to squat over.
Construction site housing units
As many farmers make less than the minimum wage, they travel to the cities to find construction work. This drives up the cost of city housing, which has tripled in the past few years. There are no shortages of Chinese construction jobs.
For those that cannot afford to rent or lease an apartment long term, many construction sites have temporary housing units similar to stacked mobile homes full of bunk beds. New apartment complexes are modern and have a large number of identical buildings.
The state bird of China is the crane -- construction crane. One-quarter of the world's cranes are claimed, by our guide, to be in use in China. While not possible to confirm, from my observation, a huge number of cranes were in use across the skyline in many of the cities we explored.
Three Gorges Dam and hydro-electric plant on the Yangtze River
In another display of supply and demand capitalism, our guide tried to sell our group on MV President Prime riverboat room upgrades. They showed us a cabin on the second floor and asked us for $150 more for a fourth-floor room that has a desk and sofa with a slightly larger balcony and bathroom. There was no demand from our group to absorb their oversupply of more expensive rooms. We then found out our rooms are all on the third floor and are fine.
The MV President Prime boat has six decks and is 444 feet long. It sleeps 354 guests. The beds are nearly as firm as the slate-covered felt of my pool table. The river boat is still new, having first launched April 15, the 99th anniversary of the sinking of the Titanic. We were assured the President Prime needs only two small lifeboats, as the channel is very narrow.
After lunch and passage through the Xiling Gorge, we dock at the town of Sandouping for a tour of the Three Gorges Dam and hydro-electric plant. Our local guide -- with an American codename of Maggie -- claimed to be a "dam good" guide. She told us that the concrete dam was built over 17 years starting in 1993 and generates 300 million kilowatts of electricity, or about 3% of China's daily usage at a cost of around $10 billion. To make way, 1.4 million Chinese residents were relocated at a cost of around $15 billion. The canal locks used to raise and lower ships are gravity fed with the opening and closing of river water valves.
During dinner we enter the first of five locks. Before the massive lock doors could be closed with us inside, three more large boats squeezed in with us. Once closed, water quickly but smoothly flowed into the lock while making a creaking sound of tortured metal pipes. This was the first time I have seen a rising tide lifting all boats.
Wu Gorge and Shennong Stream
After buffet breakfast gorging, we take a smaller boat up the Shennong Stream, a Yangtze River tributary, to a river blockade barge of the local minority population. We are required to walk through the barge gift shop to the other side, where we boarded a long, skinny boat just big enough for the 13 of us in our group, plus two rowers up front and one behind. They paddle upstream then demonstrate how small boats were pulled up the rapids, which no longer exist due to the dam's higher water level, by a long rope. The tradition continues only for the sake of tourists.
In the afternoon and evening we pass through the Wu and Qutang gorges, the last two of the three gorges. On board the The MV President Prime, Channel 1 of the TV showed pictures of the guests taken by the staff photographer that are available for sale in the boat's photo lab, another excellent example of a capitalism.
All the ships fly the Chinese flag, which bears a large star representing the Communist Party and four smaller stars for the farmers, workers, students and soldiers.
Jade Lake, Tibet
While waiting at the gate in the Chongqing Airport to take the fifth of 13 flights, a two-hour hop to Tibet, I manage to send an email over the airport's free Wi-Fi connection and found myself on Google  GOOG (Get Report) Earth.
To land in Lhasa, you fly at the level of the mountain peaks and spiral down into a valley filled with modern buildings, billboards and power lines. Skies over Tibet are clear and blue, absent pollution and the normal amount of oxygen. Don't lose the baggage tag stickers; they do check them upon exit of Lhasa Airport baggage claim.
Lhasa boasts 3,000 hours of sunshine per year. Be sure to bring a hat, because at 12,000 feet of altitude you will have significantly less atmosphere between you and the sun than you may be accustomed to. The drive along the Lhasa River from the airport to our hotel shows ample plantings of trees meant to increase the oxygen supply. Every little bit helps.
The expressway from the airport is well paved, being only one month old. Our local guide, who can't talk about politics without the risk of losing his job, is celebrating 60 years of since the Chinese government "liberated" Tibet. While seashells can be found on mountaintops that used to be ocean floor, you will not find heavy industries as they have been banned by the Chinese to maintain Tibet's clean air.
We leave the Jarden Secret Hotel, which has free Wi-Fi in the lobby, after breakfast for the bus ride thru the mountain pass to observe the Jade Lake, also known as Yamdrok Yumtso or Holy Lake, from an altitude of 14,000 feet. As a precaution, we brought a can of air from the hotel room but did not need to use it. We reach the turquoise-colored lake in less than two hours. There is a nice chill in the September air, so a heavy shirt or light jacket is warranted. The view of the lake with the Himalayas on the horizon is spectacular.
On the way back down we see road crews digging out rocks and dirt from the mountainside to prevent road blockage by dumping the rubble over the cliff. This is done with a combination of old and new technology, including a Caterpillar CAT (Get Report) tractor scoop and branches bound together with twine to use as a natural broom.
For dinner, the fillet of yak at the Tibet Steak House was tender and delicious.
Tibet Hotel in Chengdu
After flying over snow-capped peaks from Lhasa, Tibet, to Chengdu, China, we drive through the capital of Sichuan province past fashionable clothing and jewelry stores including Gucci, Tiffany TIF (Get Report) Ralph Lauren RL - (Get Report) and Versace.
The room in the Tibet Hotel Chengdu is best described as palatial. The bathroom hall is about 17 feet long with doors at each end, has a separate shower and tub plus a sit-down makeup station. The hotel has a huge karaoke bar on the fourth floor, and quietly wandering the darkened halls behind the bar in clandestine fashion, I discover the spa's private VIP rooms.
VIP room No. 2 is done in a cave theme and is well-appointed with a hot tub, sauna, shower, dual foot-massage chairs and an oversized massage bed. Hotel security did not catch up with me until I was cornered in one of the many private karaoke rooms designed for private parties for 20 of your closest friends. Luckily, I was able to evade capture, as my cover ID held.
The Tibet Hotel Chengdu does not have Wi-Fi, even in the tiny business center. So the hotel has yet to be perfected. The gymnasium on the fifth floor has a tread-wall that scrolls down as you climb up so you can simulate a high climb only a few feet from solid ground. Free weights and a variety of cardio bikes and treadmills are next door to the large mirrored aerobics room.
Beware of the sushi rolls on the breakfast buffet. Even if you think you like wasabi, Sichuan wasabi is 10 times hotter than what Americans are accustomed to. My mouth is "absolutely like fire," my travel companion reported.
Panda Reserve in Chengdu
All along Beizhanxi Road in Chengdu were shops selling Chinese uniforms, which soldiers and security officers have to buy for themselves. For 120 yuan I bought a Chinese security coat and matching pants and spent another 15 yuan for the hat. The outfit cost just over $21. Adding to that a panda necktie and panda hat pin completed a uniform of China Security for the Protection of Giant Pandas good enough to sneak into almost any Halloween costume party.
Lunch highlights at the Old House Restaurant included pigs ears julienned with mushrooms. Most of the other Sichuan dishes were very spicy. Some were so hot they went virtually untouched.
Giant pandas, which have an 8 million year history, are down to a population of around 1,000. As they are considered a Chinese state treasure, killing a panda gets you the death penalty.
With an unlimited supply of bamboo to eat and no predators, pandas can live as long as 38 years in a zoo such as the Chengdu Panda Base, compared with a lifespan closer to 17 years in the wild.
"One day a panda tried to leave a restaurant without paying by shooting the owner. He was caught by a police officer who asked the panda why he did it," Our guide joked. "He replied that a panda eats bamboo, leaves and shoots." (And when pandas wrestle over bamboo it is described as "Panda-monium.")
In the afternoon, we visited the Panda Base. We were subjected to a disturbing film on the full life cycle of Pandas. Everyone in the group declined the $150 opportunity to hold a baby panda. Seeing the baby pandas yawn in the incubator was life-affirming. With careful patience and a long surveillance lens, you might be able to catch a few pictures of the elusive red panda. Some large black and white giant pandas slept in the trees while others chowed down on piles of bamboo shoots.
Terracotta warriors of Xi'an
In Xi'an, we stayed at the very nice Empark Grand Hotel, which does have free Wi-Fi in the lobby. Our local contact with the American codename of May explained the lack of cold air in our hotel rooms: Between Sept. 15 and Nov. 15 no air-conditioned cooling is allowed anywhere in China. From October to Nov. 15, no warm air is allowed either -- to conserve electricity. September is the perfect time of year to visit China, as it is not to hot or too cold. Be sure to request that your windows be unlocked so you can cool your room naturally.
The army of Terracotta Warriors was discovered by farmers digging a well in 1974. The farmer that found the tomb is still alive and signs souvenir books for tourists. Archeologists found a second and third site of warriors all lined up and carrying bronze weapons.
Around 8,000 terracotta soldiers have been discovered so far, with no duplicates. Horses and chariots were also made -- to protect Emperor Qin Shi Huang in the afterlife. To protect the tomb, they tried to keep the location secret by killing the 700,000 craftsman that created the warriors over the 38 years needed to complete the army. The soldiers have solid legs, hollow chests and heads put on after the body is complete. Pieces of terracotta warriors are still slowly being unearthed and reassembled.
The Tang Dynasty Court Music and Dances
For a dinner theater-style dumpling meal and show, you will not find a more professional performance than The Tang Dynasty Court Music and Dances at Xi'an Ancient Capital Theatre. Their duck dumplings actually looked like little ducks.
The show included blue, red and gold dancers bending to impossible angles upon a raised platform while simulating the playing of musical instruments. After the Chinese zither solo, the Flourishing Tang Dynasty exploded with a bonanza of color filling the stage with dancers and acrobats.
Shanghai
Unless you are in search of lacquer furniture, avoid the tourist trap of the lacquer furniture factory store. If you are, you're in luck; many of the pieces were quite elegant, with rose, elm, or cherry wood inlaid with abalone shells or leather covered in as many as 120 coats of lacquer said to be impervious to hot tea cups. Thirty percent discounts with two month ocean shipping included were offered.
In the evening we attended the acrobats show of the New Shanghai Circus at the BaiYuLan Theatre. Acts included human pyramid Jazzy hat juggling, flips while spinning plates and roller skate death spirals. The bicycle balancing act had feats of seven girls on one bike, eight girls on three bikes and 10 girls on one bike riding around in circles on stage. Then a motorcycle rode inside a steel globe copied from a Ringling Brothers Circus act that used three bigger bikes in a bigger globe. A second motorbike joined in. Then a third entered with all three crisscrossing. When a fourth and fifth bike zipped around the inside of the very crowded, small globe, it blew my mind.
The Ocean Hotel has good security; I was found very quickly when I went up to the 27th-floor revolving restaurant, which was closed for the evening, to take pictures of the city lights. Security stalked me all the way around the revolving restaurant until I got my shots and came back down. The guard would not leave me alone to take pictures of the pingpong room or other well-appointed facilities. There was no Wi-Fi signs, but the room came with an internet-connected computer tied into the TV.
American companies
While American companies are forced to operate through Chinese joint ventures, I spied the usual suspects in most of the big cities. These included Papa John's International PZZA for pizza,
McDonald's MCD for burgers, Starbucks SBUX for coffee and Wal-Mart for everything else. 
KFC, of Yum! Brands YUM, serves up what the locals call Kung Fu Chicken in restaurants and by delivery motorcycle.
U.S. consumer product brands of
PepsiCo PEP, Coca-Cola KO, and Colgate-Palmolive CL were also available.
-- Reported by Kevin Baker in Jupiter, Fla.
>To submit a news tip, email:
Follow TheStreet on Twitter and become a fan on Facebook.
Kevin Baker became the senior financial analyst for TheStreet Ratings upon the August 2006 acquisition of Weiss Ratings by TheStreet.com, covering equity and mutual fund ratings. He joined the Weiss Group in 1997 as a banking and brokerage analyst. In 1999, he created the Weiss Group's first ratings to gauge the level of risk in U.S. equities. Baker received a B.S. degree in management from Rensselaer Polytechnic Institute and an M.B.A. with a finance specialization from Nova Southeastern University.