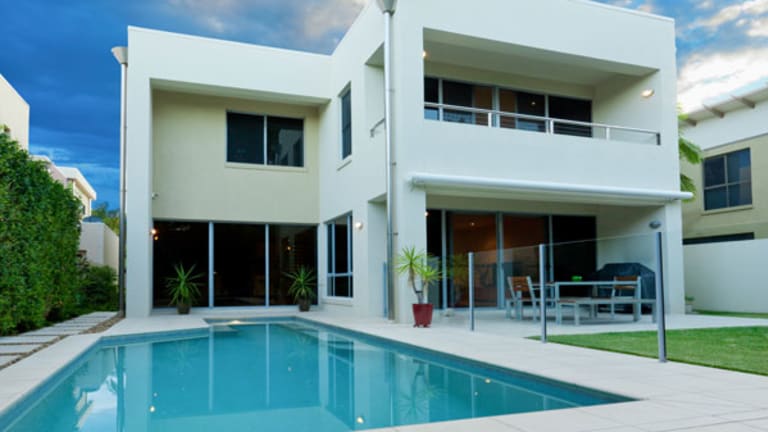 Publish date:
10 Outrageous Ways Wealthy New Yorkers Flaunt Their Money
Thousands of dollars on haircuts and smoothies is par for the course for some of New York's richest -- it could almost make you mad.
Thousands of dollars on haircuts and smoothies is par for the course for some of New York's richest -- it could almost make you mad.
NEW YORK (TheStreet) -- When it comes to displaying wealth, some of New York's richest families have taken things to outrageous levels.
In Simon & Shuster's (CBS) - Get CBS Corporation Class B ReportPrimates of Park Avenue, social researcher Wednesday Martin describes the culture shock she experienced when moving with her husband and young son from New York's West Village to the lavish Upper East Side.
Two zip codes (10065 and 10075) in the Upper East Side neighborhood hold the fourth and fifth spots on the 2014 edition of Forbes'annual list of America's most expensive zip codes, with the median asking price of a property at roughly $5.9 and $5.3 million, respectively. But that's chump change for the type of lifestyle Martin and her pals were accustomed to.
Here are ten jaw-dropping ways Upper East Side residents flaunt their wealth, according to Martin's book. 
1. More Kids = More Money
Martin found that families with more kids tended to be wealthier. Five kids is much more expensive than two, especially when you're paying five-figure tuition - for nursery school.
"Five was no longer crazy or religious -- it just meant you were rich," she wrote.
2. $200 Million Art Budgets 
Because what's a penthouse without art?
"I had heard talk of couples with 'art budgets' of up to $200 million," she wrote. Martin was invited to a dinner party at a sprawling Upper East Side triplex, featuring a painting by British artist David Hockney.
One of the pieces from the legendary painter was sold at Christie's in New York City for almost $8 million back in 2009.
3. $150,000 Hermes Birkin Bag
Hermes' outrageously priced five to six-figure Birkin bag was a staple on the Upper East Side. So much, that women would take extra measures to flaunt their pricey bags, like purposely rubbing the bag against a passerby's arm while walking down the street. That actually happened to Martin.
The Hermes store on the Upper East Side's swanky Madison Avenue has four floors.
4. Nanny Salary: $100,000
On average, nannies earn $18.66 per hour, according to a 2014 survey from the International Nanny Association. At 40 hours per week, that amounts to just shy of $40,000 per year.  
But as Martin notes, plenty of nannies in her community were paid $100,000 per year, with added perks like private plane travel, health insurance and paid-vacations.
If you thought applying for college was arduous, think again. Applying for nursery school for Martin was a "cutthroat endeavor." 
Parents would pull all necessary strings to ensure their toddler was accepted into the few prestigious nursery schools on the Upper East Side, with tuition price tags of $25,000 a year.
And forget school buses -- chauffeured SUVs made the daily trip from penthouse to classroom. General Motors'  (GM) - Get General Motors Company (GM) Report Cadillac Escalade is the vehicle of choice.
6. Bejeweled Jackets: $7,000
Once the motorcade of Escalades arrived, the process of "dropping your kid off at school" didn't end there. In fact, mothers weren't simply taking their kids to school. This was an opportunity to show off to all the other mothers.
One mother wore a $7,000 bejeweled coat -- not to a dinner party or formal event, but to nursery school in the morning.
Budgets for hair care reached some $6,000 per year, according to Martin, which included weekly blowouts and colorings, sometimes costing $500 a pop.
These figures were largely related to everyday hair care -- not special events. For those occasions, women would spend another $1,500 annually, per Martin's estimates.
8. Clothing for The Hamptons: $5,000
As soon as school let out, it was off to the Hamptons for Upper East Side mothers and their kids. The husbands would join on weekends. The Hamptons is a waterfront region on the eastern point of New York's Long Island -- a three hour drive from New York City -- where many of New York's elite have summer homes and spend weekends.
One city in the Hamptons, Sagaponack, N.Y., claims the number two spot on the aforementioned Forbes list of most expensive zip codes, where the median price of a home stands at $6.3 million. That makes $5,000 on clothing for a summer the Hamptons seem like a drop in the bucket. 
Aside from daily workouts, spin classes and personal training sessions -- which Martin's cohorts shelled out plenty of money for -- some $3,500 a year was spent on juice cleanses alone.
That amounts to $67 per week, which may not seem like a lot, but the average American family spends $151 on food each week, according to a Gallup survey. 
10. Hair Loss Consultants: $2,000
Women would spend $2,000 annually for professionals who help prevent hair loss from "color, stress, hormones and/or autoimmune issues caused by stress and hormones," Marin wrote.
No insurance accepted.
This article is commentary by an independent contributor. At the time of publication, the author held no positions in the stocks mentioned.