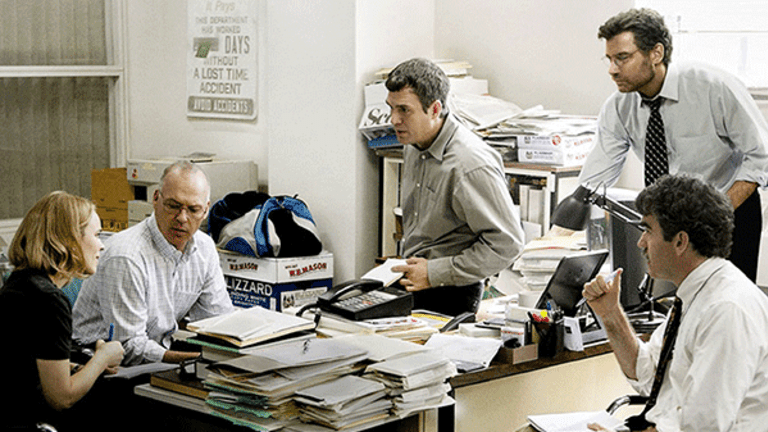 10 Lowest-Grossing Movies to Win an Oscar for Best Picture
The highest-grossing Best Picture nominee for 2016 made four times less money than the year than the top-grossing film of the year. Oscar's biggest winners are often film's smallest earners.
You can cry about the elites all you'd like, but the entire point of the Academy Awards is to reward the elite -- and the biggest superhero films of the year aren't among them
This year's nine nominees for Best Picture have averaged just under $72 million per film. That ranges from nearly $132 million for Hidden Figures to about $20.4 million for Moonlight. Compare that to the five-film field for Best Visual Effects and its more than $246 million average. In that equation, Disney's continuation of the highly lucrative Star Wars franchise, Rogue One and its $527.2 million tops the list while Laika's more artistic Kubo and the Two Strings ($48 million) constitutes the low end.
You have to go back to 2003 to find the last top-grossing U.S. film to win Best Picture. That year, Lord Of The Rings: Return Of The King took home the Oscar not for bringing in more than $377 million in the U.S., but for capping off an epic trilogy that the Academy of Motion Picture Arts and Sciences was honoring all at once. The last blockbuster to pull off that feat without any help from a broader series of films was Titanic, which made more than $600 million in 1997 on its way to a Best Picture win.
Blockbuster and Best Picture films weren't always so evenly divided. Back in 1988, Rain Man topped that year's U.S. box office list by taking in nearly $173 million (or more than $346 million today) despite having an R rating and featuring nothing flashier than Tom Cruise taking his autistic brother (played by Dustin Hoffman) on a road trip. That year, according to the National Association of Theater Owners, 9 of the Top 20 films in the U.S. were rated R, down from 12 the year before but still prior to a record high of 14 in 1992. Also during 1998, only three of the Top 20 films were rated PG-13.
By 1998, a year after PG-13 Forrest Gump won Best Picture and dominated U.S. box offices with a nearly $330 million take (more than $527 million today), 9 of the Top 20 movies were PG-13, while only 5 were rated R. From 2000 to 2012, PG-13 films would make up 50% or more of the Top 20 movies in the U.S. every year except 2009 (8) and 2010 (5). During that same span, their R-rated counterparts made up just 5 of the Top 20 in their best years and couldn't crack the Top 20 at all in 2002, when PG-13 Chicago won Best Picture. In fact, since 1993, PG-13 films have made 47.2% of the movie industry's revenue despite accounting for about 2,000 fewer films than their R-rated counterparts.
Watch More: 10 Movie Musicals That Won Best Picture at the Oscars
 That's creating a huge divide between the Academy's definition of the "best" films and what the U.S. moviegoing public deems the most popular. In 2005, when the $380 million Star-Wars: Revenge Of The Sith was the biggest film in the land and a five-film Best Picture field averaged just $49.1 million per film, Crash won Best Picture and finished with a box office take of just $54.6 million. In 2007, when Spider-Man and Transformers films each topped $300 million domestically, No Country For Old Men won with little more than $74 million in box office earnings.
Watch More: Which 2017 Oscar Nominees Have Made the Most Money?
Even if Hidden Figures wins Best Picture, it will do so as roughly the 19th most-popular film of 2016. The highest-grossing film of last year, Rogue One, will have made four times its total box office receipts. La La Land has an outside chance of cracking the Top 20 for 2016, but it still gets trounced by the biggest cartoon, space and superhero movies. That's not necessarily a bad thing, as those categories are designed specifically to keep children seated and quiet while keeping adults entertained enough not to be bored out of their skulls. They're not attempting to advance art: they're drawing attention and, later, diverting it toward merchandise. Best Picture contenders typically get a longer leash and a narrower focus, which explains how the following ten films took home the prize despite being the lowest-earning films to ever win the award: