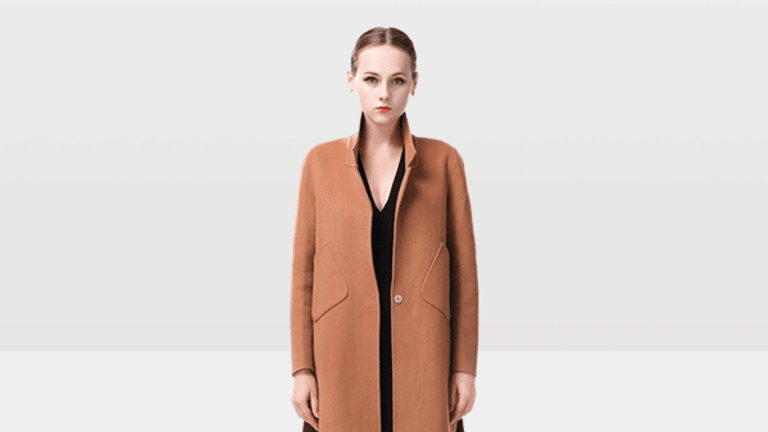 10 Cold Weather Items to Commute in Style (for Her)
Form and function play important roles on the rush to work.
Editors' pick: Originally published Dec. 12.
Commuting in the winter isn't an ideal situation. Dragging yourself out of a warm bed and then schlepping across the frozen tundra requires an emotional feat of strength, along with some hardy but cozy layers. You're already being masochistic enough using public transportation, so why not spend a little more to buy things you'll love and wear for years to come?

Canada Goose Kensington Parka Coat $829.00 - $900.00
These coats are all over the place for a reason — because they're exceptionally warm. They're also a utilitarian luxury item that you'll hate yourself less for blowing nearly a grand on this rather than another pair of heels that won't love your feet back. Buy it here
On the other side of the coat spectrum is a dressier option that can't withstand the elements as well, but will beat the test of time. An elegant cashmere overcoat that will go with any fall to winter aesthetic is a traditionally luxe option you won't regret during holiday party rounds. Buy it here
Longchamp Le Pliage Large Shoulder Tote Bag $109
Like the aforementioned Canada Goose jacket, Longchamps are e-v-e-r-y-w-h-e-r-e, because they work. A storied French brand that makes dependable bags that don't go out of style and are as lightweight as you can get is a winner in every commuter's book. Choose among short to long handles or even more travel-friendly luggage options. Buy it here



Ghurka Broadway II Adventure Travel Tote $415.50 (save 40% on Amazon)
Another legacy brand, Ghurka's leather products are expensive but indispensable. Streamlined, simple silhouettes will outlast their bag brethren, and look even cooler as it ages. Just remember to treat it with leather cleaner and be mindful of not dumping your morning coffee in there. Buy it here
White + Warren Cashmere Travel Wrap Scarf $298
Still cold? Wrap yourself in an oversized cashmere scarf that could double as another layer, or office blanket if need be. They also do in a pinch for traveling, because you're better than using those tiny blankets the airline gives you. Buy it here
Coach Legacy Tattersall Cashmere Fringe Scarf $89.99
If you're looking for a less bulky scarf that looks and feels good, opt for a trend friendly option from Coach (COH) that fits the bill in fun plaid. It doesn't scream "Coach" with logo C's but its signature tattersall shows off enough. Buy it here.

Frye Melissa Tall Tab Riding Boot $228
Boots without a heel are your best friends in slippery weather. Especially riding boots, which traditionally lack a heel and don't make you look under-dressed. This Frye pair also won't make your cobbler hate you when he replaces the soles every few seasons or so. Buy it here.

G&H Bass & Co. Women's Hope Flat $58.98 - $117.95
A flat that has both menswear elements and feminine appeal is extremely versatile and not to mention, not a four inch heel? Wear with everything from dresses and skirts to trousers and jeans, your toes will thank you later. Buy it here.
Pendleton Luggage Glacier National Park 22" Wheeled Duffle $219
When you're leaving for a weekend jaunt after the office, you're going to have to drag your luggage from point A to B to C, or even D if you're feeling masochistic. Make sure it has wheels, and this beautiful, iconic piece from Pendleton also boasts coated canvas. Buy it here.

Nicole Miller Jardin 20" Expandable Spinner $65.85 (save 18% on Amazon)
If you're dragging your luggage to work, it might as well be cute and a spinner so you're exerting as little effort as possible. This Nicole Miller version should do the trick and not break the bank in the process. Buy it here.