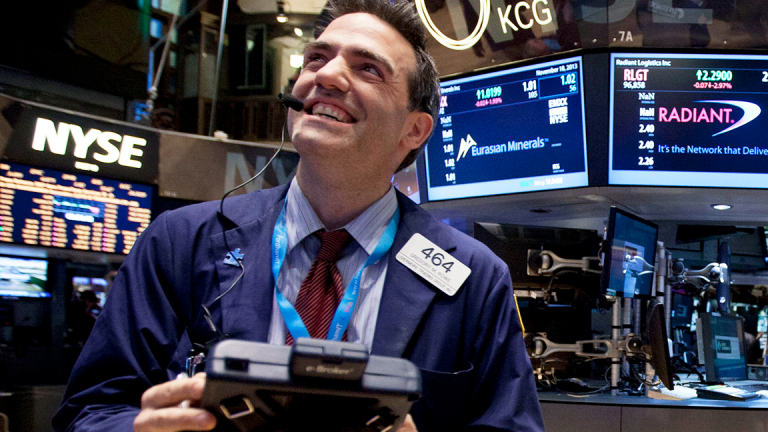 Your Game Plan For Earnings: Cramer's 'Mad Money' Recap (Friday 8/3/18)
Jim Cramer has the game plan for next week, and he also talks about how to buy stocks that are right for you.
We're entering the most confusing part of earnings season, Jim Cramer told his Mad Money viewers Friday, as he laid out his game plan for next week's trading.
Cramer said he'll be listening to Newell Brands (NWL) - Get Newell Brands Inc. (NWL) Report on Monday to learn more about that company's turnaround efforts. He was bullish on Marriott (MAR) - Get Marriott International, Inc. (MAR) Report , Zillow (Z) - Get Zillow Group, Inc. Class C Report and Etsy (ETSY) - Get Etsy, Inc. Report , all of which also report on Monday. But the biggest upside surprise may come from refiner Andeavor (ANDV) .
Tuesday sees earnings from Emerson Electric (EMR) - Get Emerson Electric Co. Report , which will likely deliver an upside surprise that will be tempers from tariff fears. Walt Disney (DIS) - Get Walt Disney Company Report will also likely deliver stellar numbers that might finally put to rest worries over ESPN subscriber losses.
Next, on Wednesday, we'll hear from Keurig Dr. Pepper (KDP) - Get Keurig Dr Pepper Inc. Report , CVS Health (CVS) - Get CVS Health Corporation Report and Occidental Petroleum (OXY) - Get Occidental Petroleum Corporation Report . Cramer was bullish on Occidental and CVS, but said he'd reserve judgement on the newly-merged Keurig.
Thursday brings earnings from two interesting companies, Dropbox (DBX) - Get Dropbox, Inc. Class A Report and Viacom (VIA.B) . Cramer said he liked Dropbox's subscription model and felt that Viacom's assets were being under appreciated.
And for Friday, Cramer said Wall Street will get the number that worries him the most, the consumer price index. Will this be the moment inflation starts to pick up? If so, it may be a tough end to the week.
Find the Stocks Right For You 
Is that stock you're about to buy really right for you? That was the question Cramer posed to viewers, as he explored the topic of suitability -- finding stocks that aren't just right for this week or this month, but are right for you, given your age and temperament.
Suitability isn't a concept that came naturally, Cramer said, as he reminisced about his early trading days. Doesn't everyone want to make as much money as quickly as possible? Unlike buying a home or a car, which come with insurance, or other merchandise, which can be returned, stocks are a different animal.
Sure, you could buy a stock today that gets a huge takeover bid tomorrow, but you're also just as likely to buy a stock today that gets a huge downgrade tomorrow.
That's why it's so important that you buy stocks that suit you, especially if you're not one who follows the markets on a tick-by-tick basis. Stocks don't have to be a caveat emptor (buyer beware) situation, Cramer concluded, but the buyer does have to be at least a little bit aware of what they're committing their hard-earned dollars to before they pull the trigger.
Act Your Age
The first type of suitability is age suitability, Cramer told viewers, and that starts with your kids. Parents who start investing for their children when they're born can be well on their way to great wealth by the time their child reaches their teenage years.
Cramer's simple message to parents and grandparents alike: start investing now. One of the easiest ways to get started is with a uniform gift to minors account, where you can gift money now and have wealth accumulate tax free. Check with your broker for details.
As for what to invest in, Cramer said there's nothing wrong with an S&P 500 index fund. That may seem counter intuitive for a guy who picks stocks for a living, but Cramer said the two philosophies can peacefully coexist and he'd recommend giving both a try.
For those with a little more time and know-how, Cramer recommended a collection of names that included 3M (MMM) - Get 3M Company Report , Procter & Gamble (PG) - Get Procter & Gamble Company Report , Kimberly-Clark (KMB) - Get Kimberly-Clark Corporation (KMB) Report and PepsiCo (PEP) - Get PepsiCo, Inc. Report , all of which offer both growth and yield. And for those desiring higher growth, you can't go wrong with FANG, Cramer's acronym for Facebook (FB) - Get Facebook, Inc. Class A Report , Amazon.com (AMZN) - Get Amazon.com, Inc. Report , Netflix (NFLX) - Get Netflix, Inc. (NFLX) Report and Alphabet (GOOGL) - Get Alphabet Inc. Class A Report .
Cramer's last recommendation for kids: Add a little silver or gold to their portfolio. Precious metals may or may not go up in value during the time you own them, but nothing teaches us about investing basics better than some silver or gold coins.
As your kids get a little older, it's time to start teaching about money and investments. Cramer admitted that it's almost impossible to explain to a child exactly what a share of stock is, but that doesn't mean you can't introduce the concept of owning a piece of a company you can see, hear or touch.
All kids play with toys, so why not start with shares of Mattel (MAT) - Get Mattel, Inc. Report or Hasbro (HAS) - Get Hasbro, Inc. (HAS) Report ? How about that box of Cheerios on the breakfast table -- those are made by General Mills (GIS) - Get General Mills, Inc. (GIS) Report .
Walt Disney Co. (DIS) - Get Walt Disney Company Report is an obvious choice for kids as well, as are household staples made by Johnson & Johnson (JNJ) - Get Johnson & Johnson (JNJ) Report . And no matter where you fall in the healthy eating spectrum, every kids recognizes the Golden Arches of McDonald's (MCD) - Get McDonald's Corporation (MCD) Report .
Buying a brand that kids can relate to is a great way to start them thinking about business and investing, Cramer said, and who knows where those shares will be in 10 to 15 years.
But What Can Our Kids Teach Us?
By the time your kids become teenagers, they're ready to begin teaching you a few things about investing.
That was certainly the case in the Cramer household, where his two daughters were the first to recognize that Domino's Pizza (DPZ) - Get Domino's Pizza, Inc. Report was knocking it out of the park with their new recipes a few years ago.
Cramer credited his daughters with turning him onto Apple (AAPL) - Get Apple Inc. (AAPL) Report , a stock that's still an Action Alerts PLUS holding. No one was recommending Apple when the iPod first debuted, Cramer recalled, but anyone who owned one, especially teens, quickly couldn't live without them.
Cramer said kids, and teens especially, are among the first to spot new trends, whether they be Netflix, Google or Facebook. In his defense, Cramer said he figured out Amazon all on his own. 
You can learn a lot from your kids, Cramer concluded, and if you invest alongside, you won't regret it.
Investments Suitable for Grown-ups
After your kids grow up, things get a little more complicated, Cramer said. He doesn't expect anyone to put money away while they're in college, college costs too much. But as soon as they enter the workforce, it's imperative that they invest in a 401k or self-directed IRA. Cramer prefers the latter, but either will do.
That's when the mix of index funds and individual stocks comes into play. You need to know thyself, Cramer said, and determine how much risk you're comfortable with. Are you likely to buy more in a sell-off or cut and run? Do you have time to do with homework for a five-stock portfolio? How about a 10-stock portfolio?
As you get older, say in your 30s, Cramer said you should be looking for stocks with dividends, but you shouldn't even consider introducing bonds until you're in your 40s.
By middle age, you should begin the process of transitioning from capital appreciation to capital preservation, Cramer said, but don't be in too big of a hurry. Risk should remain a friend for as long as you're comfortable with.
Search Jim Cramer's "Mad Money" trading recommendations using our exclusive "Mad Money" Stock Screener.
To watch replays of Cramer's video segments, visit the Mad Money page on CNBC.
To sign up for Jim Cramer's free Booyah! newsletter with all of his latest articles and videos please click here.
At the time of publication, Cramer's Action Alerts PLUS had a position in MMM, PEP, FB, AMZN, GOOGL, AAPL, EMR.