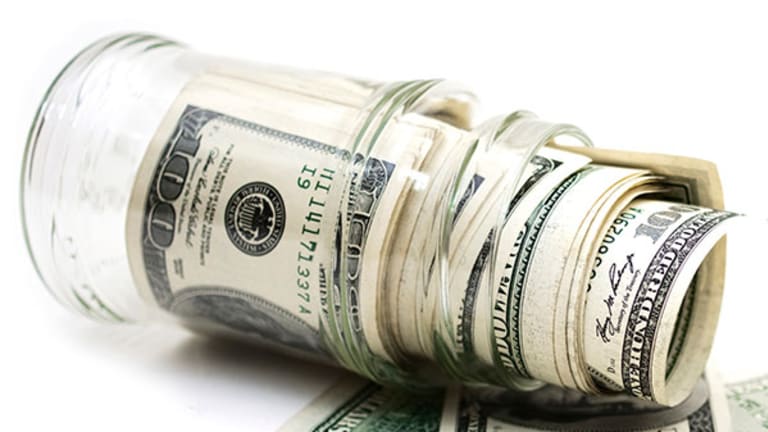 When Will Rates Rise? Shake Shack Volatile Following Earnings
CNBC's 'Fast Money Halftime' traders discusses owning U.S. stocks and look at Shake Shack's results with Jim Cramer. 
NEW YORK (TheStreet) -- U.S. stocks are up Thursday, with the S&P 500 1% higher. Investors are focusing on financial stocks, especially the 28 of 31 banks that passed the Federal Reserve's Comprehensive Capital Analysis and Review requirements. 
Citigroup (C) - Get Report is up 2.5% thanks to passing the "stress test," Pete Najarian, co-founder of optionmonster.com and trademonster.com, said on CNBC's "Fast Money Halftime." He is long the stock and said it's "off to the races" for the rest of the bankinggroup as well.
However, if investors missed Thursday's rally in the financials, they should wait for a pullback before getting long rather than buying these stocks right now, Najarian added.
Everyone seems to be hung up on whether the Federal Reserve will remove the word "patient" from its next statement, said Josh Brown, CEO and co-founder of Ritholtz Wealth Management. But what's the point of communication if not for investors to prepare for a different environment? In other words, let the Fed say what it needs to and let the market react, whether that includes a selloff or not. Then investors can go from there. 
Either financial stocks will be the catalyst for a broad market rally or oil prices will fall and pull the market down with it, according to Joseph Terranova, chief market strategist for Virtus Investment Partners. 
Investors are confused on what to do, Terranova continued. On the one hand, they're trying to figure out what to do with rates. On the other hand, the U.S. dollar is lower on Thursday, yet oil prices can't seem to rally. It shows investors aren't sure what to do just yet. 
On interest rates, Jon Najarian, co-founder of optionmonster.com and trademonster.com, says the Fed's statement next week will only matter in the short term. He believes the 10-year Treasury yield is headed down to 2% and any big rallies in yields should be sold, meaning investors should buy bonds on big pullbacks. 
There's no question that U.S. stocks are expensive based on almost any valuation metric used, said Meb Faber, CIO and portfolio manager at Cambria Investment Management. However, that doesn't mean stocks are in a bubble and are doomed, he reasoned.
Likewise, other regions such as Greece and Russia are all much cheaper. These two markets in particular may be very difficult for investors to buy because it seems so scary, Faber explained. However, that's what deep value investing feels like. 
Stocks go in rotations, he continued. Right now, U.S. stocks are expensive, but have been cheap in the past. The momentum in U.S. stocks still bodes well for investors, but it seems more likely that over the next three to five years, there will be better opportunities in other countries and regions. U.S. investors should allocate at least 50% of their assets overseas, Faber concluded. 
The conversation turned to Shake Shack (SHAK) - Get Report, which was down close to $42 per share following the company's top and bottom line earnings beat for the fourth quarter. However, shares quickly rallied toward $50 later in the session and currently trade near$47.50. 
Brown reasoned that institutional investors continue to buy the stock, despite its lofty valuation. However, he explained that "great consumer growth" stocks are never cheap, because investors realize its long-term growth potential. Shake Shack has the "potential to be a very big business," he added.  
"Sales were great," said Jon Najarian, as revenues climbed 51.6% year-over-year. The company's same-store sales of 7.2% were also impressive. 
TheStreet's Jim Cramer, co-manager of the Action Alerts PLUS portfolio, made a guest appearance on the show. He said shares of Shake Shack shot higher because investors realized that they would be unlikely to get the stock at a lower price, due to the heavy buying being done by the institutional investors. 
More broadly speaking, investors should try to tune out the drama and focus on company-specific themes, Cramer said, pointing to growth stocks including Disney (DIS) - Get Report and Starbucks (SBUX) - Get Report, an AAP holding. 
For their final trades, Pete Najarian said to stay long Bank of New York Mellon (BK) - Get Report and Jon Najarian is buying Scientific Games Corp. (SGMS) - Get Report. Brown said investors shouldn't chase Shake Shack after Thursday's big move higher and Terranova likes the sporting goods trades via long positions in Cabela's (CAB) , Dick's Sporting Goods (DKS) - Get Report and Hibbett Sports (HIBB) - Get Report. 
This article is commentary by an independent contributor. At the time of publication, the author held TK positions in the stocks mentioned.