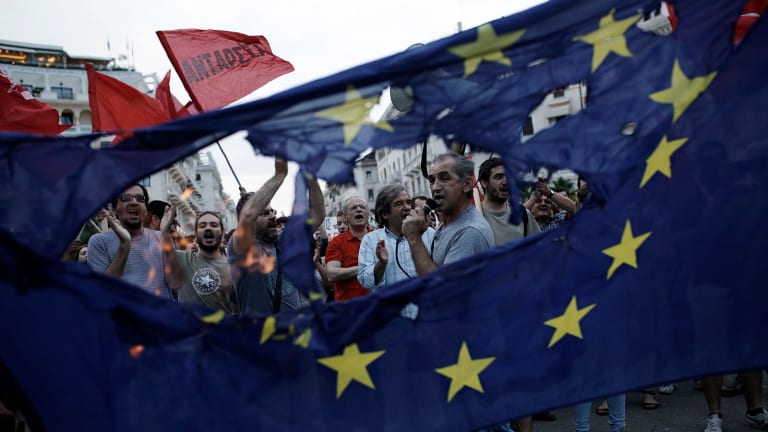 When it Comes to Greece, Ignore the Headlines and Think Longer Term
The Fast Money Halftime Report trading panel examines Fitbit's big run in share price and looks looking for buying opportunities should Greece pull down stocks.
NEW YORK (TheStreet) -- Stocks have bounced up and down, trying to anticipate the outcome for Greece. The S&P 500 is up about 0.4% on the day, but a debt deal is far from a given at this point.
Jim Lebenthal, president of Lebenthal Asset Management, recommended that investors ignore the Greece headlines and focus on the long term. On CNBC's "Fast Money Halftime Report," he explained that investors should sell some of their overvalued positions and use selloffs to add to their undervalued positions.
Dan Greenhaus, chief global strategist at BTIG Research, voiced similar views. He said that earnings, not geopolitics, will drive the stock market. While Greece or Puerto Rico can weigh on stocks in the short-term, they won't impact corporate earnings. 
However, Greenhaus is concerned about stock price valuations, especially with interest rates set to rise in the future. He sees tomorrow's non-farm payrolls report roughly in line with forecasts of about 225,000 jobs being added to the economy. 
Stephanie Link, portfolio manager at TIAA-CREF, said the recent selling pressure has provided her with several buying opportunities, while economic data for the U.S. and Europe continues to look "just fine." She's bullish on health care, financials, consumer discretionary and technology stocks. 
Pointing to ACE Limited's (ACE) huge $28.3 billion purchase of Chubb (CB) - Get Report, Link noted the deal shows that management teams and corporate board members aren't concerned about Greece. 
While the situation with Greece seems to be improving, it can change in a heartbeat, said Pete Najarian, co-founder of optionmonster.com and trademonster.com. It's clear that investors remain uncertain, with selling pressure intensifying in the afternoon sessions this week. Despite all this, he still likes financial stocks on the long side. 
Ifa major selloff materializes, it will set investors up with a big buying opportunity for the second half of 2015, according to Jon Najarian, co-founder of optionmonster.com and trademonster.com. 
Turning to Apple (AAPL) - Get Report, Steve Milunovich, said consumers are willing to pay more for the company's products, because it provides a premium experience compared with competitors. There's concern over future comparable sales, since the iPhone 6 was introduced last fall, but Milunovich is looking for strong demand in China to continue. He also expects Apple to sell 30 million Apple Watches next year, helping to offset the slowdown in iPhone sales growth. The stock is undervalued, has roughly 20% upside and should "grind higher" from current levels, he predicted. 
Apple is a "great long-term investment," Lebenthal said. Pete Najarian added that the stock should perform well in the second half of 2015. 
Fitbit (FIT) - Get Report, which is viewed as a competitor to the Apple Watch, has been in the spotlight recently, as shares have nearly doubled from an IPO price of $20. 
The stock still has a lower valuation than GoPro (GPRO) - Get Report, despite having superior growth, Pete Najarian noted. The stock rally is justified, he said, because Fitbit has strong growth in the U.S. and is expanding internationally. 
"This could be a long-term home run," depending on whether the products currently being developed are well-received, Lebenthal said. 
There are talks that the addressable market could double for Fitbit, Link added. If that's the case, Fitbit has plenty of long-term catalysts ahead. 
This article is commentary by an independent contributor. At the time of publication, the author held no positions in the stocks mentioned.