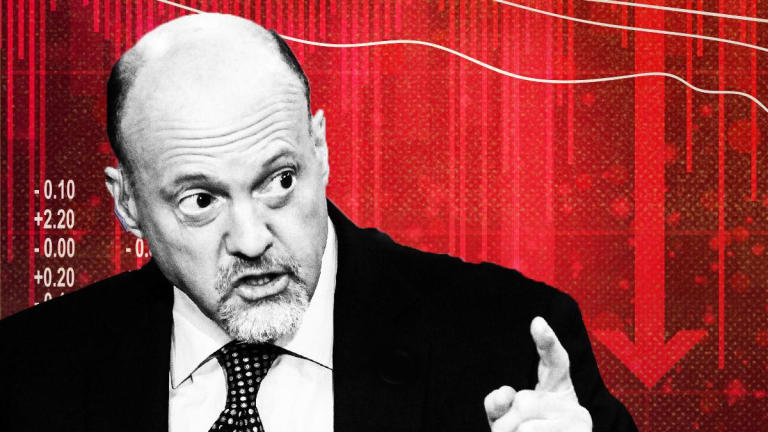 Jim Cramer Unveils His 5 Great Stocks for a Volatile Market
Jim thinks these names will do well here.
Jim Cramer unveiled his "5 Great Stocks for a Volatile Market" on Wednesday during an exclusive monthly video-conference call with members of his Action Alerts PLUS club for investors.
"We have isolated five stocks that we think can be bought into the big dips these Cassandras give us -- five stocks that will rebound after the hammering, [allowing you to] profit from the doom and gloom that shrouds our every waking hour," Cramer said.
The expert also used the call to discuss his latest take on the market, run down how he feels about Apple (AAPL) - Get Free Report , Amazon (AMZN) - Get Free Report and the rest of the FAANGs and answer investors' e-mailed questions.
The video-conference call was only available to members of Cramer's Action Alerts PLUS club for investors, but you can sign up for a free 14-day trial membership and listen to a full replay.
Club membership includes exclusive access to Cramer's private video-conference calls each month, and also includes lots of other benefits, including:
A complete rundown of all of stocks that Cramer holds his charitable trust;
E-mail alerts that give you a chance to buy or sell any stock before he makes a trade for the trust;
Custom research throughout each trading day from Cramer and his team of stock-market analysts. You'll get to see some of the same research that Cramer sees every market day as he and his team make investment decisions.
Click here to join Action Alerts PLUS today!
Watch today's Jim Cramer's FREE live show replay:Jim Cramer on Recession Fears: 'Dial Back the Hysteria'
Employees of TheStreet are restricted from trading individual securities.