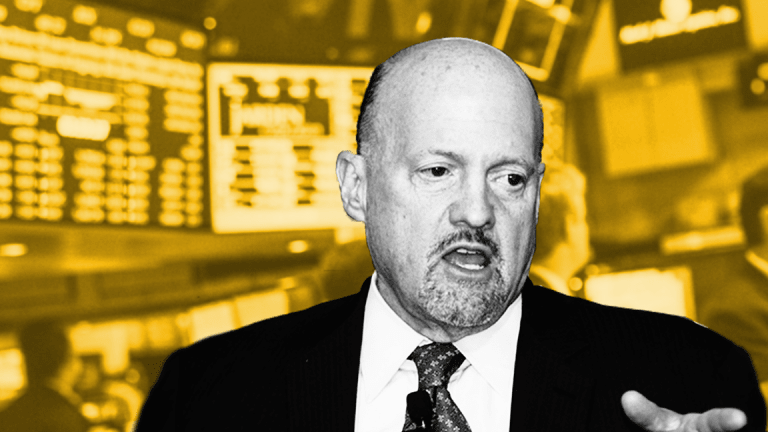 Jim Cramer on Disney+, Chevron's Anadarko Bid and JPMorgan's Earnings
All three stocks had big rallies Friday, and Cramer used a private conference call with members of his Action Alerts PLUS club for investors to unveil how he'll play them from here.
What parent is going to deprive their kids of the new Disney+ streaming-video channel from Walt Disney Co.  (DIS) - Get Walt Disney Company Report?
Pretty much none, Jim Cramer said Friday during a special Action Alerts PLUS video conference in which he weighed in on Disney, JPMorgan Chase (JPM) - Get JPMorgan Chase & Co. (JPM) Report and the $33 billion bid from Chevron (CVX) - Get Chevron Corporation Report to buy Anadarko (APC) - Get Anadarko Petroleum Corporation Report . 
Here are excerpts of what Cramer told members of Action Alerts PLUS, his VIP club for investors:
Disney+
Disney CEO Bob Iger held a long-awaited unveiling of his company's Disney+ streaming-video service on Thursday, promising to offer consumers kid-friendly entertainment that will take on the likes of Netflix  (NFLX) - Get Netflix, Inc. (NFLX) Report for just $6.99 a month.
Investors gave the product rave reviews, sending DIS shares soaring 11.5% Friday to a new all-time high of $130.06. And Cramer, whose charitable trust already owns the stock, gave it a thumbs-up as well.
"I doubt any parent, cord cutter or not, will question if he or she would buy this," he said. "In fact, I can see where you might tell your kids: 'This is your channel, period.'"
He added that Iger "gave you a $6.99-a-month package that is a huge bargain vs. you yourself as a parent trying to get content to your kids in a piecemeal way. The new content [and] the price point make it a must."
Cramer lauded Disney's other businesses as well. "Theme parks? On fire and getting hotter," he said. "Cruises? Fantastic. Movies with Fox that amount to maybe 35 to 40 weekends per year won by Disney? That's what makes [the stock] so buyable." 
Chevron's $33 Billion Anadarko Bid
Energy giant Anadarko, whose shares Cramer's trust also owns, soared 32% to close Friday at $61.78 after Chevron offered $33 billion for the firm.
Cramer said the bid partly vindicates his decision to buy Anadarko for his trust last May, although the position is still 5.4% underwater even after Friday's rally.
"Thank you, Andarko, for redeeming yourself," the stockpicker said. "We bought Anadarko not because we love oil, but because of its holdings --- and the possibility that, combined with a terrific balance sheet, they were bright and shiny enough to entice a buyer."
The question for Cramer and his research analysts now is whether the trust should tender its Anadarko shares to Chevron on consider other alternatives. "The team wants to assess the opportunity here, as we like Chevron very much," Cramer said.
JPM Morgan Rocks (But Citi Doesn't)
JPMorgan Chase knocked it out of the park Friday before the bell by reporting a $9.2 billion quarterly profit, which sent the stock -- which Cramer's trust owns -- rallying 4.6% to $111.21.
"Trading was excellent, capital markets are bubbling, numbers have to gone higher," Cramer said.
But not all banks are created equal.
Cramer noted that Citigroup (C) - Get Citigroup Inc. Report , which his trust also holds, doesn't look nearly as good. "Citigroup worries me here because I do not think it can be as good as JPMorgan," he said. "The bank hasn't executed well. Suffice it to say that I would not buy it here."
Want to Hear All of Jim's Private Video-Conference Call?
Sign up for Action Alerts PLUS, Cramer's VIP club for investors, and get instance access to a full replay of his latest call and live access to future calls every month.
Click here for a free 14-day trial.