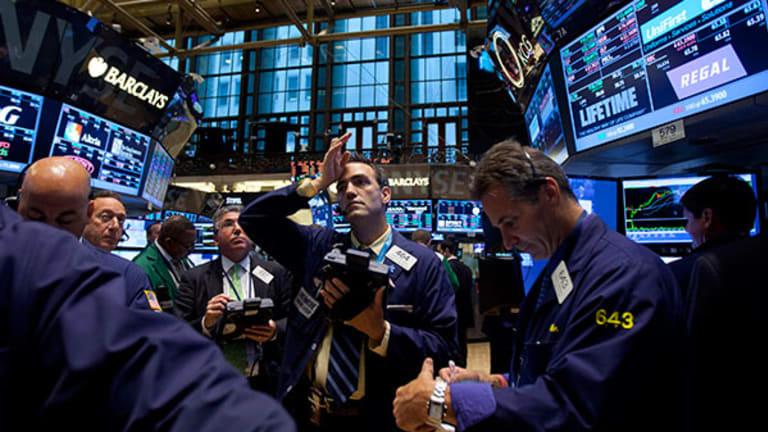 What a Gamed Market
What I love about Jim Cramer is that he fully gets the gaming of the market. So when I saw Jim's piece yesterday, headlined, "Don't Read This Herb," I could do little more than shake my head.
NEW YORK (
) -- What I love about Jim Cramer is that he fully gets the gaming of the market.
And he's not afraid to say it.
You and I may not like the gaming - I've spent much of my career railing against it -- but there is no getting around that this is a gamed market. Always has been. Always will be - just more now, it feels, than before.
So when I saw Jim's
, headlined, "Don't Read This Herb," I could do little more than shake my head.
Jim's point was that this is a market filled with "anointed" stocks that will go up simply because they
must
be owned by funds by year-end so their owners look more brilliant than they really are.
But one thing Jim conveniently left out was that despite the euphoria, the risk remains - and even though risk is a four-letter word in the world of momentum it can rise up and whack you when you least expect it. Just look at
Lumber Liquidators
(LL) - Get LL Flooring Holdings Inc. Report
, high on his anointed list. The stock was crushed in the early going today on
that the feds had raided its headquarters.
In this Greater Fool's Theory market, as I like to
, beyond a fed raid the only thing that matters with these momentum stocks (and remember we're talking stocks, not the companies) is the company itself coming out and saying things aren't what they appear to be -- at least not enough to support the momentum. With the next round of pre year-end earnings reports just a few weeks off, plenty of these pedal-to-the-metal investors will surely be holding their breath.
Yes, names like
Netflix
(NFLX) - Get Netflix Inc. Report
,
Tesla
(TSLA) - Get Tesla Inc. Report
and
Amazon
(AMZN) - Get Amazon.com Inc. Report
, or
Facebook
(FB) - Get Meta Platforms Inc. Report
,
Priceline
(PCLN)
and
LinkedIn
(LNKD)
- all on Jim's list - are trading at "lordy don't mess up now" prices. So are
Chipotle
(CMG) - Get Chipotle Mexican Grill Inc. Report
,
Salesforce
(CRM) - Get Salesforce Inc. Report
and
Tractor Supply
(TSCO) - Get Tractor Supply Company Report
. For some reason
Green Mountain
(GMCR)
is no longer among the anointed, but even after sliding for the past few days it is merely back to where it was in August, when it was at levels bound to befuddle (at least the likes of me, that is.)
Then there are the biotechs, in a euphoria not seen, or so say many longtime observers, since the late 1980s. Companies like
Celgene
(CELG) - Get Celgene Corporation Report
,
Biogen
(BIIB) - Get Biogen Inc. Report
,
Regeneron
(REGN) - Get Regeneron Pharmaceuticals Inc. Report
and
Gilead
(GILD) - Get Gilead Sciences Inc. Report
- all on Jim's list are all spores of speculation as long as (fingers crossed) Phase 3 results for whatever drug everybody's hanging their hat on doesn't disappoint.
This market is so gamed that any stock that gets even a whiff of negative news is bid up - as was the case yesterday with
Boulder Brands
(BDBD)
after my red flags
-- and
Herbalife
(HLF) - Get Herbalife Nutrition Ltd. Report
the day before, after a negative piece on
FT Alphaville
.
I don't know who does the bidding up, but my hunch is that whoever "they" is does it to keep those stocks from slumping to some technical trigger point that would make those who are feeling smart look stupid.
Yeah, there oughta be a law. And there is. But just like professional wrestling, for some reason the ref is always looking the other way.
And as for the anointed: They are until they aren't. Even Jim will concede there will be no advance warning.
Reality: Game on, Skidaddy.
--Written by Herb Greenberg.
Herb Greenberg, editor of Herb Greenberg's Reality Check, is a contributor to CNBC. He does not own shares, short or trade shares in an individual corporate security.