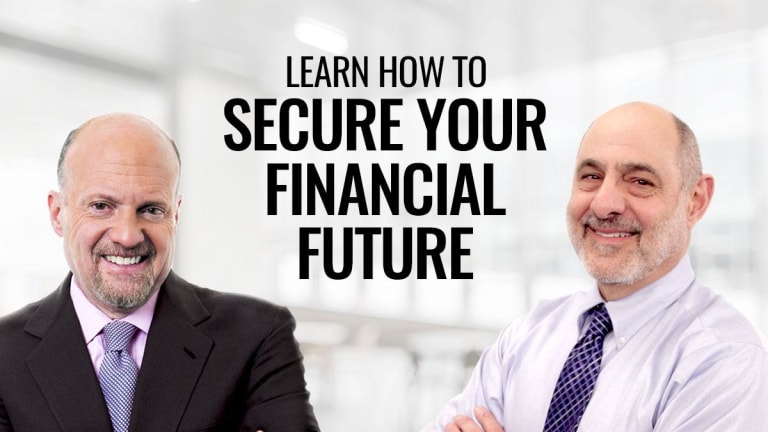 Let Jim Cramer and TheStreet's Bob Powell Teach You How to Save and Invest
Introducing TheStreet Courses, our new online classes for those who want to take on Wall Street with confidence.
The keys to a rich financial life include understanding and investing wisely in markets and mastering how to earn, save and spend money. Now everyone has the opportunity to do just that through TheStreet Courses, our new online classes in investing and personal finance taught by Jim Cramer and TheStreet's retirement expert Robert Powell. 
Working in partnership with Junction Education, TheStreet has developed two engaging classes -- Fundamentals of Investing and Personal Finance Essentials -- which are available for a limited time at special launch prices. Sign up today for Jim's Fundamentals of Investing course for just $129, Bob's Personal Finance Essentials class for $99 or both for only $199.
These multimedia online classes combine videos, easy-to-read text, quizzes and more to show you how to create a solid financial foundation. Those who sign up can learn at their own pace, viewing different lessons multiple times until they have the material down.   
Each course features:
Engaging Content. Topics are introduced with short, engaging videos. Text, expert videos and reviews of real situations with real people then bring investing and personal finance to life.
Personalized Experience. Use the screening questions to get a personalized playlist or work through each module and take the quizzes at the end. It's learning, your way.
Ease of Use. All material is loaded and ready-to-go, including videos, textual lessons, quizzes and practice activities. There are no plug-ins or downloads, and you can take the courses using any device.
Great Value. Understanding the basics of investing and personal finance will help you better manage your income and expenses, minimize tax exposure and insure a healthy financial future.
Here's a deeper look at both courses:
Fundamentals of Investing
Led by Jim Cramer, Fundamentals of Investing is designed to teach you how the stock market works, how to determine investment opportunities based on the news and more. Cramer runs through everything from how the Federal Reserve and other macroeconomic factors influence Wall Street to how to read an earnings report.
Cramer is one of America's most recognized and respected investment pros and media personalities and one of the most successful hedge-fund managers in Wall Street history. He managed money for 38 of the world's wealthiest families through Cramer Berkowitz, the hedge fund he founded. Cramer later founded TheStreet and went on to serve as host CNBC's Mad Money and co-anchor of Squawk on the Street.
Personal Finance Essentials
Take control of your financial future with TheStreet's Personal Finance Essentials course, led by Robert Powell. This course will walk you through the four pillars of money -- earning, saving/investing, spending and charitable giving -- that will help you better manage your income and expenses to save you money every month.
Powell's understanding of saving and investing has made him a trusted source for retirement news and advice. He is the editor of TheStreet's premium newsletter Retirement Daily, and his work appears regularly on TheStreet and in USA Today. In addition to his decades of experience as a personal-finance journalist, Powell has a long history of creating multimedia financial education for consumers and advisers. He's co-author of the book Decoding Wall Street, author of e-book 20 Tips for Retirement Investors and editor of the booklet Advice, Trust & Money.
Sign Up Today And Receive a Special Discount
Learners who successfully complete each course will earn a shareable online badge at no additional charge. Click here to learn more about TheStreet Courses or to purchase one or both during our special launch sale!