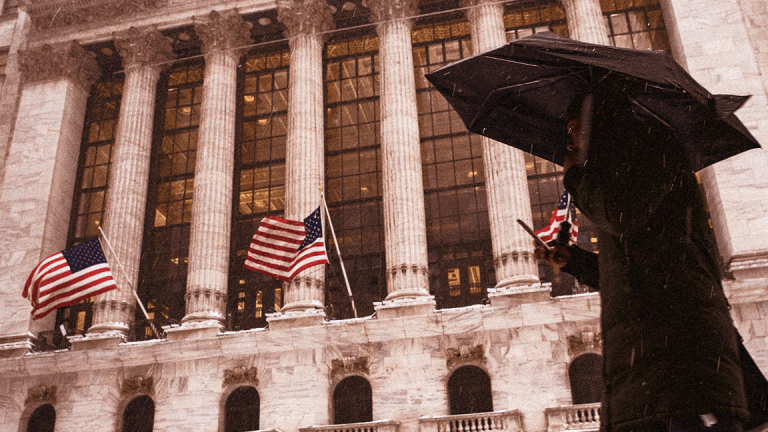 Volatility Reigns Supreme: Cramer's 'Mad Money' Recap (Thursday 2/8/18)
Jim Cramer asks: Is every one of these vexing VIX derivatives going to have to go bust before this torture ends? Looks like it.
We've all seen this move before, Jim Cramer told his Mad Money viewers Thursday, after a 4.1% decline in the Dow Jones Industrial Average. Finding winners in this market is like finding a needle in a haystack, which is why it's time to sit on your hands and wait until the chaos subsides.
Cramer said there are many theories as to why the market broke down in spectacular fashion a week ago. Some blame rising bond yields. Some blame inflation. Others blame Washington. But the truth is that the market's collapse is very similar to the collapse of 2008.
Back then, traders got caught on the wrong side of the trade, using margin to buy risky mortgage bond derivatives. Today, these same trades are on the wrong side of the trade betting against market volatility.
The outcome is the same, Cramer said. Margin calls lead to forced selling that brings the entire market along for the ride. The personal bear markets created by these "idiotic" traders, Cramer said, holds us all hostage until the hedge funds are liquidated and their debts repaid.
Unfortunately, there are no less than 17 instruments to bet against market volatility, and we have no idea how long it will take them to fully liquidate. So for now, Cramer said take a pass and wait. Maybe buy a little of your favorite names in stages as they trend lower. The market will snap back once the liquidations are over. Unfortunately we just don't know exactly when that will be.
Over on Real Money, Cramer says investors must be disciplines, because a lot of this selling looks mechanical. Get more of his insights with a free trial subscription to Real Money.
Calling Out Those Responsible 
Who's really to blame for the stock market's implosion? Cramer did the research and found the four funds which he said are the true culprits.
For a little context, Cramer reminded viewers that the CBOE Volatility Index I:VIX , best known simply by its ticker, the VIX, is the gauge of market volatility that everyone follows. Since Wall Street will find a way to trade just about anything, there are instruments, or funds, that you can buy to bet either for, or against, volatility.
And because it's Wall Street, there are even funds that let you bet (and it really is a wager) two or three times that volatility.
Over the past year, the market has seen record low volatility, with the averages moving pretty much in a straight line higher. That led to hedge funds and other high-risk traders borrowing money to short the VIX and rake in the cash.
That was, of course, until actual volatility returned and forced these funds to cover their mounting losses.
Cramer called out the ProShares Ultra VIX Short-Term Futures (UVXY) - Get ProShares Ultra VIX Short-Term Futures ETF Report as one culprit. Today this fund rose from $19 to $28, a $9 gain that, if you were short, cost you $9. That may not seem like a lot, but 110 million shares traded today and this fund was never designed to handle that volume.
Other funds to watch -- and yes, they're all a mouthful to say -- included the iPath S&P 500 VIX Short-Term Fund (VXX) - Get iPath Series B S&P 500 VIX Short-Term Futures ETN Report , which lost $10 a share today and traded 85 million shares.
Also, the Velocity Shares Daily 2X VIX Short-Term ETN (TVIX) - Get VelocityShares Daily 2x VIX Short-Term ETN Report , which saw 112 million in volume today; and the ProShares Short VIX Short-Term Fund (SVXY) - Get ProShares Short VIX Short-Term Futures ETF Report , which traded 43 million shares, made Cramer's watch list.
Cramer said when the volumes begin to decline in these funds, then the chaos may be nearing an end. But until then, expect more days like today.
Cramer and the AAP say they want to reiterate that this volatility is no cause for panic selling. They are looking at this down market opportunistically. Find out what they're telling their investment club members and get in on the conversation with a free trial subscription to Action Alerts PLUS. 
Selloff Strategy
In his "Selloff Strategy Session," Cramer took more calls from viewers about navigating this turbulent market.
When asked about what to look for in stocks for the long-term, Cramer said: high growth. Stocks like Nvidia (NVDA) - Get NVIDIA Corporation Report and Regeneron (REGN) - Get Regeneron Pharmaceuticals, Inc. Report are perfect for younger investors with a longer time frame.
When asked for a healthcare recommendation, Cramer said Abbvie (ABBV) - Get AbbVie, Inc. Report makes his list, as do the three companies trying to reinvent healthcare, namely Amazon (AMZN) - Get Amazon.com, Inc. Report , JPMorgan Chase (JPM) - Get JPMorgan Chase & Co. (JPM) Report and Berkshire Hathaway (BRK.B) - Get Berkshire Hathaway Inc. Class B (BARK.B) Report , which announced a partnership last week.
Turning to stocks that are good to buy right now, into the weakness, Cramer said he's still a "fan" of Facebook (FB) - Get Facebook, Inc. Class A Report , Amazon.com (AMZN) - Get Amazon.com, Inc. Report , Netflix (NFLX) - Get Netflix, Inc. (NFLX) Report , (the FAN in FANG) but he would not buy Alphabet (GOOGL) - Get Alphabet Inc. Class A Report right here.
A Struggle
In this bitter adjustment period in the market, we need to ask ourselves, what's really behind this move? Are bonds in the driver's seat or are earnings? The answer, Cramer said, makes all the difference in the world.
If earnings are still in control, then you should be buying on this weakness, as the earnings will still be there in the end. But if bonds are in control, then it's largely hopeless, as even the best earnings could be overshadowed by a rise in interest rates that day.
The problem is that we don't really know who's in control because of the breakdown of the VIX we discussed earlier. This fog of war makes it impossible to tell which moves are for real and what percentage, if any, of these moves really matter.
Beyond that crucial question, Cramer added that times like these make people think the market's working against them and they leave, which only makes things worse.
Lightning Round
In the Lightning Round, Cramer was bullish on Intel (INTC) - Get Intel Corporation (INTC) Report and VMware (VMW) - Get VMware, Inc. Class A Report .
Cramer was bearish on American Water Works (AWK) - Get American Water Works Company, Inc. Report , Silicon Laboratories (SLAB) - Get Silicon Laboratories Inc. Report , Switch (SWCH) - Get Switch, Inc. Class A Report and Hess (HES) - Get Hess Corporation (HES) Report .
No-Huddle Offense
In his "No-Huddle Offense" segment, Cramer said that when investors begin to care about individual stocks again, they're going to care about the red-hot paper stock of WestRock (WRK) - Get WestRock Company Report , which just paid $4.9 billion to snap up rival Kapstone Paper (KS) .
This deal gives WestRock more scale in an industry where scale matters, Cramer said, and it takes out a competitor, which is good for the entire paper industry. Shares of WestRock have fallen from $70 to $61 since the deal was announced and it now trades at less than 14 times earnings.
Cramer said he'd also bless buying International Paper (IP) - Get International Paper Company (IP) Report into any weakness, as this, too, is a play on ecommerce and all of those packages that arrive at your doorstep.
Search Jim Cramer's "Mad Money" trading recommendations using our exclusive "Mad Money" Stock Screener.
To watch replays of Cramer's video segments, visit the Mad Money page on CNBC.
To sign up for Jim Cramer's free Booyah! newsletter with all of his latest articles and videos please click here.
At the time of publication, Cramer's Action Alerts PLUS had a position in NVDA, JPM, FB, GOOGL.