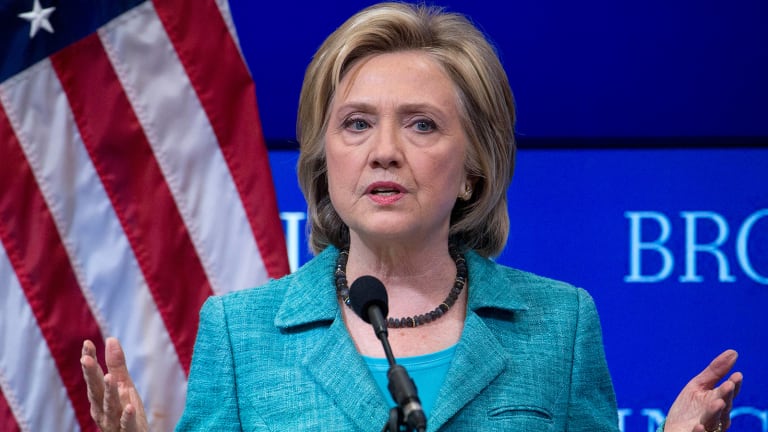 Tough to Buy Stocks With More Declines Likely on the Way
The CNBC 'Fast Money' traders say the stock market looks likely to retest its August lows, so why buy now?
The CNBC 'Fast Money' traders say the stock market looks likely to retest its August lows, so why buy now?
NEW YORK (TheStreet) - Investors looking for a reprieve Monday will be severely disappointed, with the S&P 500 ETF (SPY) - Get Report down 2.5% on the day. 
Why should anyone buy right now? That's what Joseph Terranova, senior managing partner at Virtus Investment Partners, asked on CNBC's "Fast Money Halftime" show. The stock market looks like it will test the lows it made in late-August during the flash crash. But there's no telling if it will stop there, he added. 
Josh Brown, CEO and co-founder of Ritholtz Wealth Management, pointed to biotech, as the iShares Biotech ETF (IBB) - Get Report has fallen almost 20% over the past two weeks. It's down 7% on Monday. Hoping for a rapid "V-shaped" recovery is a just a fantasy at this point, he added. 
Presidential candidate Hillary Clinton'srecent comments on price gougingisn't helping the biotech sector, added Pete Najarian, co-founder of optionmonster.com and trademonster.com. Investors are thinking that if Clinton becomes president, then biotech companies will come under even more selling pressure. 
But they shouldn't necessarily jump to that conclusion, Najarian said, adding that he still likes Celgene (CELG) - Get Report , Amgen (AMGN) - Get Report and Gilead Sciences (GILD) - Get Report , which have strong pipelines and low valuations. 
Biotech isn't the only concern, as the high yield market is also hitting 52-week lows. Terranova explained that the sector isn't doing that bad when excluding energy, which makes up 18% of the market. So long as oil prices stay low though, it will keep pressure on debt-riddled energy companies, which will weigh on high yield bonds, he said. 
Tony Dwyer, chief market strategist at Canaccord Genuity, has moved his year-end price target of 2,340 for the S&P 500 to the first quarter of 2016, and assigned a new year-end price target of 2,150. He expects stocks to retest the August lows, before going on a 15% to 20% rally. He says there are still bullish fundamentals present in the market, even if the trading has been bearish lately. His top picks include financial, consumer discretionary and information technology companies. 
Stephanie Link, portfolio manager at TIAA-CREF, agreed that there are good buying opportunities for long-term investors. She likes Dollar General (DG) - Get Report , which has a low valuation, improving margins and double-digit earnings growth. 
She also likes Starbucks (SBUX) - Get Report , which has done well this month, up 4%. The stock is up 40% on the year, and while that makes it tough for investors to buy, she said the company still has a lot of growth ahead with the recently debuted Mobile Order and Pay platform.
Najarian added that he likes United Continental Holdings (UAL) - Get Report , which has pricing power, low fuel costs and a low valuation. 
Speaking at the Clinton Global Initiative annual meeting, former U.S. President Bill Clintonsaid the U.S. economy is doing well compared to many other countries, particularly the BRIC nations. The labor market has recovered faster than in past recessions, but wages have not increased as quickly as most would have hoped. 
Just 16% of U.S. workers have seen an increase in pay since 2008, while median income adjusted for inflation has shown little increase since the 1990s. America needs to find a way to grow broad-based prosperity. Speaking of the Federal Reserve, Clinton said it made the right decision by not raising rates, as the Fed fears slowing down the U.S. economy and having a negative impact on the rest of the world.
This article is commentary by an independent contributor. At the time of publication, the author held no positions in the stocks mentioned.