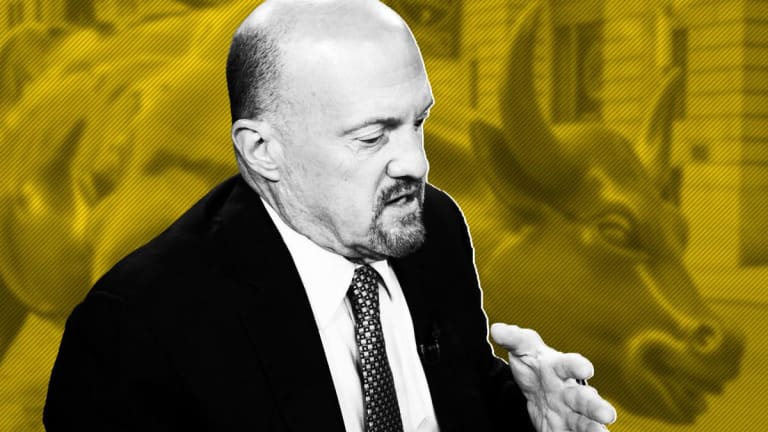 This Market's Holding Up: Cramer's 'Mad Money' Recap (Monday 1/28/19)
Jim Cramer takes a closer look at today's pin action, and talks about why the weakness didn't spread.
Even on a bad day, this market has remained remarkably resilient, Jim Cramer told his Mad Money viewers Monday.
There should have been a lot more negative pin action stemming from Nvidia (NVDA) and Caterpillar (CAT) , Cramer said, but this market just doesn't want to stay down for long.
The weakness reported by Caterpillar -- its biggest earnings miss in 10 years -- fell largely on the back on China, where the company is now forecasting flat growth for 2019. Normally, bad news like this would've sent all of the industrials markedly lower, Cramer said. Instead, investors chose to focus on what the upside of a trade deal with China could mean for Caterpillar. Cramer predicted shares could see $150 if that were to happen.
Then there was the earnings blowup at chipmaker Nvidia, which saw weakness not only in China but also in gaming and the data center overall. While shares of semiconductor equipment maker Lam Research (LRCX) are signaling a bottom, Cramer said he wants to hear from Amazon (AMZN) and Facebook (FB) before calling a bottom in the group.
Finally, Cramer noted that former Starbucks (SBUX) CEO Howard Schultz's announcement of a potential presidential run in 2020 could make the company a political football in the coming months. But instead of plunging, shares were only off fractionally.
Score a Touchdown with Cramer's Big Game Special: Get access to the best stock picks in Jim Cramer's investment portfolio by executing a two-minute drill on our Big Game Special on Action Alerts PLUS, Jim's VIP club for investors. Sign up now through Feb. 4 and receive 58% off of the normal subscription price. Now that's a real touchdown!
Back on the Rails 
The railroads have always been among the best barometers of the overall economy, Cramer told viewers, and this quarter was no different. There's a lot investors, and the Federal Reserve, can learn from the conference calls at Union Pacific (UNP) and Norfolk Southern (NSC) .
What did Cramer glean from these two rails? He said first, much of the the fourth-quarter spike in volumes seemed to be emanating from the west coast, as companies rushed shipments to get ahead of rising tariffs in January. Intermodal shipments also remained strong throughout the quarter, confirming the shortage of truck drivers in the U.S.
But beyond these few areas, the rest of the economy seemed to be decelerating slightly. There was no growth at all in auto or vehicle shipments. Agriculture was also lackluster, as the Chinese curb their soybean orders.
Overall however, Cramer said, the rails saw no wage inflation, as technology is keeping efficiency at record levels. That should give the Fed no reason to raise interest rates, as a growing, by cooling economy with no inflation is exactly what the Fed is targeting.
Over on Real Money, Cramer says the rails are a great proxy for commerce. Get more of his insights with a free trial subscription to Real Money.
China IPOs: Wait a Minute 
Thinking of investing in the next red-hot Chinese IPO? Cramer told viewers to curb their enthusiasm. Of the 31 Chinese companies that came public on U.S. exchanges last year, only 13 are currently trading above their listing price.
Despite being in the middle of a trade war, Chinese IPO increased from 2017 levels and represented 18% of all IPOs last year. But Cramer noted with an ailing Chinese economy, investors must steer clear of most of these companies. Of last year's crop, six have plunged over 30% and three have lost more than half their value.
Why is investing in Chinese stocks so hard? Cramer explained that a lack of transparency makes it difficult to even value many of these companies, which is why he's only ever recommended the largest of Chinese deals, which tend to get more scrutiny. Investors did well on names like Alibaba (BABA) and they'll likely continue to do well with Tencent (TME) , often called the Spotify (SPOT) of China. As it turns out, Spotify owns 9% of the company.
Tencent is the exception to the rule, Cramer concluded, which is why he's not recommending any Chinese stocks at the moment.
Oil and Energy 
For the latest read on the oil and energy markets, Cramer sat down with colleague Rusty Braziel, president and CEO of RBN Energy.
Braziel said investors shouldn't fret the instability in Venezuela, as that country only produces a little over 500,000 barrels of oil a day for the U.S. While the elimination of that oil may be bad news for the likes of Valero (VLO) or Chevron (CVX) , which have refineries dedicated to the heavy oil Venezuela produces, overall, it pales in comparison for the one million barrels a day the Permian Basin was able to add to its production last year alone.
When asked about Saudi Arabia, Braziel noted that the Saudis only have one weapon at their disposal when it comes to oil prices and that's to reduce its production. But when they do that, he said, they lose market share, which makes that weapon very ineffective.
Turning to the topic of natural gas, Braziel said supply and demand are currently in balance, which means any hiccup has the potential to spike prices in either direction. This is due to increased natural gas exports, he said, along with an increase in renewable energy used by power plants, which need to supplement that supply when the sun isn't shining.
Finally, when asked for a prediction on oil prices, Braziel noted that the futures markets have never forecast oil prices hitting $70 a barrel, nor $40 a barrel, which is why the current range of $50 to $55 a barrel seems the most likely.
Predictions for Pot Stocks 
The cannabis stocks have been a volatile group over the past few months, but Cramer offered up five predictions for 2019 that he said can help investors sort through the myriad of confusing investment options.
First, Cramer said the legalization wave is likely to continue. Now that Canada has legalized recreational use, it's likely that more states here in the U.S. will do the same. Next, Cramer predicted a rise in the uses for CBD, the part of marijuana that doesn't make you high. CBD could be infused into countless food and beverage products.
Third, Cramer said only a handful of major players will emerge in the cannabis space. Thus far, that group seems to include Canopy Growth (CGC) , Tilray (TLRY) , Kronos (KRO) and Aurora Cannabis (ACB) .
Fourth, Cramer said he expects to see more branding emerge, as companies pivot from increasing production to taking market share. And lastly, he said investors should expect more involvement from biotech, as cannabis components are being more thoroughly studied for a host of ailments. 
Lightning Round
In the Lightning Round, Cramer was bullish on Neogenomics (NEO) , WD-40 (WDFC) , T. Rowe Price (TROW) , Clorox (CLX) and CVS Health (CVS) .
Cramer was bearish on Vicor (VICR) .
Search Jim Cramer's "Mad Money" trading recommendations using our exclusive "Mad Money" Stock Screener.
To watch replays of Cramer's video segments, visit the Mad Money page on CNBC.
To sign up for Jim Cramer's free Booyah! newsletter with all of his latest articles and videos please click here.
Watch all Jim Cramer replays below
At the time of publication, Cramer's Action Alerts PLUS had a position in AMZN, FB, CVS.