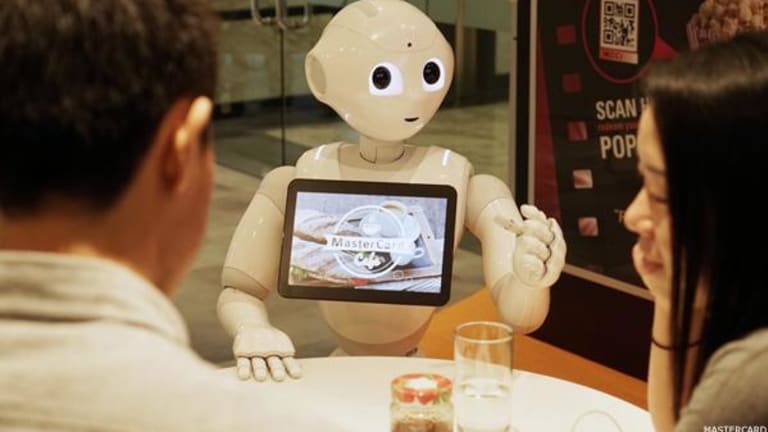 This Market Loves Tech: Cramer's 'Mad Money' Recap (Wednesday 3/29/17)
Tech's organic growth and visibility has been apparent all year, says Jim Cramer.
The market continues to show its love for tech stocks, TheStreet's Jim Cramer told his Mad Money viewers Wednesday. However, thanks to the endless drivel from professionals and analysts, they may make retail investors feel that they are too dumb to invest on their own.
Of course, that's not the case, Cramer said.
He reiterated his long-standing advice, which is that investors should put their first $10,000 of investment money into low-cost S&P 500 index funds. Over time, investors should continue adding to that fund and a bulk of their retirement savings should be in index funds. Once investors get into their 50s and 60s, they can justify having more exposure to bonds.
But that still leaves money for their Mad Money portfolio, if investors are so inclined to have one, Cramer said. Don't let the pros talk you out of your ability to pick stocks.
After all, why couldn't individual investors with a long-term outlook have picked Apple (AAPL) - Get Report , Amazon (AMZN) - Get Report or Facebook (FB) - Get Report ? Most of them are likely using their iPhone to browse Facebook and ordering Amazon products anyway. They very well could have the foresight to buy the stock, Cramer said.
How about a stock like Alphabet (GOOGL) - Get Report ? Just about everyone uses Google. That doesn't mean we should be short-sighted and sell the stock just because its YouTube property is having a hiccup. Long-term retail investors will regret selling it, even though the analysts are concerned about its short-term implications.
Those are the obvious tech winners. But there are plenty of other big winners -- like Salesforce (CRM) - Get Report and Adobe (ADBE) - Get Report -- that Cramer suggests all the time.
These are big winners when it comes to picking stocks and they're available to retail investors. But in order to get the wins, investors have to have a longer-term mindset and ignore the noise, Cramer said.
How A Breakup Can Go Wrong
Usually when a company splits up, it creates value. But every once in awhile, a breakup destroys value, Jim Cramer said. R.R. Donnelley (RRD) - Get Report is a good example of how a breakup can go wrong. 
With its print business, LSC Communications (LKSD) - Get Report , its financial statements business, Donnelley Financial Solutions (DFIN) - Get Report , and its growing digital business now left at R.R. Donnelley, splitting these three up should have been a positive.
But since the breakup in late-2016, LKSD has fallen 16%, DFIN has dropped 17% and RRD has lost about 50% of its value. So what went wrong?
LSC Communications is stuck in a declining print business. It needs acquisitions to grow, but hasn't made any yet. Donnelley Financial has seen a drop in sales thanks to a slower IPO market and while a more active M&A market has helped, it hasn't done enough.
Despite shedding these two businesses, each of which has slowing sales, R.R. Donnelley only expects flat sales growth for the year, Cramer said. All three businesses look unfocused and instead of providing investors with clarity, they're providing confusion.
Secondary offerings to sell R.R. Donnelley's holdings in LSC Communications and Donnelley Financial aren't helping with confidence. And investors shouldn't be confident in these stocks until management shows some clarity and consistency, Cramer said.
Dave & Buster's
Shares of Dave & Buster's Entertainment (PLAY) - Get Report stumbled on Wednesday, falling 3.4% despite beating on top- and bottom-line earnings estimates. Jim Cramer has been recommending the stock since a week after its IPO in 2014 and views Wednesday's selloff as a potential buying opportunity.
This new category of experiential stocks, like Six Flags (SIX) - Get Report and Carnival (CCL) - Get Report , have been doing really well, Cramer said. Dave & Buster's is in that category as well.
The company is one part sports bar, one part restaurant and one part arcade. Over the past two years though, Dave & Buster's has put more emphasis on the experience and less emphasis on the restaurant. This has boosted margins and increased profitability, he reasoned.
It's also given the company a distinct advantage over normal restaurants. In a world of struggling retailers, Dave & Buster's grew same-store sales 3.3%. However, this came in below the 3.7% mark analysts had expected. This has unnecessarily hit the stock.
Cramer said Dave & Buster's is a great experiential stock, and Wednesday's selloff is a great buying opportunity.
Executive Decision: Paychex
On the show's "Executive Decision" segment, Jim Cramer talked with Paychex (PAYX) - Get Report President and CEO Martin Mucci.
The company has seen a boost in its bottom line thanks to the Federal Reserve raising interest rates. For each 25 basis point increase in rates, Paychex sees $3.5 million to $4 million fall to its bottom line.
However, the expected jobs growth in middle- and small-market business hasn't given the stock the boost many investors had expected. That's why the company reported what Cramer referred to as a "mixed quarter."
Small- and medium-sized businesses seem to have taken a pause in their hiring, Mucci explained. There's been a lot of confusion surrounding state regulations and it's caused a pause in hiring. That's expected to pick up pace later this year.
While federal regulations are set to decrease, state regulations are becoming more complicated. That bodes well for Paychex's human resources solutions business, Mucci reasoned.
Paychex has been a good long-term performer that had a hiccup. It's got a good dividend yield and steady growth, Cramer said.
Lightning Round

On the show's "Lightning Round," Jim Cramer was bullish on Halliburton (HAL) - Get Report , Schlumberger (SLB) - Get Report , Noble Energy (NBL) - Get Report , Himax Technologies (HIMX) - Get Report , Cypress Semi (CY) - Get Report , Chemours (CC) - Get Report , Zoetis (ZTS) - Get Report , Alcoa (AA) - Get Report and Celgene (CELG) - Get Report .
He was bearish on Golden Ocean Group (GOGL) - Get Report .
No-Huddle Offense
On the show's "No-Huddle Offense," Cramer took a closer look at what some of the effects President Trump's executive orders could have. For instance, his recent loosening of environment regulations will make it easier to burn coal.
However, that's unlikely to have much impact, since so many utility companies have multi-year plans in place to build and use natural gas plants. They won't suddenly change their plans because coal can be used again.
The reasoning is simple. For starters, Cramer explained there's no guarantee Trump will be in office after his first term, meaning any changes the companies do make towards coal could be undone by the next president. Natural gas is also plentiful and cheap, which makes the switch away from coal that much easier. Finally, it's expensive to maintain an aging coal plant.
Aside from coal, one other area some are overlooking is methane. If drilling companies were limited in how much excess methane they could burn at their wells, it would limit how much they could drill.
With deregulation in the industry, this is less of a concern and they can drill more aggressively than before. That's great for drillers and bad for environmentalists, Cramer reasoned.
While methane burning is certainly not good for the environment, more lax regulations for it are good for the energy sector, Cramer said. If investors feel it's wrong, they are free to donate their energy profits toward a climate change cause, he concluded.
Meanwhile, on Real Money, Cramer says no to Snap (SNAP) - Get Report decisions. Check out his analysis with a free trial subscription to Real Money.
Cramer and the AAP team say "resilience" is the word to characterize this market. Read what they're telling their investment club members about why investors are taking profits and backing away from riskier trades. Get a free trial subscription to Action Alerts PLUS.
This article is being updated. Please refresh for the latest version.
Search Jim Cramer's "Mad Money" trading recommendations using our exclusive "Mad Money" Stock Screener.
To watch replays of Cramer's video segments, visit the Mad Money page on CNBC.
To sign up for Jim Cramer's free Booyah! newsletter with all of his latest articles and videos please click here.
At the time of publication, Cramer's Action Alerts PLUS had positions in AAPL, FB, GOOGL, SLB and ADBE.