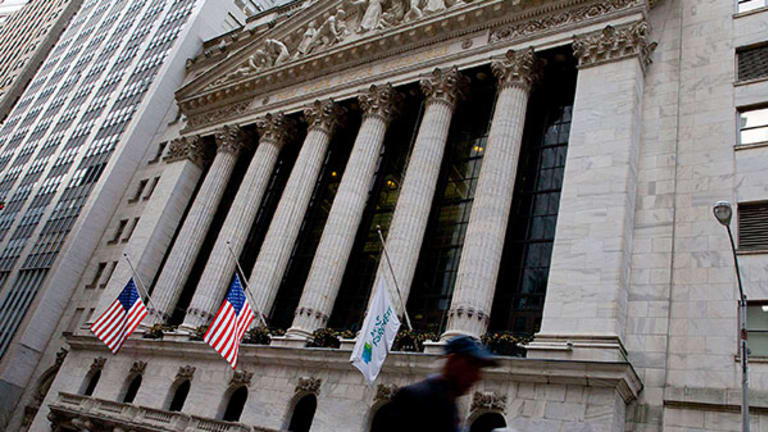 Think 2013 Was a Big IPO year? Watch Out For 2014...
While we don't have pricing details yet for many of 2014's hyped potential IPOs, it's key to know which names to have on your radar. This year holds a good deal of promise for the IPO market, where investors want to seek new names to play strong themes and with an appetite for growth...
NEW YORK (TheStreet) -- As the bulge bracket banks dominate the start of earnings season this week, many metrics are being combed through to get a read on the year ahead, including trading performance, mortgage origination volumes, loan growth and net interest margin (with raised expectations as a result of taper throughout the year). But a clear stand-out as a big beneficiary for the big banks this past year: fee-based businesses.
While M&A activity wasn't anything to write home about, despite a robust start to the year (Heinz!), IPO volume managed to hit record numbers. 222 companies went public, an increase of 73% versus 2012, to raise $55 billion--according to Renaissance Capital--rounding up the most active year since 2000.
And IPO performance beat both the S&P and the Dow, with an average return of 35%, split somewhat evenly between first-day pops and aftermarket return.
Of course the rising stock market, low interest rates, reduced volatility and increased risk tolerance helped, with 2013 standing out even against the other strong equity market years, where the IPO market was affected by Facebook's (FB) - Get Meta Platforms Inc. Class A Report ill-executed offering and fiscal cliff concerns in 2012 or the European debt crisis in 2011.
Deals like Plains GP Holdings (PAGP) - Get Plains GP Holdings LP Class A Report, Hilton Worldwide (HLT) - Get Hilton Worldwide Holdings Inc Report, Zoetis and Twitter (TWTR) - Get Twitter, Inc. Report, were the stand-outs when it came to size, though of course most notable were the outperformers in health care (biotechs like Insys Therapeutics (INSY) !), technology (on-demand software like Marketo (MKTO) and Benefitfocus (BNFT) - Get Benefitfocus, Inc. Report!) and consumer (growth like ContainerStore (TCS) - Get The Container Store Group, Inc. Report, Vince (VNCE) - Get Vince Holding Corp. Report and Noodles (NDLS) - Get Noodles & Co. Class A Report!) with valuations somewhat disciplined despite talks of a bubble. For 2014, it remains to be seen if M&A can pick up, despite a couple of starter deals, including the Beam (BEAM) takeover.
Even the recently ill-fated Chinese IPOs posted exceptional performance, including 58.com (WUBA) - Get 58.com Inc. Report, Sungy Mobile (GOMO) , 500.com (WBAI) - Get 500.com Ltd. Report and Autohome (ATHM) - Get Autohome Inc. Report.
But this year holds a good deal of promise for the IPO market, where investors want to seek new names to play strong themes and with an appetite for growth. Of course, a strong stock market tends to bring with it a strong IPO market, with new companies looking to take advantage of still encouraging economic conditions. First off, the most highly anticipated offering is that of Alibaba, the e-commerce Chinese play thate Yahoo! (YHOO) is fortunate enough to have a stake in.
Of course, the hype is beginning over privately-held names with aspirations to come to market (or, in some cases, names that have filed), particularly since there are not enough opportunities for those that want to take advantage of the strong growth in social, mobile, and cloud. Opportunities to keep an eye on? In consumer tech, we will have opporutnities beyond the world of Facebook (FB) - Get Meta Platforms Inc. Class A Report, Twitter (TWTR) - Get Twitter, Inc. Report, LinkedIn (LNKD) and Yelp (YELP) - Get Yelp Inc Report. look no further than Airbnb, a shared economy name that provides a network of accommodations; Dropbox, the Web-based cloud storage provider (anything with 'cloud' association has been red hot of late!); Eventbrite, the online ticketing platform; Glam Media, the women's & men's lifestyle online media company; the newly-merged Grubhub Seamless; King.com, the largest game developer on facebook; Spotify, the subscription-based music streaming service (look out Pandora (P) !); Uber, the on-demand transportation service; and Zoosk, the online dating site with 15 million monthly active users (the way to go today!)
In e-commerce, keep an eye out for Etsy, the e-commerce site focused on handmade vintage items (I'm obsessed); Gilt Groupe (flash sales on luxury brand items--aspirational luxury is in!); One King's Lane (flash sale site fo the home market); Rue La La (members-only flash site). Remember how well Zulily did in 2013? In enterprise tech, keep an eye on names like Box, the web-based cloud storage provider, and Arista Networks, which sells Ethernet switches for cloud-computing data centers. If they mimic performance of Tableau (DATA) - Get Tableau Software, Inc. Class A Report and Nimble (NMBL) , this group is in for a strong year. An unfortunate theme of this year? Enterprise security, with the latest Target (TGT) - Get Target Corporation Report breach dominating headlines. Last year's FireEye (FEYE) - Get FireEye, Inc. Report and BarracudaNetworks (CUDA) make way for names like CyberArk.
A key growth area of course is mobile, and one name embracing mobile in particular is of course mobile payment service company Square. Now, don't count out the appetite for consumer, with strong initial performance from names like Sprouts Farmers Market (SFM) - Get Sprouts Farmers Markets, Inc. Report and Potbelly (PBPB) - Get Potbelly Corp. Report. Names on the roster include Five Guys, J.Crew, Jawbone, and Warby Parker.
While less 'new age,' other key names dominating headlines could include Go Daddy, with its famous commercials, Virgin America, my personal favorite airline to fly, La Quinta, the Blackstone-backed hotel operator (think Hilton deja vu), GE Consumer Lending, financial data provider Markit, and MGM Holdings (the parent of Metro-Goldwyn-Mayer, the Hollywood movie studio). And don't forget the potential IPO for Ally Financial, the former in-house lender for General Motors (GM) - Get General Motors Company Report.
Of course, with all of these, we will have to get a sense of pricing and valuation, but the appetite for new deals is sure to boost the valuation for their cohort class of 2013.