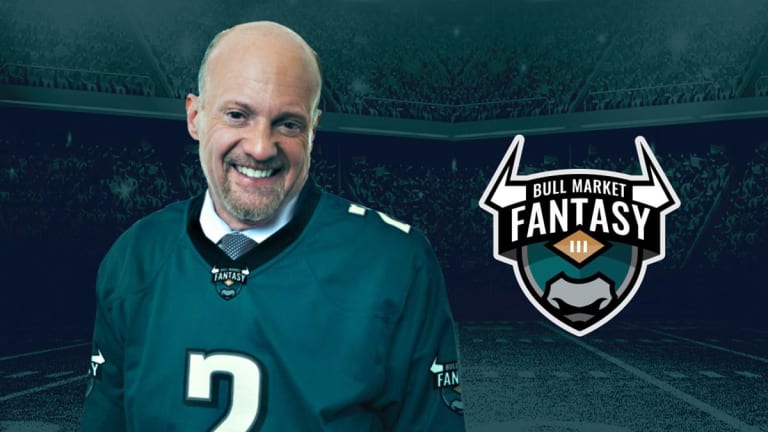 Check Out Our New 'Bull Market Fantasy with Jim Cramer' Site
Jim taught you how to win on Wall Street. Now he'll teach you how to win at fantasy sports, too.
TheStreet and Sports Illustrated Fantasy are teaming up to unveil our new Bull Market Fantasy with Jim Cramer site to cover all things fantasy sports.
Located at TheStreet.com/Fantasy, Bull Market Fantasy will show you how to win at fantasy sports while also giving you a chance to share your ideas and ask questions of Jim and other fantasy enthusiasts around the globe.
"I have always felt that the intersection between Wall Street and fantasy is just about perfect, and I have been an adamant player of fantasy ever since I was in one of the first fantasy leagues back in 1980," Cramer said. "What this is going to be is me -- being the ultimate fan, not the ultimate expert - interviewing some of the great experts of all time to talk about what you should do."
Bull Market Fantasy will teach readers, fans and followers all about fantasy sports using the same type of smart, proven and profitable strategies that Cramer utilizes for the stock market. Cramer will also show you how many of the skills that smart investors rely on to conquer Wall Street can translate seamlessly to fantasy sports.
"The dialogue is very similar, because you're trying to figure out what is a blue chip, what is a biotech, what's spec," he said. "We're going to use a lot of the verbiage that we use with stocks, and I'm going to translate things into 'buy, sell or hold' and do a lot of analogies and metaphors that I think people will like. It's meant to be fun, but I'm going to try and make it instructive, like all of the things that I do."
Bull Market Fantasy's features include:
Jim's Live Fantasy Show. Cramer and the Bull Market Fantasy team will stream a live 30-minute show every Tuesday and Thursday where the audience can ask questions and interact with the hosts in real time. Plus, Cramer will talk with some of the world's best fantasy players to educate the audience on how to win at fantasy sports.
Community. Fantasy players can log in throughout the day to ask Cramer and our other fantasy analysts questions, interact with each other and get advice from our great community of players.
Daily Videos and Articles. Bull Market Fantasy leaves no stone unturned while delivering world-class fantasy-sports analysis. We'll give you tips, strategies and advice to help you dominate your fantasy league or daily fantasy tournaments.
This article was written by a staff member of TheStreet.