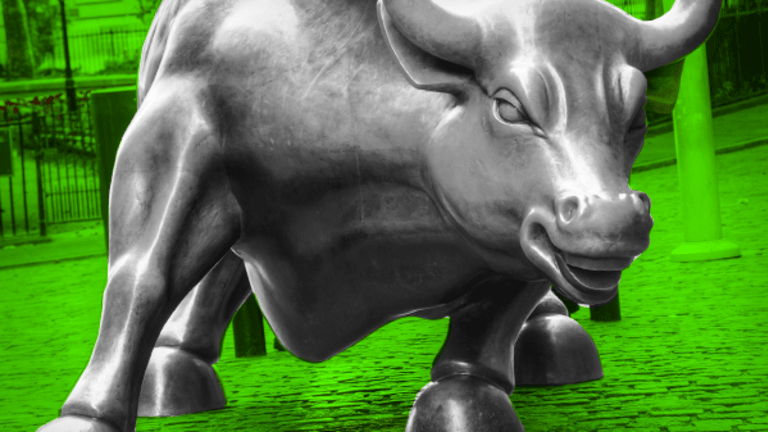 These Stock Winners Refuse to Die: Cramer's 'Mad Money' Recap (Monday 6/19/17)
This is why Jim Cramer has urged you - for years - to buy the dips and not miss the real opportunities.
This is why Jim Cramer has urged you - for years - to buy the dips and not miss the real opportunities.
This market's winners refuse to die, Jim Cramer told his Mad Money viewers Monday. Whether it's the financials, technology or even biotech, the way to make money in this market is to buy the dips, not run from them.
"Where did all of last week's sellers go?," Cramer asked. Last week, the negativity was so thick, it was palpable. But today, those sellers all but disappeared and were nowhere to be found in all of the red-hot sectors.
The financials, like Goldman Sachs (GS) - Get Report , are riding two tailwinds, as the U.S. Treasury is pushing for deregulation while the Federal Reserve just blessed the banks with a second interest rate hike for the year. Where will all those profits go? Right to the bottom line and to buybacks and dividends.
Then there's tech, where Trump's tech summit today shined the spotlight again on Apple (AAPL) - Get Report , Amazon (AMZN) - Get Report , Alphabet (GOOGL) - Get Report and Adobe Systems (ADBE) - Get Report , among others. Yet, the market is so thin right now, that it only takes one or two big sellers to overwhelm the entire tech sector.
Finally, Cramer said there's even strength in the drug and biotech stocks, now that healthcare reforms are off the front page and Congressional efforts to reel in drug prices have stalled.
No one ever made a dime panicking, Cramer reminded viewers, and last week's sell off was just another example.
On Real Money, Cramer wants to know: If this is a bearish market, where are all the bears? Get more of his insights and a free trial subscription to Real Money.
Executive Decision: Lloyd Blankfein, Goldman Sachs
In a special "Executive Decision" segment, Cramer spoke with Lloyd Blankfein, chairman and CEO at Goldman Sachs (GS) - Get Report , for an update on the global economy and the state of affairs in Washington.
Blankfein said that the overall economic picture is looking pretty good right now. The U.S. is near full employment, we have low energy costs and things are growing. Around the world, he said, things are also growing, albeit at a slower pace. It's not great, he added, but it's good.
As for Trump's plans for deregulation, Blankfein said that changes will take time, but at least in the interim, regulations are not getting any worse. It took a long time for regulations to layer up, he said, so it will take time to unwind them and make them manageable.
When asked about the 2008 financial crisis, Blankfein noted that in hindsight, it's easy to spot the mistakes, but back then, the notion that housing prices would fall across the entire country at the same time was just not something they modeled. "The banks got it wrong," he admitted.
Also in his interview with Cramer, Blankfein commended both Ben Bernanke and Janet Yellen for preventing what could have been a much worse recession. While many complain about the slow recovery, it could have been a lot worse. Blankfein said things like stress tests and higher capital requirements were a good thing for Goldman, if for no other reason than to make sure their counterparts were in solid financial shape.
Blankfein also commented on his recent taking to Twitter (TWTR) - Get Report to voice his opinions. He said that previously, he would have communicated via news release, but today, he's free to comment anywhere Goldman has expertise or anywhere there are issues affecting his employees' ability to be effective, whether that be a travel ban or LGBT issues.
Finally, Blankfein talked about Goldman's expansion into personal loans with Marcus.com, where they make loans from $3,500 to $30,000 available. He said they're taking a slow-growth approach to Marcus but are already helping consumers and transforming their business in all new ways.
No Way to Compete?
There's nothing theoretical about what Amazon is about to do to the food and grocery business, Cramer told viewers. This notion may seem foreign to younger investors, but for those who have seen it before, it's all too real.
Cramer hearkened back to the days when his father sold nameplate shopping bags into the most venerable retail store chains in Philadelphia. But then, Walmart (WMT) - Get Report came to town and within two years, most of those chains were gone.
What happened? Walmart was simply the lowest cost producer and could sell shirts for what other chains were buying them for. With no way to compete, the retailers collapsed.
Fast forward to today, where Amazon is the lowest cost producer with the most superior technology. Is it far fetched to assume Amazon could do to Walmart what Walmart did the mom-and-pop retailers? Amazon has resources that Walmart just can't match.
Cramer said in the short-term, some of the selling in the packaged foods makers might be overdone. But for grocers like Kroger (KR) - Get Report , which is already preparing to battle Aldi and Lidl, the pain hasn't even begun.
Lightning Round
In the Lightning Round, Cramer was bullish on AT&T (T) - Get Report , At Home Group (HOME) - Get Report , Marathon Petroleum (MPC) - Get Report and Ultra Clean Holdings (UCTT) - Get Report .
Cramer was bearish on Marathon Oil (MRO) - Get Report .
No-Huddle Offense
In his "No-Huddle Offense" segment, Cramer said the hatred of the oil stocks is now at multi-year levels, which is odd given that companies are flourishing, even with crude at depressed levels.
Case in point, today's acquisition of Rice Energy (RICE) - Get Report for $6.7 billion by EQT (EQT) - Get Report . Cramer said the combination of these two powerful forces in the Marcellus and Utica shales will be a big win for shareholders.
There was a time not that long ago when this oil and natural gas was unobtainable and impossible to transport. But now with new drilling techniques, it's plentiful, and with pipelines now running in the opposite direction, natural gas can be exported around the globe.
Cramer and the Actions Alerts PLUS team say President Trump has become "something of an albatross" to the stock market. Read more and get a free trial subscription to Action Alerts PLUS.
This article is being updated. Please refresh for the latest version.
Search Jim Cramer's "Mad Money" trading recommendations using our exclusive "Mad Money" Stock Screener.
To watch replays of Cramer's video segments, visit the Mad Money page on CNBC.
To sign up for Jim Cramer's free Booyah! newsletter with all of his latest articles and videos please click here.
At the time of publication, Cramer's Action Alerts PLUS had positions in AAPL, GOOGL, ADBE.