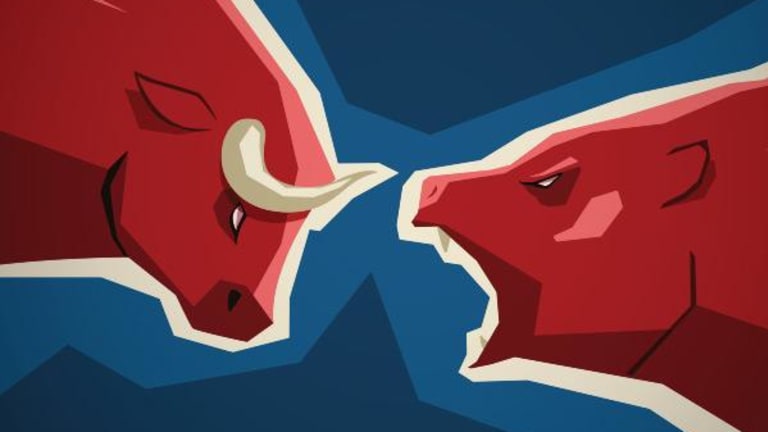 The Pain Before the Gains: Cramer's 'Mad Money' Recap (Thursday 1/19/17)
Don't worry about a little selloff, says Jim Cramer. The data and earnings signal an improving economy.
As long as president-elect Donald Trump's economic message is consistent, the backdrop for stocks will be good, Jim Cramer told his Mad Money viewers Thursday, even if there's some pain before the gains.
Cramer said he was pleased to hear that Trump's nominee for Treasury Secretary, Steve Mnuchin, stayed on message with plans for the "tripod" of growth that consists of lower taxes, deregulation and repatriation of overseas funds. As long as that message continues, Cramer said, stocks will be able to head higher.
But outside of Washington, the backdrop for stocks is also improving, Cramer noted, with earnings from Morgan Stanley (MS)  and Netflix (NFLX) surprising even the most upbeat of investors. Every great rally is led by the banks, and the banks are poised to benefit from the economy, higher interest rates and deregulation.
Shares of railroad CSX (CSX) saw profit-taking on its earnings yesterday, but today jumped 23% on takeover rumors, taking all of the rails with it.
A rumored merger between Sprint (S) and T-Mobile (TMUS) sent those shares higher, and Cramer said he's a buyer of both companies based on strong fundamentals.
With so many great earnings and takeover prospects, Cramer said any market pullback, like we saw today, is a buying opportunity.
Executive Decision: Dexcom
For his first "Executive Decision" segment, Cramer sat down with Kevin Sayer, president and CEO of Dexcom (DXCM) , the glucose monitoring device provider that Cramer featured just last week.
Sayer admitted that he was just as shocked as everyone else that the government gave Dexcom the designation it needs to qualify for Medicare reimbursement. Sayer said he was telling people to expect 2018 for such approval and he also wasn't expecting approval for both Type I and Type II diabetes. 
Sayer then demonstrated the system, which includes a subcutaneous sensor that connects to a smartphone app for wireless real-time glucose monitoring. Dexcom even has an app on the Apple (AAPL) Watch to make monitoring and alerts easier.
With Dexcom now the only approved device in the space, Sayer said "patients will come," but that's not stopping the company from innovating with its sixth-generation sensors that are "making great advances" over what's available today. Sensors currently cost $75 per week, Sayer added, which makes Medicare reimbursements such a big deal.
Stocks and the 'Amazon Effect' 
Sometimes, even the professional money managers get it wrong, Cramer told viewers, and that's certainly been the case with those who have been shorting Netflix (NFLX) and Tesla Motors (TSLA) .
Netflix and Tesla have what Cramer deemed the "Amazon effect."
Amazon.com (AMZN) was among the first to defy Wall Street conventions and propel itself higher solely on the enthusiasm of its customers. Like Amazon, both Netflix and Tesla are beloved by customers, something that Wall Street cannot see, but is clearly evident.
Netflix' blowout quarter was truly a sight to behold, Cramer said, as the company delivered both on subscriber growth and revenues, thanks to the strength of its original programming.
Then there's Tesla, which Cramer admitted builds an "amazing" car. Wall Street may fret over how many cars Tesla can build and whether the company can ever make money on them, but today even Morgan Stanley (MS) went bullish on Tesla, citing CEO Elon Musk's direct line to Trump.
Nothing has been more foolish than shorting Amazon, Tesla and Netflix, Cramer concluded, something that the short sellers learned the hard way, again, today.
Executive Decision: PPG Industries
In his second "Executive Decision" segment, Cramer checked in with Michael McGarry, president and CEO of PPG Industries (PPG) , the coatings maker that just posted a penny-a-share earnings beat on lower-than-expected revenues.
McGarry said that after a lag in demand in the third quarter, sales saw an uptick in the fourth quarter and have been strong in Europe for five of the past six quarters.
McGarry continued by saying that he's not worried about being a target of Trump. While PPG acquired Comex in Mexico, that operation makes and sells paints in Mexico. PPG will paint cars no matter where they're made, McGarry added, noting that PPG is the number one coatings maker in both countries.
In fact, McGarry sees a lot of positives with a Trump administration, saying that PPG would benefit from lower taxes, fewer regulations and an increase in infrastructure spending.
When asked about mergers and acquisitions, McGarry said that PPG has always been a patient seller and a disciplined buyer. He said that PPG has been successful with the deals it's done and passed on others.
Lightning Round 
In the Lightning Round, Cramer was bullish on Bank of America (BAC) , JPMorgan Chase (JPM) , Wells Fargo (WFC) , Schlumberger (SLB) and Apache (APA) .
Cramer was bearish on CVS Health (CVS) , Cheniere Energy (LNG) , PNC Financial (PNC) , Sanchez Energy (SN) and Cott Corp. (COT) .
Read what Cramer had to say about all the stocks in the Lightning Round.
Am I Diversified?
In the "Am I Diversified" segment, Cramer spoke with callers and responded to tweets sent via Twitter to @JimCramer to see if investors' portfolios have what it takes for today's markets.
The first portfolio included Skechers (SKX) , Ulta Beauty (ULTA) , Southwest Airlines (LUV) , Arconic (ARNC) and Waste Management (WM) .
Cramer said that Ulta and Skechers are both retail and this portfolio cannot include both names. He suggested swapping Skechers for UnitedHealth Group (UNH) .
The second portfolio's top holdings included Apple (AAPL) , Salesforce.com (CRM) , John Deere (DE) , HNI (HNI) and Eversource Energy (ES) .
Cramer said he'd bless this portfolio as diversified.
The third portfolio had Altria (MO) , Apple (AAPL) , Bank of America (BAC) , Merck (MRK) and Microsoft (MSFT) as its top five stocks.
Cramer said that for this portfolio, Apple was too close to Microsoft and he suggested selling Microsoft and adding an oil stock like Schlumberger (SLB) .
Here are 8 stocks Cramer likes if the economy rebounds.
Cramer sees an opportunity for Apache (APA) . Read what their telling their investment club members with a free subscription to Action Alerts PLUS.
This article is being updated. Please refresh for the latest version.
Search Jim Cramer's "Mad Money" trading recommendations using our exclusive "Mad Money" Stock Screener.
To watch replays of Cramer's video segments, visit the Mad Money page on CNBC.
To sign up for Jim Cramer's free Booyah! newsletter with all of his latest articles and videos please click here.
At
the time of publication, Cramer's Action Alerts PLUS had positions in APA, AAPL, WFC, SLB and ARNC.