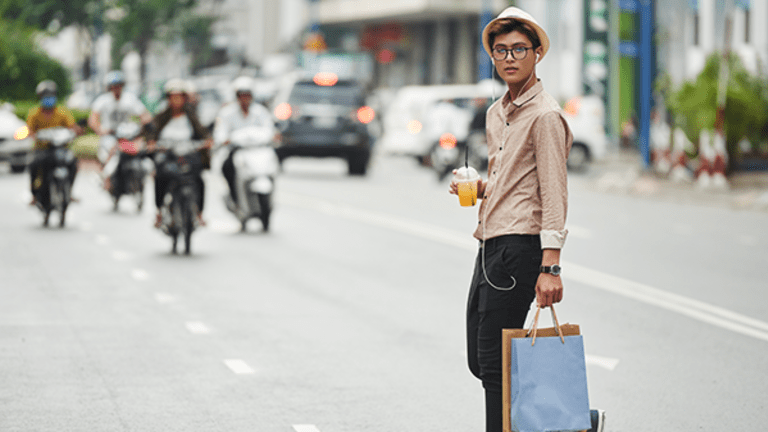 Publish date:
The Kids Are Taking Over the World: Cramer's 'Mad Money' Recap (Thursday 5/11/17)
Jim Cramer says too many companies don't understand milliennials as a consumer group -- and it's killing traditional retail.
Jim Cramer says too many companies don't understand milliennials as a consumer group -- and it's killing traditional retail.
The kids are growing up and taking over the world, Jim Cramer announced to his Mad Money viewers Thursday. It doesn't matter if you see the millennial generation coming, they'll run you over anyway.
While the major averages posted lackluster results today, Cramer said there were big changes just under the surface, with Macy's (M) - Get Report huge miss on earnings just the latest example of corporate turmoil.
For many companies, the millennial generation might as well be aliens from a different planet. They're very different than their parents, and retailers especially, cannot adapt fast enough.
Macy's execs admitted on their conference call that the chain continues to see shifting shopping trends that focus on value and experience, something Macy's struggles to offer. The company also admitted that America is "over-retailed" and it will take time for consolidation efforts to show results.
These shifts should not come as a surprise to Mad Money viewers, as Cramer has chronicled the rise of the smart phone and how it turns brick-and-mortar stores into a negative. The stay-at-home economy continues to propel Amazon.com (AMZN) - Get Report , Domino's Pizza (DPZ) - Get Report and Electronic Arts (EA) - Get Report , but little else.
Walt Disney (DIS) - Get Report introduced a new concept on it's conference call, extending the "cord-cutter" trend to include "cord-nevers," those who have never had cable TV service.
All is not lost for retail, however. Cramer continued to recommend the closeout and discount chains like TJX Stores (TJX) - Get Report , Ollie's Bargain Outlet (OLLI) - Get Report and Burlington Stores (BURL) - Get Report . He was also bullish on those who cater to the millennials, like Six Flags (SIX) - Get Report , Dave & Busters (PLAY) - Get Report and Foot Locker (FL) - Get Report , where trying on shoes never seems to go out of style.
Executive Decision: Unilever
For his "Executive Decision" segment, Cramer sat down with Paul Polman, CEO of Unilever (UL) - Get Report , home to such brands as Dove soaps and shampoos, Lipton tea, Hellmann's mayonnaise and Vaseline, among dozens of others. On Feb. 17, Unilever rejected a hostile takeover bid from Kraft Heinz (KHC) - Get Report and vowed to bring out more value as a standalone company.
Polman said that Unilever has been "head's down" and working hard to deliver on their promises of faster innovation and growth. He said Unilever has always had a strategy of long-term compounding growth and shareholders saw the benefits of that strategy this quarter with their 12% dividend boost.
Cramer noted that 46% of Unilever's executives are women and 57% of sales stem from emerging markets, something no other consumer company has. Polman added that half of Unilever's board of directors are also women and that insight only helps propel their growth.
The market and consumers are changing fast, Polman said, and a company can't just go by what the numbers are telling them now. He said a successful company has to make sure their portfolio of products also meets future needs.
One of Unilever's future proofing efforts was its purchase of Dollar Shave Club, a disruptive startup that now commands 20% of the shaving market. Polman said they've left Dollar Shave's CEO to run the company and simply help out wherever they can. "We celebrate disruption," Polman said, which is part of the reason Dollar Shave's sales grew by 50% last year.
Meanwhile, over on Real Money, Cramer details where the opportunities really are in the beaten-down retail sector and which companies make the most sense to invest in. Get more on his insights with a free trial subscription to Real Money.
Executive Decision: AMN Healthcare
In his second "Executive Decision" segment, Cramer also welcomed Susan Salka, president and CEO of AMN Healthcare Services (AMN) - Get Report , which recently posted strong earnings, but saw shares sell off on a less than perfect outlook for the rest of 2017.
Salka said that while AMN pays attention to what goes on in Washington, it doesn't drive their business. She said it's still too early to tell what type of heath-care bill is likely to come from the Senate and what that might mean for the industry.
What her company is focused on is helping clients with their staffing needs as the industry approaches its biggest shortage of doctors, nurses and clinicians. AMN is a recruitment machine, Salka said, and can simply do what others can't.
For many AMN clients, they start with the company's staffing services, then expand into other areas, like technology, where AMN can help ensure a practice has the right people in the right places at the right times.
When asked why there was so much of a shortage coming, Salka explained that part of it comes from aging and retiring doctors and nurses, but the other part is a bottleneck in education, where there aren't enough programs to meet demand.
The Retail Metric That Matters
When it comes to retail, there's only one metric that matters, Cramer told viewers. And that's same-store sales growth. It's a simple metric and it doesn't lie. If same store sales are up, a company is healthy. If they are declining, something is wrong.
Cramer said every time he's deviated from his discipline, choosing to focus on the subjective rather than the hard number that is same-store sales, he's regretted it.
That's why, Cramer said, everything that Whole Foods Market (WFM) had to say on their earnings call, from cost cuts and buyback to new executives and even new board members is absolutely terrific. But none of it matters one bit when same-store sales were down another 2.8% for the quarter.
Cramer said Whole Foods just doesn't get it, and the company's sickening decline into irrelevancy has been totally justified. Fortunately, shares have been lifted by the activist investors that are forcing management to either step up or sell itself to someone who can get the job done.
Declining same-store sales hasn't worked for countless former retail chains, Cramer concluded, and it won't work for Whole Foods either.
Lightning Round
In the Lightning Round, Cramer was bullish on Salesforce.com (CRM) - Get Report , Paccar (PCAR) - Get Report , Cummins (CMI) - Get Report , ConocoPhillips (COP) - Get Report , Adobe Systems (ADBE) - Get Report , Annaly Capital (NLY) - Get Report and Hewlett Packard Enterprise (HPE) - Get Report .
Cramer was bearish on Nutanix (NTNX) - Get Report , NeoPhotonics (NPTN) - Get Report , Dryships (DRYS) - Get Report and Viavi Solutions (VIAV) - Get Report .
Executive Decision: Zebra Technologies
For his final "Executive Decision" segment, Cramer sat down with Anders Gustafsson, CEO of Zebra Technologies (ZBRA) - Get Report , a stock that's doubled over the past year, thanks in part to a seven-cents-a-share earnings beat with better-than-expected revenue.
Gustafsson said that for many retailers, Zebra has gone from simply a productivity tool to essential technology. He said if you run an ecommerce fulfillment center, you need Zebra's technology and if you're a retailer, they can provide the inventory accuracy for an omni-channel strategy.
Gustafsson also debuted a new portable device that is intended for the retail, health-care and logistics industries. The unit is powered by Alphabet's (GOOGL) - Get Report Android software and acts not only as a scanning device, but also as a messaging platform and can provide alerts and notifications.
Cramer said that Zebra, now combined with Symbol Technology, is a winning combination.
Cramer and the AAP team are watching Arconic (ARNC) - Get Report closely. Find out what they are telling their investment club members about the looming proxy vote; get a free trial subscription to Action Alerts PLUS.
This article is being updated. Please refresh for the latest version.
Search Jim Cramer's "Mad Money" trading recommendations using our exclusive "Mad Money" Stock Screener.
To watch replays of Cramer's video segments, visit the Mad Money page on CNBC.
To sign up for Jim Cramer's free Booyah! newsletter with all of his latest articles and videos please click here.
Don't miss these trending stories on TheStreet:
Stock Futures Hold Lower After Rebound in Retail Sales, Consumer Prices
Buyout Chatter Sends Textron Shares Higher Thursday
At the time of publication, Cramer's Action Alerts PLUS had positions in ARNC, TJX, ADBE, HPE.