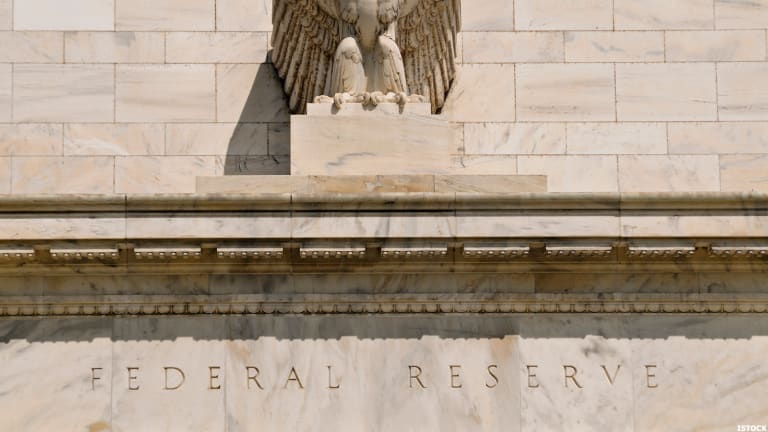 The Fed Should Hike in September, but Will It?
The CNBC 'Fast Money' traders almost all agree that the Fed should bite the bullet and raise interest rates. But there's uncertainty about whether it will or not.
The CNBC 'Fast Money' traders almost all agree that the Fed should bite the bullet and raise interest rates. But there's uncertainty about whether it will or not.
NEW YORK (TheStreet) -- U.S. stocks have rallied out of negative territory on Friday, getting back to level into the end of the week. However, the main focus is on what the Federal Reserve will do next week and whether it will hike interest rates for the first time in years. 
Investors truly have no idea what to expect, said Josh Brown, CEO and co-founder of Ritholtz Wealth Management, on CNBC's "Fast Money Halftime" show. It's actually a "fascinating" time to be a market participant, he said, as the trading range narrows and the market could rip higher or drop lower, depending on what happens next week. 
Until the decision is made and investors react, no one wants to make too big of a bet on where the market will go, Brown added. 
Paul Richards, an independent macro strategist formerly with UBS, says the Fed should absolutely hike rates. Chinese officials have calmed other global leaders, Japan is looking to cut its corporate tax rate and the European Central Bank remains accommodative.
"The world is fine," he said, adding that now is a good time for a rate hike. 
Europe is also improving. Representing one-quarter of the world's GDP, the region is very important, according to Jim Lebenthal, CFO and CIO of Lebenthal & Company. The region's economic indicators continue to improve. The Fed should hike, but that doesn't necessarily mean it will, he added. 
Fed Chair Janet Yellen has indicated that she wants to hike rates, and this should give investors confidence, not concern, Richards said. He likes stocks. 
Jon Najarian, co-founder of OptionMonster.com and TradeMonster.com, agreed with Richards, adding that the Fed might as well raise rates after all the volatility it has caused over it. 
Stephanie Link, portfolio manager at TIAA-CREF, says a hike could actually lead to a rally, as investors breathe a sigh of relief and finally get some clarity on the situation. Earnings should be a positive catalyst when companies start reporting in roughly one month. 
Building on Link's comments, Adam Parker, U.S. equity strategist and managing director at Morgan Stanley, made the case that earnings should calm investors down, as earnings won't be as volatile as the stock prices have been lately. He thinks stocks have more than 10% upside over the next 12 months, although he did say to be underweight industrial and material stocks. 
When the entire panel was asked about interest rate hikes, Parker says his firm's call is for a hike in December, while Link said her firm's call is for a September hike. Najarian and Richards say the Fed "has" to hike this month. Lebenthal thinks it should raise rates in September. Brown said to "flip a coin." 
Parker added that a lot of companies have been holding or attending conferences lately and will continue to do so over the next few weeks. This should also boost investor confidence. 
Citing individual conferences, Link pointed out that Starbucks (SBUX) - Get Report continues to see momentum in China, while Lowe's (LOW) - Get Report remains positive on the housing market. 
Speaking of housing, analysts at Bank of America/Merrill Lynch upgraded homebuilders D.R. Horton (DHI) - Get Report and Toll Brothers (TOL) - Get Report . Toll was upgraded by analysts at JPMorgan Chase, along with PulteGroup (PHM) - Get Report and Meritage Homes (MTH) - Get Report .
But is it too late to buy into housing? Heck no, according to Lebenthal. The housing recovery is just getting started and has several years of room to run. The labor market is improving, driving household formations. 
Najarian likes Toll Brothers the most. Brown added that D.R. Horton is trading the best and investors should stick with the stock. He also likes Lennar (LEN) - Get Report .
Related stories:
This article is commentary by an independent contributor. At the time of publication, the author held no positions in the stocks mentioned.