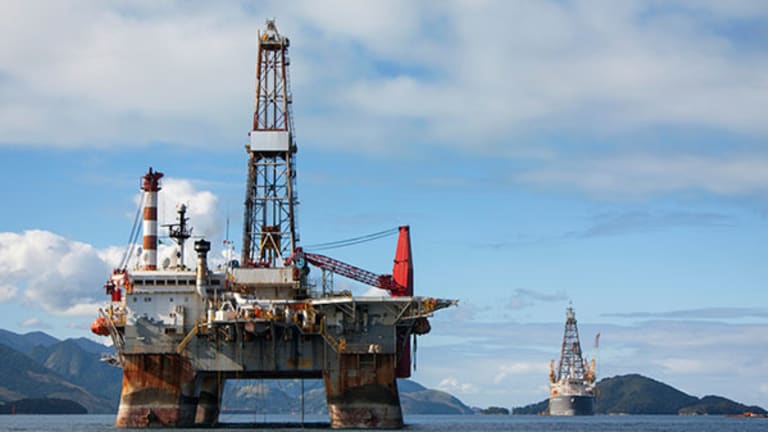 The Dollar's Rally May Be Playing a Role In Declining Oil Prices
The U.S. dollar is about to break out to the upside, which will weigh on oil prices and commodities.
The S&P 500 ETF (SPY) traded up 0.5% on Tuesday, but fell into the close over fears of of more geopolitical tensions in Europe. Ultimately, the ETF ended lower on the day by 0.1%, while oil prices slipped 2.75%. 
It's surprising that oil hasn't traded better, Steve Grasso, director of institutional sales at Stuart Frankel, said on CNBC's "Fast Money" TV show. If the commodity can't rally in this type of environment, can it rally it all? 
The dollar's rapid rally may also play a role in the decline of oil prices, according to Tim Seymour, managing partner of Triogem Asset Management. The dollar is approaching the highs it made in March, and if investors continue their "flight to safety," bonds and the dollar are likely to continue rallying regardless of the Fed's actions. 
Dan Nathan, co-founder and editor of riskreversal.com, said it looks like the dollar is about to break out to the upside, which will weigh on oil prices and commodities, and will also act as a headwind to corporate profits. 
In fact, the recent rally in the dollar and bonds is effectively a form of monetary tightening, which might take the rate hike off the table for the Fed this December. 
Following the Paris attacks, investors rapidly bid up stocks, effectively betting that the Fed won't raise rates, Grasso added. 
Howard Lutnick, chairman and CEO of Cantor Fitzgerald, and chairman and CEO of BGC Partners, said the Fed is likely to hike in December, but the party 25 basis points shouldn't have much of an impact on the U.S. economy. The economy "will continue to pound forward" in a slow and steady manner, he said. 
The U.S. dollar is likely to continue higher as a result of higher interest rates, Lutnick added. It could even surge to new highs over the next several years. The world economy is doing okay, and Europe is starting to recover. A growing European and U.S. economy should help to offset the impact of a continued rally in the U.S. dollar. 
Karen Finerman, president of Metropolitan Capital Advisors, agreed with Lutnick, saying the Fed should get the rate hike out of the way and do it this December.

The conversation turned to retail as companies within the sector continue to report earnings. 
Shares of Home Depot (HD) climbed 4.5% on the day after reporting better-than-expected earnings. Comp-store sales growth of 7.3% were "amazing," according to Seymour, who said the trend in home improvement sales should continue as household formations remain strong. 
Grasso said investors should stick to the stocks that are working, which despite a recent pullback, include Nike (NKE) and Under Armour (UA) . He also likes American Eagle Outfitters (AEO) on a pullback. 
Finerman said she is long Foot Locker (FL) , which hasn't done that well over the past month, but has a lot of exposure to Nike, which is good. "Athleisure" continues to do well, as noted by Dick's Sporting Goods (DKS) management team, despite the company's disappointing earnings results. 
Home goods, jewelry and cosmetics all continue to sell well, according to retail expert Dana Telsey, CEO of Telsey Advisory Group. She said luxury sales may see a dip between now and the holidays, especially in Europe following the tragic attacks in Paris last week.
France is a big market for luxury goods, and a lot of wealthy Asian consumers do their shopping in Europe, she explained. Tourism in Europe could take a hit, and tourism in the U.S. has already done so due to the strength of the U.S. dollar, which is impacting department stores like Macy's (M) . 
Tiffany & Company  (TIF) is unlikely to have a strong 2015, but Telsey is more optimistic on the company for 2016 as it rolls out new products. Value retailers, like J.C. Penney (JCP) , Kohl's (KSS) and TJX Companies (TJX) are also doing well too. 
Middle class consumers have money to spend, they're just doing so more selectively, she concluded.
Follow TheStreet.com on Twitter and become a fan on Facebook.